The fifty-two week high is one of the simplest and oldest indicators yet there is no clear consensus as to what it means for investors. If a stock you own hits its fifty-two week high what should you do? Do you always buy? Perhaps you always sell? Investors should routinely review their holdings for stocks that have surpassed their fifty-two week highs to see if it is time for a portfolio rebalance. Many investors fall into one of two camps with respect to the fifty-two week high metric:
Camp A: Buy the stock as its fundamentals are likely strong and the stock can rise further
Camp B: Sell the stock since its shares have likely peaked and the easy money has been made
Of course investing is never that simple and there is not a one-size-fits-all rule for this situation. Taking profits on a stock that has achieved a new high is never a poor idea but you can leave significant money on the table. Conversely, selling at the low is a guaranteed way to lock-in losses when a rebound may be due.
To focus on these opportunities I ran a screen with a focus on high-quality companies as indicated below. I began with a specification of a dividend yield greater than three percent. The overall objective is to concentrate on liquid companies that are affordably priced. To provide some layer of safety I narrowed down the environment by considering companies with market capitalizations greater than $10B, P/Es between zero and 20, and institutional holding percentage in excess of fifteen percent (except ADRs). I pay attention to a company's relative performance versus the S&P 500 year-to-date as it indicates a possible reversal. With the impending European crisis I now will avoid companies with significant European exposure. While I am performing a fundamental analysis, I consider technical indicators such as Money Flow Index (MFI) and Relative Strength Index (RSI) to aid with an entry point on the potential investment. This is summarized below:
Dividend Yield ≥ 3.0%
Market Capitalization ≥ $10B
P/E Ratio: 0-20
Institutional Ownership ≥ 15%
Minimal European Exposure
Technical Support
After applying this screen I arrived at the equities discussed below. The information presented below should simply be a starting point for further research in consultation with your professional financial advisor before you make any investment decisions. My goal is to present new companies to you and provide a brief overview of their recent developments and this should not be considered a substitute for your own due diligence. In sum, please exercise caution when making investment decisions. The source for all charts below is TDAmeritrade.
Chevron Corporation (NYSE:CVX): .24% Above 52-Week High [Consider Buying]
Chevron is one of the largest oil and natural gas companies in the world with a market cap in excess of $220B. I recently covered Chevron in my Great Recession II portfolio where I made the argument that the stock is one of the best long-term inflation plays, in addition to offering compelling growth opportunities. Chevron has a P/E around 8, 3.4% yield, and a commitment to repurchasing approximately five percent of the outstanding shares annually - all of which are reasons why I continue to recommend the stock.
The RSI recently broke above 70 and the MFI is a hair below 80. From a technical standpoint I expect Chevron to give back some gains this week; however, crude has significantly underperformed and Chevron has stagnated as a result. The company has lagged the S&P year-to-date but the company has largely traded between $100 and $110 for the past year; perhaps the stock is finally breaking the range and is poised to jump higher. Even if Chevron simply treads water in the near-term, the above-average yield will generate returns.

Time Warner (NYSE:TWX): .82% Above 52-Week High [Consider Selling]
Time Warner has been in the news seemingly every weekend as "The Dark Knight Rises" was the number-one movie at the box office for the past month. The movie has now grossed $830M worldwide and is already one of the top fifteen domestic movies of all time. Time Warner has climbed ten percent in as many days following its earnings report on August 1st. Earnings narrowly surpassed expectations despite an 11% decline year-over-year. Segment reporting was mixed as some television divisions outperformed while others lagged. The following quarters should be boosted by the Dark Knight results as well as increased advertising during post season sporting events such as baseball; however, I get the impression that company's rise after earnings was overdone. Earnings did not show me enough to believe that the company can continue to outperform the S&P. This is a great example of when it can make sense to take profits at the fifty-two week high.

Seagate Technology (NASDAQ:STX): 2.27% Above 52-Week High [Consider Buying]
Seagate is one of the two large hard-drive companies that produce the storage components necessary for companies and consumers to store digital media. The demand for storage is rising faster than companies can produce the capacity so the two remaining leaders in the industry have benefited tremendously. The company has experienced tremendous gains recently as the stock has skyrocketed up over 200% in the last year and 100% year-to-date. Despite the gains, the company's P/E is still only five and it yields 3.7%. I have been long Western Digital (NYSE:WDC), Seagate's larger rival, with tremendous success. I still prefer Western Digital because it leads in market share but the market opportunity is so great that both companies can succeed. Seagate has popped from $26 to $34 since Western Digital reported superb earnings but the MFI has been somewhat restrained, lending support to my belief that this fifty-two week high can be surpassed by the company yet again.

The information presented has been summarized below. Green and red represent "consider" and "avoid" classifications, respectively.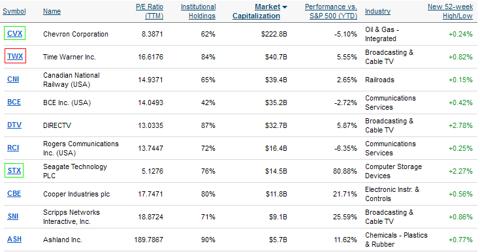 Disclosure: I am long CVX, WDC.
Additional disclosure: Author is long CVX and WDC. Short CVX September $110 Calls and WDC August $40/$44 Calls.