Tonight, Brocade Communications Systems, Inc (NASDAQ:BRCD) reports its third quarter earnings; I am going long the stock. Following on strong earnings by Fusion-io, Inc. (NYSE:FIO), EMC Corp. (EMC) and Cisco Systems, Inc (NASDAQ:CSCO) last night, I believe that these are telling signs that the industry is strong and I believe that anyone that trades stocks should be long Brocade for a swing trade to $7 per share.
Brocade has been buying back its shares and paying down its debt aggressively this past year. In fact, in the October 2011 quarter it repurchased 9% of its outstanding shares - amazing to me! Since that October quarter it not only paid down more short-term debt, but went back to buying its stock when it repurchased $25 million dollars worth. The stock fell back to $4.25 per share this past quarter and I believe that will be the low and that Brocade will not disappoint with further buybacks. I'm expecting a further repurchase of 5% of the outstanding shares or paying down of more debt. This will excite investors and assist in increasing earnings per share in future quarters.
Institutional buying in Brocade has been impressive as the three largest shareholders all added to their positions as Franklin Resources Inc, the largest holder added another 500k shares to bring the total to 54 million shares. Elliot Associates L.P, purchased a further 6 million shares and FMR LLC increased its position by an impressive 41% by adding 11.2 million shares. In addition to the largest shareholders we saw Allianz Asset Management initiate a new position in Brocade by buying 17.6 million shares. Obviously these portfolio managers are seeing something good happening at BRCD
It is not only the company and institutions that have been buying Brocade's stock as we have also seen management buy BRCD as CEO, Michael A. Klayko made his first insider purchase in the past 4 months. This is a clear signal to all the naysayers that Klayko is ready to deliver growth on both the top line and the bottom line.
Analyst day is right around the corner in September. I expect that this could be the catalyst that finally breaks Brocade out to double digits ($10 per share) by year end.
Chart: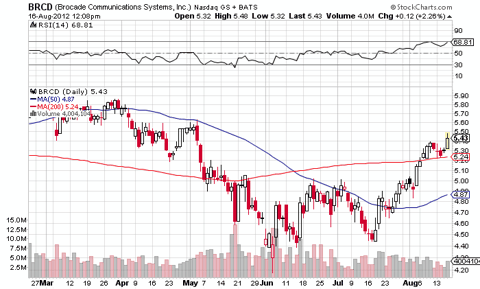 Looking at BRCD technically we have seen a nice move off the lows. It recently ran up to $5.40, pulled back and found support on the 200-day MA and now it's ready to break out.
Disclosure: I am long BRCD.