Wall Street seems to be obsessed with earnings surprises. And rightly so, as the earnings are the mother-milk for stock prices. But it is extremely useful to follow the development of sales surprises aggregated by sectors, as they tend to be leading indicators for earnings growth. That's what this article is attempting to bring to the attention of the esteemed reader by using technology as a current active example.
There are not too many sources, as far as I can tell, for such historical aggregation of sales surprises by sector. One reliable source, in business for the past 25 years plus, shows right now that technology stocks are increasingly presenting revenues which are exceeding the Street's expectations: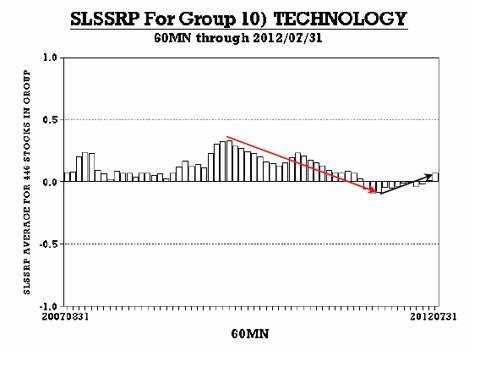 This 5 year graph shows the monthly aggregated surprises as calculated by this source's method, a normalized, equal weighted summation which is a bit different from what Wall Street normally does. The details are not secret but they are a bit beyond the scope of this article. It is easy to notice the direction change that started about 10 months ago and was strongly confirmed by the July data.
If you look at the next picture, it becomes evident that the aggregated earnings do not yet reflect the positive trend which is apparent in the aggregated sales surprises: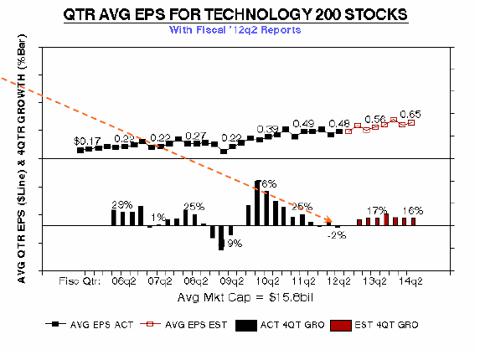 What you are looking at here are the four quarter changes in the average of the aggregated total earnings of 200 technology stocks (out of a universe of 2,200 stocks followed in all sectors) that had reported for 2012Q2, up to the date of creating this graph on July 31. The black bars are the "actuals" and the red bars are forecasts (or estimates) published by various sources used by professionals. Rather than the usual market cap weighting, the aggregation is done here by equal weighting. It is as if each stock was the division of one large firm called "US Technology." No firm will - or is allowed to - weight selectively, by size or otherwise the earnings of its divisions when reporting the total earnings of the firm. Therefore this method of aggregation offers a better reflection of the industry as a whole.
Please note that the average earnings were down -2% in 2102Q2 as the arrow indicates. It is worth noting here that the total earnings for all industries were up 8%, contrary to most pundits' expectations (all sectors are followed separately). How is it possible for technology to be behind other sectors when the revenue surprises, aggregated on the same basis, present the positive picture shown in the previous graph?
It is simply the delay with which revenue surprises tend to show up in earnings. Being aware of this discrepancy offers an advantage that enables the users of this type of research to buy stocks somewhat ahead of the crowd. Of course only if the good-old fundamental analysis, which is by no means superseded by this quantitative approach, confirms that a stock selected by our highly disciplined method is indeed worth adding to the portfolio. What the aggregated positive revenue surprise offers is some confidence that the +17% forecast by Wall Street for the next four quarters is a credible number (see the red bar marked 17%).
Sorting the individual stocks that were aggregated for the revenue surprise graph and looking for the biggest surprises, the largest by market cap, five examples in this sample of 200 stocks are right now Nvidia (NASDAQ:NVDA), SBA Communications (SBA), National Instruments (NASDAQ:NATI), Teradyne (NYSE:TER) and Synaptics (NASDAQ:SYNA). Please note that this is not a recommendation to buy any of these stocks as further analysis, including other considerations like discounted cash flow, relative pricing, asset growth, etc. is required as well as performing all other due diligence necessary for such a decision.
In our day-to-day operation we continue to overweight this sector, carefully selecting from among this large and diverse group those few which can continue, we hope, to deliver stellar execution. It's time for stock picking as explained in an earlier article and our discipline seems to direct us now toward technology, albeit other sectors may turn out to offer candidates as attractive or possibly even more attractive. That article also shows that having used this method for 12 years produced reasonably positive and consistent results.
Disclosure: Copyright for the graphs © Aug. 1, 2012 Clement Moore Ogden. Data believed reliable but not guaranteed. Not for redistribution in any form whatsoever without express permission.
Disclosure: I have no positions in any stocks mentioned, and no plans to initiate any positions within the next 72 hours.