Agrium Inc. (AGU) is in the very early stages of being broken up or reorganized with news Sunday night that a NYC-based hedge fund named Jana Partners LLC had acquired 5% of the roughly 158 million shares outstanding.
Jana is contesting management's strategic plan and execution of that plan, with a view the company should be separated into its main retail and wholesale operation divisions.
The complaint is basically that management has been sitting on their laurels and has neglected the stock price and should split the company into its main two divisions, buy back stock and cut costs. In particular, Jana says the retail operation is the one that needs attention to.
I made a similar argument a year ago to Agrium's IR personnel and also talked about it in the media. However, I have had no problem with Agrium's retail strategy, which has impressively grown the business on an international basis. The company's $1 billion EBITDA target for retail will probably be realized next year, a full two years ahead of schedule.
Trading Strategy
Expect Agrium to be hastily working on some "Shock and Awe" measures to counter the threat from Jana Partners. This can only make the stock go higher. There could be some profit taking by small investors as this plan is developed and as the news flow wanes. But do not sell - the upside will be realized when Agrium announces, with the help of Morgan Stanley, their plan.
Rationale
Many major Canadian companies are sitting ducks for activist US hedge funds and an increasing number are being picked off by foreign investors. Basically, the Harper government has put a "For Sale" sign on corporate Canada, with just a few exceptions (PotashCorp (POT), major telecom companies, etc. Clearly, Quebec-based companies are another matter, as Lowe's bid for Rona becomes an election issue there.)
The Canadian taken-over list this year includes grain handler Viterra (OTC:VTRAF), CP Rail (NYSE:CP) and oil giant Nexen (NXY). Low hanging fruit are those in industries without foreign investment restrictions, are widely held, and are not likely to be deemed "strategic" to the country.
Agrium should not be considered of strategic or national importance to the Government of Canada, because the Feds just allowed Viterra's arguably more unique set of Canadian grain handling and port terminal assets to be acquired by Glencore International plc.
In addition, Agrium generates the bulk of its revenues outside of Canada, as does Nexen. As a note, the Nexen takeover by Chinese oil company CNOOC is being contested in the U.S. but not in Canada.
The reason why I think Agrium's stock is very likely to go higher is that Jana has put a burr up the behind of Agrium's Board and senior management. So either Jana is successful and the company is split, or Agrium will take share price, increasing steps as a defense.
Agrium has hired Morgan Stanley (NYSE:MS) for their defense, which is very telling. Morgan Stanley is the top fertilizer advisor these days, and was responsible for advising CF in buying out Terra Industries and with it, 75% owned Terra Nitrogen (NYSE:TNH) in 2010. Morgan Stanley also led the highly successful fertilizer MLP unit issues CVR Partners (NYSE:UAN) and Rentech Nitrogen (NYSE:RNF) last year.
I believe Agrium's stock will be above $100 very very soon. RBC has a $125 target on it. So does CIBC (NYSE:CM). Post script: Stock hit a new 4 year high of $100.65 US today.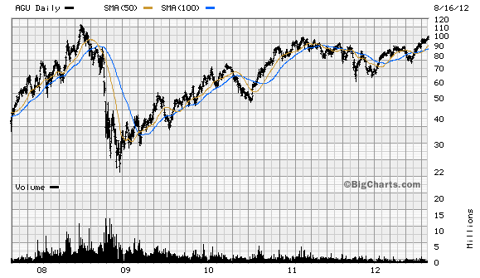 Agrium's management and some analysts insist that the company has done very well and the status quo is just fine. But actually, Agrium's stock has yet to surpass the high set in 2008, after four more years of arguably the best fertilizer and crop input market in history.
It's interesting that Morgan Stanley actually defended CF Industries against Agrium's ill-fated attempt to take them over in 2009. Now they've hired Morgan Stanley. And RBC (Royal Bank), which assisted Agrium in its defense, has been turfed.
The only reason why the stock has not broken $100 US already, after three and a half trading days, is that sometimes I wonder if most Canadian Agrium shareholders and their advisors are fuddy duddies. Judging from the reaction of some of them in the press, they seem to feel being hosted on Investor Days (soiree on June 12 in Chicago must have been great) is sufficient reason to back the company status quo.
Six members of the 11 Director Board have been there at least since my 2005 report was printed, and they are all over 60 years old. I can smell the mold growing on them as much as Agrium's much vaunted ability to grow people's need for food.
The Agrium shareholder list is topped by Jana Partners LLC as of the June 30 13-F SEC filing (at 6.5 million although they are reputed to own more already) followed by BlackRock (2.5%), CIBC Global Asset Management (2.3%), BMO Financial Corp (2.3%), Acadian Asset Management LLC (2.2%), RBC Global Asset Management (2.2%) and Wellington Management (2.0%).
Canadian bank divisions own about 10% of the shares by my calculation. Most of these shareholders are no doubt private wealth or institutional pooled funds. If the stock gets to the target price set by their investment research divisions, they'll have a fiduciary duty to sell the stock. And avaricious hedge funds will be there waiting.
If enough analysts get on side with Jana, then the shareholders and their advisors will have to start deciding whether the status quo is more important than making money. The analyst at CLSA sided with Jana today, and the analyst at Barclay upped his target price to $111 US, on valuation, but he ignored the ramifications of the Jana action. What's up with that?
There is little downside right now in this trade in my view, as the 2012 US drought has elevated corn and other grain prices for the rest of the year. Basically, the Great Drought of 2012 has bought the fertilizer and farm input business another year of great prices and volumes in 2013.
In the medium term, North America nitrogen fertilizer company fall earnings are often weaker than Q2, because the farmers usually don't lay down fertilizer for next Spring, until October, and therefore industrial cost-plus ammonia sales are a larger component, reducing margins.
My feeling is the fertilizer sales this fall will be a tad disappointing this year because farmers will sit on their hands and not apply fertilizer until after what I expect will be another September/October crisis in the eurozone, and until they clearly understand their financial position after receiving crop insurance proceeds. There is also the matter of the US Presidential and Congressional elections, which add more uncertainty. Therefore, I believe the last quarter of the year will be boosted by revenues that would normally occur in what is for most of Q3.
International fertilizer sellers will however, benefit from South America and Australia gearing up for their winter planting season, and AGU should capitalize on this with their Argentine and Australian retail operations.
In any case, you won't have to worry about the fall earnings releases until when the fertilizer stocks start reporting with The Mosaic Company (NYSE:MOS) around October 1st.
My ultimate target for Agrium's stock price will be dependent on how proactive management is in fighting the threat from Jana. I am thinking $150 US is a number that is doable.
It is pretty evident that a fair bit of justifiable pride and a tad of executive ego are probably going to give them the impetus to raise the price of the shares, which is the only defense against this latest foreign interloper on Canadian corporate soil. Think the War of 1812.
My valuation for the three segments of Agrium's business (retail, wholesale and advanced technologies) is currently being updated and will be available next week.
I was correct that Agrium should buy Viterra (predicted that a few years ago), I pushed for the dividend increase and share buyback (in the media last August), and I argued a year ago the split of the business into two parts was an idea that should have been examined more closely. Unfortunately for Agrium, they didn't listen, and now they are operating on a time-line set by others.
Disclosure: I am long AGU.