Realty Income (NYSE:O) is a core holding in our "Team Alpha" retirement portfolio. Not only is it one of the most reliable dividend producing REITs available, but it also has had a wonderful increase in the share price.
It is clear to any investor that this company has been, and apparently will continue to be, on the right track.
Take note of this revenue and profit chart, which shows solid gains from 2006 to this year and estimated right through 2014. This continuous growth has been a big reason that Realty Income has paid 506 consecutive months of dividends without missing a beat.
That is a remarkable achievement, and it appears that more is on the way.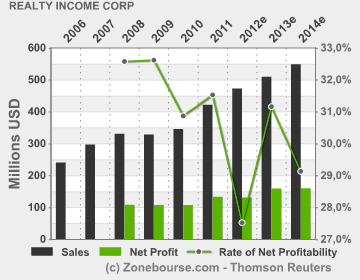 Realty Income Increases Dividends
Just about 45 minutes ago, the company issued a press release announcing that it is increasing its dividend by 3.4%. The announcement can be read here.
Realty Income Corporation (Realty Income), The Monthly Dividend Company®, today announced that its Board of Directors has declared an increase in the Company's common stock monthly cash dividend to $0.151125 per share from $0.146125 per share. The dividend is payable on September 17, 2012 to shareholders of record as of September 4, 2012. This is the 67th dividend increase since Realty Income went public in 1994. The new monthly dividend amount represents an annualized dividend amount of $1.8135 per share as compared to the previous annualized dividend amount of $1.7535 per share. The Company continues its long-term policy of declaring and paying dividends on a monthly, rather than on a quarterly, basis.
This is a remarkable testament to an excellent stock. 506 consecutive monthly dividend payments and 67 dividend increases over a 41 year period (20 years as a public company), is absolutely outstanding.
Capital Appreciation Has Made This REIT A Powerhouse
Obviously, we look at stocks for our portfolio that deliver consistent dividends with a solid track record of payments, as well as dividend increases. Realty Income fits this metric beautifully. For a REIT, a nice monthly check is always welcome while we wait for our other quarterly checks.
That's not all Realty Income has given shareholders.
Anyone can clearly see from this 1 year chart that Realty Income has delivered wonderful capital appreciation on top of those sweet dividends. An increase from $30.54/share to $42.51/share reflects a gain of roughly 40% within that one-year period. The total return, including dividends if reinvested, approaches an amazing 50% increase in one year.
Stack that up against any stock in YOUR portfolio!
My Opinion
Realty Income has been, and in my opinion will be, a top notch performer within our portfolio for years to come -- both in dividends and capital appreciation.
Take a look at this stock for your own portfolio. You will thank me at some point.
Disclosure: I am long O.