Founded more than 50 years ago by Milton Cooper and Marty Kimmel, Kimco Realty (NYSE:KIM) is the largest shopping center REIT in the United States. With a current market capitalization of $7.9 billion, Kimco operates 926 properties in 44 states, Canada, Mexico, Brazil, Chile and Puerto Rico.
Last November Kimco celebrated its 20th anniversary as a public company and since its founding in 1958, the retail REIT has evolved into a diversely risk-aligned investment platform. Kimco has a well-balanced tenant portfolio that includes many leading retailers such as Home Depot, TJ Maxx, Wal-Mart, Kohl's, PetSmart and Costco.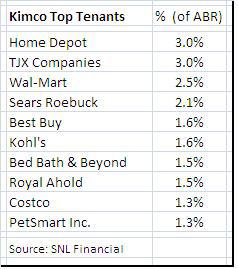 Kimco's second quarter results were punctuated by impressive mid-year metrics including company gross occupancy (in the combined portfolio) of 93.5 percent and revised full-year guidance of $138.0 million, or 34 cents per share, up from $126.0 million, or 31 cents per share, earned in the year-ago period.
Kimco's occupancy levels are at the best the company has seen since 2008 and these improvements are driven, in part, by higher net absorption and its trade-up to higher-quality, better-occupied properties.
Kimco's recent stock price was $20.07 per share and the company hit its 52-week high today. The current dividend yield is 3.79 percent and the company's year-to-date total return is 21.24 percent.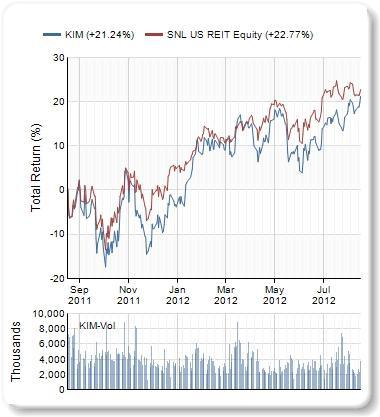 A Key Interview with a Key Employee
As Warren Buffett suggests that the key thing that you should look for when investing in a company is leadership. As Buffett has said,
I look for management. Somebody's going to have to run it, and it isn't going to be me.
Prior to joining Kimco, CEO Dave Henry spent 23 years at GE Capital Real Estate, where he was senior vice president and CIO. Henry was also chairman of the company's Investment Committee and a member of the Credit Committee.
He earned an M.B.A. from the University of Miami and bachelor's degree in business administration from Bucknell University. Outside of the office, Henry serves on the boards of HCP and TRI and he also served as chairman of the International Council of Shopping Centers from 2011-2012.
This excerpt below is from a Forbes.com interview with Brad Thomas and Dave Henry
Brad Thomas (Forbes Contributor): Dave, on a macro-level the retailers appear to be doing very well, especially the mid-range retailers like Costco, Kohl's, and Target-many of which are tenants in your portfolio. Can you tell me what you are seeing out there now in the continued recovery trends and what are the tailwinds that are moving the recovery forward?
Dave Henry: There are two points to consider here: One, from a landlord's perspective, the environment is getting better because there has been virtually no new retail development over the past several years and with national retailers, such as the ones you mentioned as well as discounters like TJ Maxx and Ross Stores, are expanding.
Two, on the retailer side, they are much healthier than a few years earlier. They have pruned underperforming stores, right-sized inventory levels and significantly improved their balance sheets. Further, those retailers that are public companies have a need to expand and are expanding their store count. So overall, there is a momentum associated with this need for expansion coupled with the shrinking retail supply levels.
Brad: I am encouraged to see how many of the retailers are adapting to the continued evolution of technology and specifically the advances in e-commerce efforts by many leading retailers. I understand that the playing field is being somewhat more balanced with some legislative efforts and I know you are a well known advocate in the tax reform legislation. What is the status of the proposed reforms today?
Dave: As it relates to the Main Street Fairness Act (OTC:MSFA), there is a critical momentum building as both the U.S. House of Representatives and Senate held hearings on this that went well. It is our hope that the MSFA will be attached to some other piece of legislation in the near future as this remains the number one priority of our industry to level the playing field from the unfair advantage that online retailers have over the bricks and mortar retailers, especially those neighborhood mom & pop type shops.
Brad: Kimco has done an excellent job at recycling assets and your most recent earnings announcement was an indication of the success. Kimco is also further diversifying internationally and balancing capital in strategic markets like Mexico, Canada, and Latin America. Can you shed some light on your diversification strategies and the risk controls that Kimco has underway to widen the company's margin of safety?
Dave: We are very committed to a North American retail shopping center strategy. Canada has been a very solid performer for us since we entered this market over a decade ago. Our Mexico properties are reaching stabilization with a very favorable long-term outlook for Mexico as a country. They have low unemployment, good GDP growth with a growing middle-class population. The recent government elections we feel will have a positive influence on subduing some of the headline violence that has occurred and serve as a catalyst for U.S. retailers to expand into Mexico. Those U.S. and other International retailers that are already operating in Mexico are doing well and continue to expand their platforms.
Brad: Kimco is continuing to maintain a strong and conservative balance sheet. With interest rates rising, how does your company's financial positioning help investors going forward?
Dave: We are very proud of our strong balance sheet and are one of only 11 public REITS that can boast of an investment grade credit rating of BBB+/Baa1.
This has helped us take advantage of the low rate environment by successfully being able to tap the perpetual preferred stock market twice this year with our most recent issuance having a coupon of 5.50%, which is believed to be the lowest rate ever for this type of security.
Additionally, we also were able to execute on a $400 million unsecured bank loan priced at LIBOR plus 105 basis points. The proceeds from each of these transactions either have been or going to be used to replace existing preferred stock or loans that carried much higher rates and have enabled us to lock in real long-term savings.
Brad: Dave, as Warren Buffett, has frequently been quoted as saying, "Rule No.1 is never lose money. Rule No.2 is never forget rule number one." What has Kimco learned from the great recession and are there any steps that investors should take to prevent mistakes from forgetting about Rule No.1?
Dave: We have renewed our commitment to being an owner and operator of retail real estate. This is our core expertise, one which we have been doing for over 50 years. Additionally, we focused on building a stable and growing recurring income stream with not as much emphasis on transactional activity. For example, we used to have a merchant building business in our taxable REIT subsidiary in which we would build shopping centers and then sell them to generate gains. If we are ever to begin building again, it would be to buy and hold.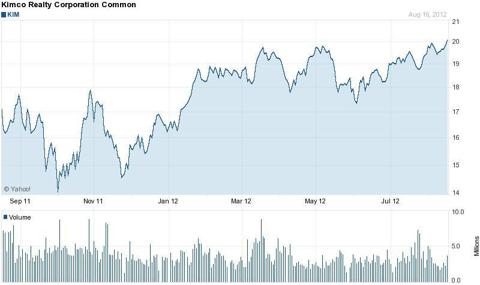 Disclosure: I have no positions in any stocks mentioned, and no plans to initiate any positions within the next 72 hours.