Almost two months ago, I wrote about Fastenal (NASDAQ:FAST), an industrial and construction supplier, describing the stock as expensive but worth buying at lower prices. Within a month, FAST jumped over 10% before its rally ended at resistance. In the same article, I compared FAST to W.W. Grainger (NYSE:GWW), a parts distributor, and pointed out how GWW was falling in sympathy. Since then, I have kept an eye on both stocks. I took particular interest after GWW soared an uncharacteristic 11% after reporting earnings on the morning of July 18th.
I had to reach all the way back to February 3, 1999 to find a larger, one-day, post-earnings response (14%). The last double-digit response in either direction was a 14% drop on July 17, 2006.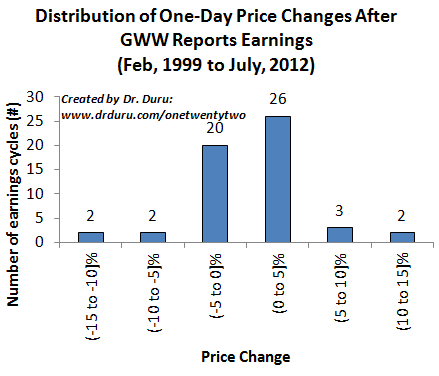 Distribution of One-Day Price Changes After GWW Reports Earnings (Feb, 1999 to July, 2012)
Sources: Earnings dates from briefing.com, price data from Yahoo!Finance
The vast majority of GWW earnings reports generate mild responses between +/-5%. So what happened this last time? As far as I can tell, nothing particularly special. Perhaps negativity had just reached too high a point going into earnings. The stock has yet to make any additional progress since the post-earnings jump, but the current consolidation period is holding up very well above the 200-day moving average (DMA). If the general stock market remains strong, then I expect GWW to achieve new all-time highs in relatively short order. A break below the 50DMA, around $194 at the time of writing, will reintroduce a bearish outlook to the stock.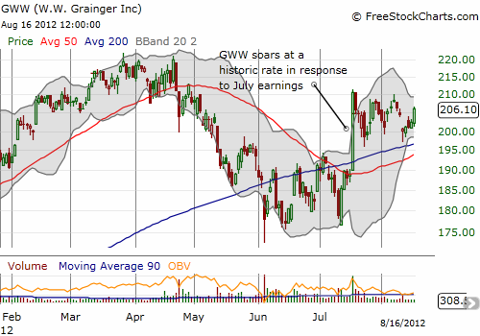 GWW soars at a historic rate since July earnings but has not made more progress since then
Source: FreeStockCharts.com
Gains from these levels are likely not going to be easy. With a 12-month trailing P/E of 21, GWW is already well above its annual average over the past 9-10 years. The story is the same for price-to-sales and price-to-book.
Here are some key notes I took from the earnings call using Seeking Alpha transcripts. (The company did not host a Q&A session).
Overall, management remains as bullish as ever with the company continuing to use its cash generation to invest in future growth opportunities and buying back stock:
Operating cash flow was $132 million versus $191 million in 2011. The year-over-year reduction in cash flow was driven by higher investments in receivables and inventory tied to sales growth along with a reduction in current liabilities tied to higher payments for income taxes. We used the cash generated during the quarter, along with cash on hand, to invest in the business and return cash to shareholders through share repurchase and dividends. We paid dividends of $58 million in the quarter, reflecting the 21% increase in the quarterly dividend announced in April of this year. In addition, we bought back 760,000 shares of stock and ended the quarter with about 6 million shares remaining on our share repurchase authorization. In total, we returned $207 million to shareholders in the quarter.
GWW's is driving growth in several areas including "…increasing [its] product line, expanding customer sales coverage, enhancing our eCommerce capabilities, and increasing…inventory management solutions." As a result, GWW claims it is growing faster than the economy and taking market share.
GWW did caution that "if economic growth slows and the dollar continues to strengthen, the lower end of our sales range is more probable than the higher end. If that happens, we plan to reassess and adjust spending levels." I believe this was a reference, at least in part, to GWW's push in Central and Eastern Europe through recent acquisition Fabory: "we plan to continue to invest in our growth drivers given the opportunity to gain share in this large, fragmented market…Fabory may post a small loss if the economy and currency in Europe weaken further."
GWW increased earnings per share last quarter by 12% year-over-year for a company record $2.63 EPS. The company reiterated its guidance for 2012 sales growth of 12-14% and increased the low end of its earnings per-share guidance (EPS) for a new range of $10.50 to $10.80 for 2012.
GWW had strong sales growth numbers almost across the board, including mid-single digit sales growth to the government: "This level of growth to the Government was achieved despite a 25% decline in sales to the U.S. Postal Service, related to their aggressive restructuring program."
GWW remains a steady performer. In order to continue pushing the outer stretches of its historical valuation metrics, I strongly suspect the stock will need to ride the coattails of a generally strong stock market (an at least stabilized economy). Otherwise, watch for support in the near-term and buying opportunities on dips.
Disclosure: I have no positions in any stocks mentioned, but may initiate a long position in GWW over the next 72 hours.