Ross Stores Inc. (NASDAQ:ROST) reported second quarter earnings on Thursday August 16th of $0.81, an increase of 27% year-over-year. Sales increased 12% to $2.34 billion with comparable store sales increasing 7% in the quarter. These results were largely in line with analyst estimates and continue Ross's multi quarter trend of meeting expectations. Company guidance for 3rd quarter earnings was somewhat softer than analysts had forecasted with earnings per share expected to be in a range of 63 to 66 cents. The company also increased full year guidance but it still remains below estimates for earnings of $3.45 per share. Analyst estimates for fiscal year 2013 earnings have increased 6 cents per share over the past 90 days.
Management indicated that Ross's strong same store sales increase points to the company improving market share. About 95% of Ross stores are within 10 miles of a J.C. Penney Company (NYSE:JCP) store. It is believed that J.C. Penney's struggles and the pressure on the middle level consumer has benefited Ross and its competitors. One interesting thing to watch is if the economy does start to improve is whether or not these consumers stay with Ross or return to department stores and other retailers. Ross stores are currently only in about 30 states and the company continues to open now stores and move into markets.
Ross currently has a forward P/E of 17.8, a PEG ratio of 1.47, and an EV/EBITDA ratio of 11.6. This compares to Ross's nearest competitor The TJX Companies (NYSE:TJX) with a forward P/E of 16.4, a PEG ratio of 1.46, and an EV/EBITDA ratio of 9.88. Both companies have relatively small dividends of yielding around 1% currently. TJX and Ross are currently traded within a few dollars of analyst target prices, with positive retail results this could help analysts increase these target prices for both companies.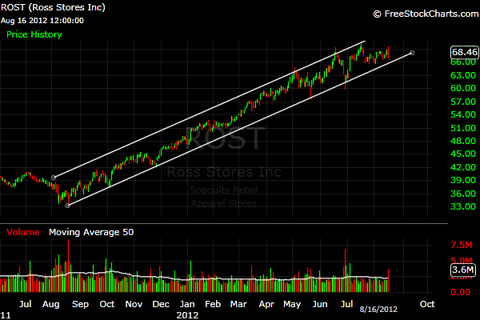 The chart shows a stock that has been defined by a tight and step uptrend since early last fall taking the stock from near $35 per share to almost $70 per share. At this point the stock appears to be holding within the range and does not show any sign of making a move lower. With that said there is no reason anyone with profits would not want to look at cashing in on some of those gains at these levels. One possible way to play Ross would be to sell a Jan 2013 60 put, Buy a Jan 2013 50 put and a Jan 2013 75 call. These trade would cost about 25 cents per share to put on, and would start to make money if Ross moves above $75.25 per share and would have a maximum loss of $10.25 per share should Ross trade below $50 per share.
Data sourced from: Company filings, and Yahoo!Finance. Chart from: Freestockcharts.com
Disclosure: I have no positions in any stocks mentioned, and no plans to initiate any positions within the next 72 hours.