By Paul Carton
Since February, our ChangeWave consumer spending surveys have shown tremendous strength for Wal-Mart (NYSE:WMT) and Costco (NASDAQ:COST) – and the current findings are no exception.
Our latest survey of 4,403 respondents continues to track a powerful consumer movement towards the discount retailers and wholesale clubs – even though overall consumer spending is rising for the first time in nearly a year.
The May 6-14 ChangeWave survey focused on spending patterns for the next 90 days – and Costco (+9) and Wal-Mart (+6) once again led all other retail outlets in terms of future spending growth.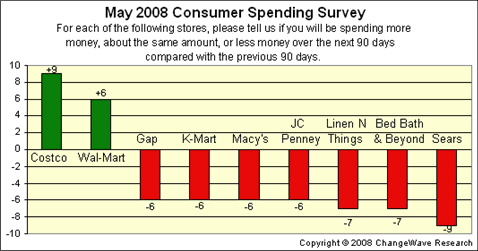 This is the third consecutive ChangeWave survey since February that has uncovered strong results for Costco and Wal-Mart, highlighting a continued large-scale movement towards discount retailers that's being driven by high inflation and – until recently – a slower spending environment.
But here's the kicker. The retail shopping transformation we're seeing doesn't appear to be a short-term phenomenon. Rather, it has the all trappings of a consumer revolution – a ChangeQuake, if you will – that's continuing to pick up steam.
Case in point – spending has finally begun to improve, but consumers are continuing to shun the mall retailers for the discount chains and wholesale shopping clubs.
Just as importantly, while some of the news in our survey is surprisingly good – much of it is still bad and even downright ugly.
First The Good News
For the first time since June 2007 we're seeing a consumer spending uptick. It's only a slight one and overall spending still looks decidedly gloomy, but the 90-day outlook is not quite as terrible as it was in our previous consumer spending survey in April 2008.
Two-in-five U.S. respondents (40%) now say they'll spend less over the next 90 days than they did a year ago – 2-pts better than in our April survey. Another 28% say they'll spend more – a full 3-pts better than previously.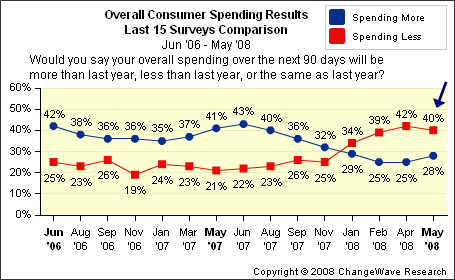 We also queried consumers on their current impressions of the economy and once again – while things still look bad – they don't appear quite as awful as they did in April:
17% of respondents think the economy will improve in the next 90 days, which is notably 3-pts better than we saw in April. Even more striking, just 39% think the economy will worsen, a significant 11-pt improvement from a month ago.
29% say the current state of the economy is better than they thought it would be 90 days ago, while 21% say it is worse than they thought it would be.
Where is spending improving? For the first time this year we're seeing a slight uptick in consumer electronics sales, although it's still very sluggish.
Durable Goods spending has also witnessed an uptick, as has Travel/ Vacation spending. Notably, the overall uptick in consumer spending is being driven by an improved outlook among households earning more than $100,000 per year.
But there are some very powerful undercurrents threatening the U.S. recovery, as the economic downside grows uglier.
The Bad and The Ugly
First, the spending outlook for households earning Less than $50,000 per year is extraordinarily depressed, with 61% saying they'll spend less over the next 90 days than they did a year ago – a whopping 6-pts worse than in our April consumer spending trends survey.
Secondly, among those who say they're spending less over the next 90 days, more than half (52%) cite Inflation as a reason – a 6-pt jump since April. Another 49% point to Higher Energy Costs – up 6-pts from previously.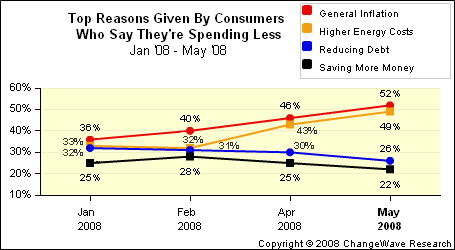 Other consumer concerns are increasingly taking a back seat to economic inflation. Most ominously, two thirds of consumers report that their discretionary spending will be lower for the next 90-days due to increased energy costs.
Thus, here at ChangeWave we weren't at all surprised when Wal-Mart's latest earnings announcement showed better than expected 1st Quarter results – with profits rising nearly 7%. Similarly, Costco reported an 8% rise in April same-store sales – well ahead of the 6.1% consensus estimate.
Nor were we surprised when we asked consumers where they expected to spend their economic stimulus tax rebate checks, and Wal-Mart (12%) and Costco (12%) were the two winners among the major retail outlets.
So What's in Store For Consumers?
In sum, for the first time since June 2007 our ChangeWave surveys are picking up some signs of a bottom among consumers. Although spending remains weak, the 90-day outlook is better than it was in April. There is also a notable improvement in the overall consumer outlook on the economy.
Counterbalancing these positives is a continued deterioration in the economic health of lower-income consumers and a huge spike in inflation worries among virtually all consumers.
According to the government's latest Consumer Price Index (NYSEARCA:CPI) figures, inflation is tame, with a less-than-expected 0.2% rise in April. But there remains a huge disconnect, between the relatively benign CPI report and the virulent spike in inflation concerns among consumers.
Commentator Kevin Phillips recently derided the CPI, calling it the "great inflation hoax" and charging that the "misrepresentation of inflation, pursued statistically over the last 25 years, has been the main buttress of Washington's over-favorable and self-serving portraiture of the U.S. economy."
Putting aside major doubts over the CPI's accuracy, we'll continue to keep a close watch on the effects of inflation on consumer spending. The bottom line is inflation is radically altering spending behavior and dampening hopes of a U.S. recovery for the 2nd half of the year – and beyond
Jim Woods co-wrote this article.
--------------------
This article summarizes the results of a recent ChangeWave Alliance survey. The Alliance is a research network of 15,000 business, technology and medical professionals who spend their everyday lives working on the front line of technological change. For more info on ChangeWave, or to sign up for real-time alerts email on the hottest technologies and companies, click here.