The CBOE S&P 500 VIX Volatility (VIX) is screaming that stock market participants have become too complacent. Specifically, the current price (14.29) is well below 15 -- the level at which market watchers insist that investors are failing to appreciate equity risk.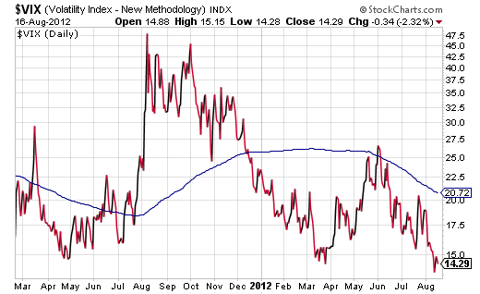 Do stocks have to sell off because of limited daily trading ranges and ultra-low VIX volatility? Only if you have a vested interest in a bearish outcome like Marc Faber.
That said, both the 2011 summertime swoon and the May 2012 correction began with the VIX sinking below 15. Moreover, the trading volume has not been this anemic in six years, suggesting that one cannot simply dismiss the lack of investing activity as a function of vacationing mutual fund managers.
Not surprisingly, advocates for increasing one's stock ETF exposure slam the alternatives. Savings and money markets earn little more than 0%. Ten-year government bonds? Those emanating from the largest economies like Germany, Great Britain, the U.S., and Japan offer yields that are lower than the dividend distributions for Vanguard High Dividend Yield (NYSEARCA:VYM), iShares Germany (NYSEARCA:EWG) or the SPDR S&P 500 (NYSEARCA:SPY).
In truth, the bulls may have ammunition beyond the ever-popular quote, "they're the cleanest shirt in a dirty hamper." On Aug. 16, 2012, value-oriented stock ETFs -- e.g., Vanguard Value (NYSEARCA:VTV), WisdomTree Low P/E Fund (PZY), PowerShares Dividend Achievers (NASDAQ:PFM), etc. -- as well as growth-oriented stock ETFs -- e.g., SPDR Select Sector Technology (NYSEARCA:XLK), Vanguard MegaCap Growth (NYSEARCA:MGK), iShares DJ Consumer (NYSEARCA:IYC), etc. -- simultaneously hit new 52-week highs. The reality of gains across the spectrum dispels a notion that economically sensitive stocks are struggling.
Keep in mind that the new 52-week highs are only marginally better than what these funds witnessed in April. Additionally, the small-caps as well as transports and foreign equities are still laboring to recover the heights that they reached in March.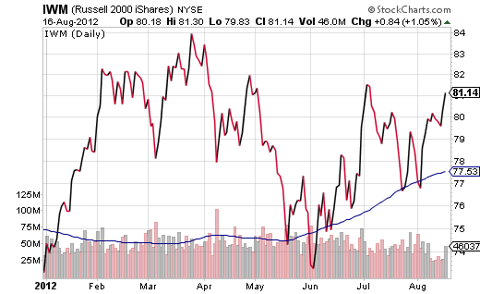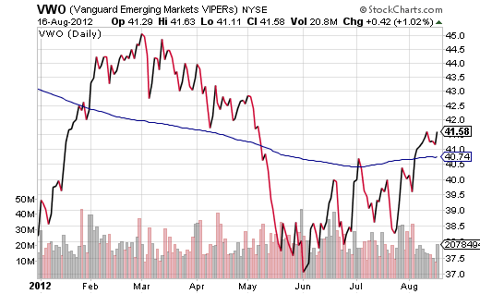 When the investing public is more fully engaged and the trading volume picks up substantially, one should expect wider daily price ranges for major benchmarks as well as a pick-up in volatility. With that, bond bulls are likely to make another run at supremacy. Indeed, it would take little more than a eurozone disagreement, additional appreciation in the price of crude, an Israeli-Iranian flare-up, or inactivity by a significant central bank for stocks to pull back from their perch.
It follows that I haven't altered my outlook on the type of assets that currently present the best reward for a modest amount of risk, even if I might choose to wait for a down week to buy in. I like yield producers, including but not limited to Market Vectors Preferred Ex Financials (NYSEARCA:PFXF), iShares FTSE NAREIT Mortgage REIT (BATS:REM), iShares MSCI Malaysia (NYSEARCA:EWM), Vanguard High Dividend Yield, and Guggenheim Multi-Asset Income (NYSEARCA:CVY). As always, I recommend the sensible use of stop-limit loss orders.
Disclosure: Gary Gordon, MS, CFP is the president of Pacific Park Financial, Inc., a Registered Investment Adviser with the SEC. Gary Gordon, Pacific Park Financial, Inc., and/or its clients may hold positions in the ETFs, mutual funds, and/or any investment asset mentioned above. The commentary does not constitute individualized investment advice. The opinions offered herein are not personalized recommendations to buy, sell or hold securities. At times, issuers of exchange-traded products compensate Pacific Park Financial, Inc. or its subsidiaries for advertising at the ETF Expert web site. ETF Expert content is created independently of any advertising relationships.