For most investors, taking a long term view of the market and comparing market returns is an industry passion.  With so much emphasis on short term interest, the event of a long term bet (such as the one between Warren Buffett and Protégé Partners) makes your alpha beat my beta a refreshing statement. 
In commercial real estate, the long-term bet is on the table everyday.  It is the clairvoyant with the crystal ball looking into the future that determines the events of five and ten year leases that matters.  Perhaps this explains the reason companies such as Equity Office, Boston Properties (NYSE:BXP) and Vornado (NYSE:VNO) are referred to in the name of the crystal ball holder, Zell, Zuckerman and Roth. 
The announcement of the pending sale of 75% interest in the Chrysler Building makes for an interesting protagonist with Tishman Speyer Properties and TMW (alpha). In similar fashion, Rexx Index serves as the benchmark for the commercial real estate market (beta). 
Since the Rexx Index has no equity market or appraisal bias, this puts the New York Midtown market directly against the performance of the Chrysler building and the managing alpha. Additionally, the time frame covered in the comparison includes events such as LCTM, the stock market boom/bust, the terrorist attacks and the credit crunch. We talk about 100-year floods and black swans; with each there would seem to be no crystal ball. We do not know the future for Protégé, however, we have seen what happened over the last ten years in the New York Midtown market.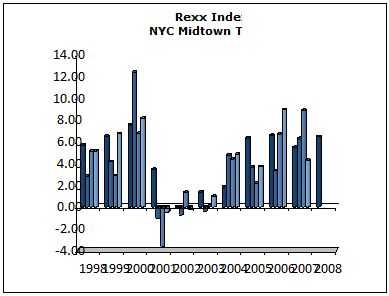 Tishman paid $220 million for the Chrysler building at the end of 1997 and then sold 75% to TMW in 2001 for $300 million. This equals to an 82% ROI. During this same period Rexx Index went from 139.75 to 279.42 for a 100% return. If the 75% interest for TMW closes at $800 million in 2008, the return (since 2001) would be 167%.  For the same time period, Rexx Index went from 279.42 to 640.54, a return of 129%.  
If we look at the performance from the original purchase price of $220 million in Q1 1998 to Q1 2008, 75% interest in the Chrysler building returned 385% ($800 million) and the Rexx Index New York Midtown returned 358% ($755 million).  It seems the missing $45 million might be in the Trylons retail space, bringing the returns to an even bet. 
This makes for an interesting observation.  Having made the comparison of the real estate market to the financial markets, we see that in any market it is difficult to beat beta (or lose to beta) over time. On the other hand, making the right decision at the right time may create alpha or lose all the bets across the board.