General Electric's (NYSE:GE) stock performance has been a disaster for the last 12 years. The time has come for the company to focus less on GE Capital and more on the industrial side of the business where large-scale opportunities currently exist.
GE's management has stated publicly, on several occasions, that a spin-off of GE Capital is not being considered. The main-stream media however, continually suggests a spin-off as a viable option. I think the press is wrong and they should just drop the subject. The industrial and financial businesses work in harmony together, each leveraging the other's expertise.
So, if a large transformational spin-off is not an option, what can GE do to kick start growth over the next decade and deliver some value to the long-term shareholder? What industries should they focus on to grow and what types of strategic acquisitions should they be reviewing?
The mainstream energy outlook currently concludes that there will be large-scale business opportunities around the globe that focus on facilitating the use of natural gas as a primary fuel source. This migration toward the use of natural gas will necessitate a worldwide infrastructure build-out. Estimates from the Energy Information Administration (NYSEMKT:EIA) and the INGAA (Interstate Natural Gas Association of America) recently reported that upwards of $100 billion needs to be spent within North America on natural gas related infrastructure through 2030. Worldwide estimates are harder to find but between China, Australia, Europe and the Middle-East, it is probably safe to say that many billions more will be spent globally by 2030.
I believe GE should focus their attention on developing / acquiring natural gas - related businesses to immediately take advantage of the tremendous opportunity unfolding worldwide. These opportunities will last for decades as companies find innovative ways to replace expensive oil with cheap natural gas around the world.
There are two companies that stand to significantly benefit from the migration toward natural gas as an energy resource and they both would make excellent strategic acquisitions for GE's industrial business. These are Westport Innovations (NASDAQ:WPRT) and Chart Industries (NASDAQ:GTLS). Both are leading - class companies that are in the middle of the greatest energy transformation this country and the world have ever seen - the discovery of economically recoverable shale gas reserves around the globe. (Full Disclosure: RulingTheMarkets.com has issued a detailed report on WPRT and we have a current long position).
First, an overview of the natural gas market - The Big Picture
The supply side of the natural gas equation
Starting around 2007-2008, high oil prices caused companies to consider energy from non-traditional sources of supply. This need to discover cheaper energy helped facilitate development of innovative technology such as horizontal drilling and fracking. These technology advancements made production from previously non-economic reserves possible, and more importantly, - profitable.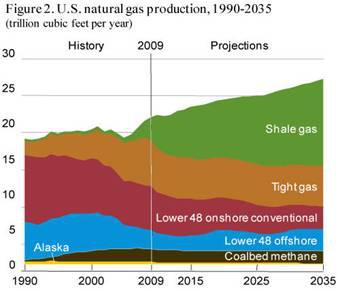 As you will notice from the chart (EIA Outlook 2012), a steep rise in production is seen from non-traditional shale resources starting in 2008. In the years following, the resulting discoveries allowed total reserve estimates to be revised upward dramatically - by some accounts, the United States has more than a 100 - year supply of natural gas. Internationally, huge shale discoveries have been made in Canada, Australia, Argentina and China, just to name a few. The discoveries are so enormous that the supply side of the economic equation has been permanently altered. We have an abundance of natural gas available for our worldwide energy needs for many decades to come.
The demand side of the natural gas equation
The drastic increase in the supply of known natural gas has caused prices to fall drastically - within the United States. This price decline makes a strong business case for the adoption of natural gas for use in transportation and electricity generation.
The migration toward utilizing natural gas for transportation fuel is based on sound business economics. Efficiently run companies always find ways of becoming more profitable by squeezing every last drop from their cost structure. Companies routinely chase after very marginal cost savings opportunities. Moving from diesel to natural gas for a logistics fuel has the current potential to save companies 50% per gallon on their fuel costs. This equates to millions and millions of dollars in benefits for shareholders in companies like FedEx (NYSE:FDX), UPS (NYSE:UPS), Wal-Mart (NYSE:WMT), Waste Management (NYSE:WM), PepsiCo (NYSE:PEP), and Coca-Cola (NYSE:KO), just to name a few. Companies will rush to implement changes to their cost structure (by moving from diesel to natural gas) when millions of dollars are on the line, providing a cost structure advantage over peers.
GE Energy
GE Energy, with $50 billion in estimated sales, is the largest industrial unit within the corporate structure. The division plans on growing revenue to $100 billion over the next few years. GE, in an attempt to facilitate growth and expand beyond its legacy energy markets, spent more than $11 billion on acquisitions during 2011. Their recent purchases have primarily been focused on businesses that operate within the oil and natural gas sectors.
GE Energy is looking to grow through further strategic acquisitions, and in my opinion, they should be looking to acquire Chart Industries. Chart Industries, Inc. is a leading independent global manufacturer of highly engineered equipment primarily for use in natural gas applications. They manufacture a broad line of cryogenic and low temperature products for the purification, liquefaction, distribution, storage and application of gases such as natural gas for final use in energy, industrial, commercial and scientific applications. Analysts estimate that Chart Industries revenue will grow at 20-25% this year and next, while profits are expected to grow even faster. Current per-share income estimates are $2.77 in FY2012 and $3.91 in FY2013, from a 2011 base of $1.46 per share - exponential profit growth.
This business would complement GE Energy's current business and would leverage GE's global sourcing capabilities, with contacts and engineering expertise allowing a new owner to reduce overlapping costs and increase margins within the acquired entity. Additionally, as a result of GE Energy's worldwide footprint they have the ability to grow this segment substantially faster than an owner could without GE's synergies and market dominating position.
GE Transportation
GE Transportation is an approximately $5 billion division of GE. The organization manufactures equipment for the rail, marine, mining and energy-generation industries. They are the largest producer of diesel-electric locomotives in North America and they produce diesel engines for marine applications.
The current natural gas / diesel pricing analysis (discussed on Seeking Alpha - here) confirms that businesses will move from diesel-powered engines toward more efficient, cost-effective and environmentally friendly natural gas-powered engines. One way GE Transportation could combat that inevitable decline in demand for diesel-only power is to buy Westport Innovations.
Westport Innovations is one of the companies that will benefit the most over the next several years from the migration to natural gas as a transportation fuel. They are a pure play on natural gas-powered engines and a current global leader in natural gas engine technology that enables engines to run on alternative fuels without compromising performance, fuel economy, durability or reliability as compared to diesel engines. Westport Innovations has an enormous patent portfolio protecting their proprietary technology.
By taking control of the technology, and implementing that technology in sectors they already dominate, such as rail, marine and power generation, GE is able to increase their competitive advantage over other market participants.
Market Capitalization
GE's market cap is around $210 billion; Westport's is $2 billion and Chart's is $2 billion. GE has ample means to make a purchase of this magnitude.
Final Comments
Strategic acquisitions in natural gas-related areas, like the examples noted above, would allow GE to continue to focus on the industrial side of the business and place less importance on GE Capital.
I am not an expert in structuring public or private buy-outs, and I have no idea if the capital structures of either strategic example discussed above would allow a buy-out. Additionally, sometimes companies are "not for sale at any price." That having been said - GE has enough capital available that further strategic purchase can and should be done.
After years of neglect I suspect that long-time shareholders would like management to bring the focus back to the industrial side of the business and away from GE Capital. Shareholders deserve better than the stock performance of the last 12 years.
Disclosure: I am long WPRT.
Disclaimer: This work is based on public filings, public events, interviews, corporate press releases, and what I have learned as financial journalists. It may contain errors and you shouldn't make any investment decision based solely on what you read here. It's your money and your responsibility.