With the significant decline in natural gas prices over the last 12 months, an increasing number of gas and oil companies have turned to Natural Gas Liquids (NGLS) production in search of higher returns. In this article, I will focus on one of the sub-components of the NGL mix, which is Propane.
The Unites States produces one million barrels of propane per day, based on the latest numbers published by the US Energy Information Administration (EIA). There are two major sources for that supply:
Gas Plants: 694K barrels per day (70% of supply)
Refineries (net): 300K barrels per day (30% of supply)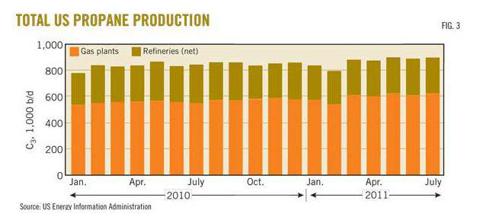 The refinery supply segment has been flat since 2005; however, the gas plant segment has grown by 56% during the same period and it continues to rise.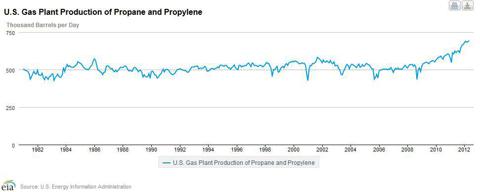 Meanwhile, the US consumes around 1.2m barrels per day. Consumption is expected to slightly decline over the next five years due to increased heating efficiency and natural gas switching.
Propane is traded in two main hubs:
Mont Belvieu, Texas
Conway, Kansas
Historically, NGL prices traded at a close proximity at both hubs. However, this relationship broke down in Q3-2011 after an increase of propane supply in the Mid-Continent and a lack of a takeaway capacity compounded by the warm winter in 2011/2012: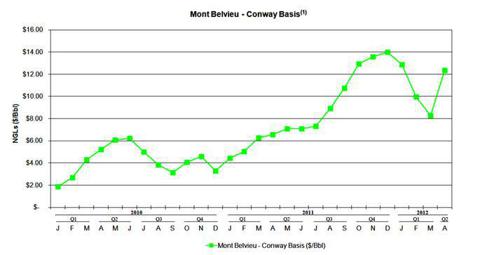 Source: Copano Energy
The breakdown in the relationship caused propane prices at Conway to dip significantly below its five-year average in relation to WTI: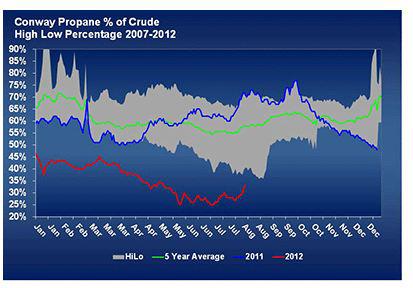 Source: LPGAS Magazine
As can be seen from the above, propane prices at Conway historically traded at 55% to 75% of WTI; however, in June 2012, they dipped as low as 25% of WTI and have corrected recently to 35% of WTI. In dollar terms, propane prices declined from about $60 per barrel in Q3-2011 to as low as $23 per barrel in Q2-2012, before rebounding to $30 per barrel currently.
Prices set to rebound
There are three factors that should lead to an improvement in propane pricing in the next 6 to 12 months - both generally and specifically at Conway:
Declining inventories;
Rising exports;
Easing of bottleneck at Conway.
Declining inventories
Earlier in the year, US propane inventories were as high as 70% above the five-year average, as of July this situation has completely been resolved and inventories are currently within the five-year average - albeit at the upper end: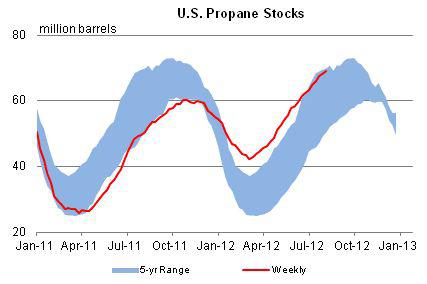 Source: EIA
Most importantly for the Midwest region propane inventories have started to diverge with the Gulf cost and have actually showed a decline as of last week bringing them to below last year levels: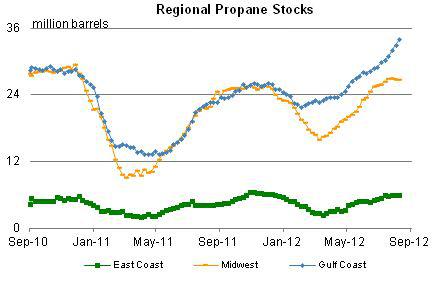 Source: EIA
Rising Exports
The United States has steadily increased its propane exports over the last several years. With most of the world's propane supply and pricing tied to oil, US gas planet propane has a decisive pricing advantage: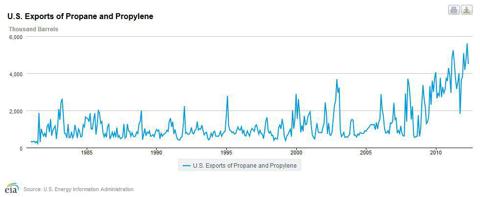 Currently, the US is exporting propane at full capacity; however, export capacity is set to more than double between today's capacity of around 150K barrels per day to over 350K per day in Q3-2013:
The first major expansion is coming in Q4-2012 by Enterprise Product Partners (NYSE:EPD) for a total addition of 86K barrels per day on top of the current 120K barrels a day in export capacity.
The second major export expansion project is by Targa Resources with a total increased capacity of 5,000 barrels per hour or 120K barrels per day.
Considering that the US produces one million barrels of propane per day, the addition of over 200K per day in export capacity should play a key role in balancing the market in the next few quarters.
Easing of bottleneck at Conway
The bottleneck in Conway has been one of the key contributors to the significant decline in NGL and propane prices in the mid-continent; however, this problem will be completely eliminated by 2014 as a number of new pipeline projects is put into service in the next 12 months:
DCP Midstream (DPM) is proceeding with the 150,000 Bbls/d common carrier Southern Hills Pipeline between Conway, Kansas and Mont Belvieu, Texas. DCP will convert the Seaway Products Pipeline (which it bought from ConocoPhillips (NYSE:COP) on November 1, 2011) from a refined products pipeline into a NGL pipeline. Southern Hills Pipeline is targeting a mid-2013 in-service date.
Oneok Partners (OKS) is planning a 193,000 bpd NGL pipeline called Sterling III Pipeline between Medford, Oklahoma (just south of Conway, Kansas) and Mont Belvieu, Texas. Commercial operation is expected by late 2013, assuming construction starts in early 2013. As currently designed, the 16-inch Sterling III pipeline capacity can be expanded to 250,000 bpd with additional pumping stations.
On January 3, 2012, Enterprise Products Partners L.P. (EPD) announced it had received sufficient commitment to develop its 1,230-mile Appalachia to Texas NGL pipeline, ATEX Express. ATEX Express (originating in Washington County, Pennsylvania) will have 190,000 bpd capacity and terminate in Mont Belvieu, Texas. ATEX Express is expected to begin commercial operations in the Q1/14.
In addition, in late June, Kinder Morgan (NYSE:KMI) began providing transportation services for up to 30,000 barrels per day of E-P mix from Conway to Sarnia, Canada via the Cochin pipeline.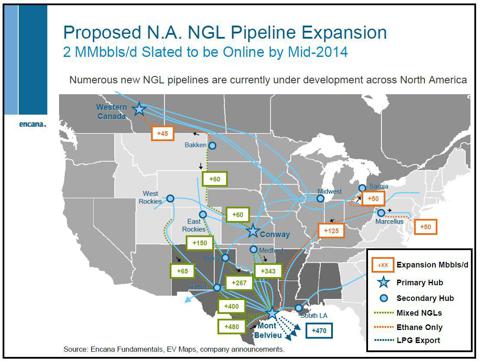 Oneok Partners expects the Conway-Mont Belvieu NGL differential to shrink to $3 a barrel from the current $12 a barrel by 2014.
The combination of sliding storage, increased exports, and the de-bottlenecking at Conway should lead to a significant rise in propane prices in the Mid-Continent between today and Q2-2013 and especially so if we experience a normal winter in 2012/2013. Propane prices should gradually revert to their historical WTI relationship in the next 3 quarters or rising from $25 in Q2-2012 to $50-55 a barrel by Q2-2013. The rise in propane prices could be yet more pronounced should the WTI/Brent spread shrink in Q1/2013 as the expanded Seaway Pipeline capacity from Cushing into the Gulf coast is put into service.
Who is set to benefit?
Several producers are set to benefit from the rise in Conway propane prices and the shrinkage of the differential with Mont Belvieu:
Equal Energy (NYSE:EQU): Equal energy derives the majority of its revenues and cash flow from its NGL production. With 100% of the company NGL production originating in the Mid-Continent, Equal is set to experience a surge in revenues and cash flow through 2013.
Chesapeake Energy (NYSE:CHK): Chesapeake has been focusing on increasing its liquids production since 2010. However, 50% of that production is tied to pricing at Conway, an increase in propane prices at Conway would have a meaningful impact on Chesapeake cash flow.
Eagle Rock Energy Partners (NASDAQ:EROC): Eagle is both an upstream producer and a midstream operator, Eagle is exposed to weak NGL prices at Conway at both of its divisions; a shrinkage of the Conway-Mont Belvieu differential will have a very beneficial impact on the company margins and cash flow.
There are many other companies with varying levels of exposure to Conway such as Devon Energy (NYSE:DVN), Forest Oil (NYSE:FST), Copano Energy (NASDAQ:CPNO) and LINN Energy (LINE) among others.
Positioning to profit from the rise in propane prices in the Mid-Continent is a unique arbitrage opportunity that does not arise often; investors will be well served to gain exposure to Mid-Continent NGL/Propane producers and reduce or hedge that exposure through a differentiated exposure to producers exposed to Mont Belvieu pricing.
Disclosure: I am long EQU.