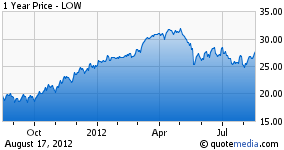 Lowe's (NYSE:LOW) report their fiscal 2nd quarter '13 earnings before the bell on Monday morning, with analyst consensus expecting $0.70 in earnings per share and $14.5 billion in revenues for expected year-over-year growth of +3% and -1% respectively.
Home Depot (NYSE:HD) has outperformed LOW by almost 2500 bps this calendar year, thanks to better comps, better sales productivity and better earnings per share growth.
(HD is up almost 33% this year, while LOW is up about 8%, excluding the dividends.)
In fact, according to Mike Baker of DeutscheBank, the valuation gap between HD's 15(x) P/E ratio and LOW's 12(x) forward P/E ratio is now at a ten-year high (or wide), depending on how an investor defines it.
While both companies have virtually stopped adding stores, HD has improved store and sales productivity and returned the enormous cash-flow generation to shareholders via the stock buyback.
HD is trading about 12(x) cash-flow and over 1(x) price-to-sales, while LOW is still trading at 7(x) cash-flow and 0.56(x) price to sales, so in terms of valuation, the edge definitely goes to LOW, while the execution goes to HD.
We are keeping this earnings preview short-and-sweet just so readers can get the substance of what is happening between the two DIY (do-it-yourself) home improvement retailers, but one explanation (at least in part) for the relative performance difference between HD and LOW could be market cap: HD is trading at $83 billion market value today, while LOW is being valued today at just $32 billion. No question larger-cap stocks have been outperforming their smaller-cap brethren of late. Some other issues are larger-market presence versus smaller market concentration and big ticket-comp outperformance.
Last quarter, LOW missed on their quarterly comps by half, printing 2.5% versus the 5% expected, and gross margin was narrower than expected although management made it up with SG&A compression.
If an investor can be patient, this valuation gap should narrow, particularly as housing continues to recover. However, whether HD declines in price or LOW outperforms remains to be seen.