Less than a month ago, I discussed in an article how falling natural gas prices had prompted Coskata to abandon its plans to use biomass-derived syngas as ethanol feedstock at its first commercial-scale projects in favor of the natural gas-derived variety. This week we've seen another biomass-derived syngas project cancelled, as Neste Oil (OTCPK:NTOIF) and Stora Enso (OTCPK:SEOAY) announced today that they will be ending a previously announced 61 million gallon per year renewable diesel joint venture. The project, which would have gasified biomass and converted it to renewable diesel via Fischer-Tropsch synthesis and hydroprocessing, was estimated to cost nearly $700 million; the cancellation announcement attributed the decision in part to the fact that the project would have represented a "significant investment." This can usually be translated as "the process economics didn't merit the high price tag," especially given that Neste already operates multiple large non-gasification renewable diesel projects around the world.
While the JV first demonstrated the technical viability of the pathway at a demo-scale facility back in 2009, natural gas prices have fallen significantly relative to petroleum prices in recent years and it is now an attractive feedstock for the production of synthetic fuels (although the price spread is not as extreme in Europe as it is in the U.S.):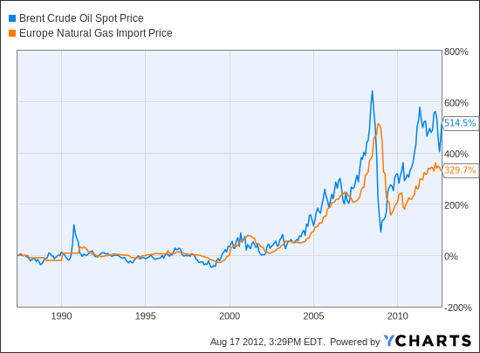 Furthermore, while U.S. imports of biomass-based diesel (i.e., renewable diesel of the lipids-based variety) from global producers such as Neste qualify for high-value RINs, there is a great deal of uncertainty at present as to whether the EPA will enforce the cellulosic biofuels mandate in the face of mounting political and legal pressure, without which cellulosic biofuel RINs have no value.
The fact that even European producers have begun to cancel plans for the commercial-scale production of biofuels via biomass gasification could result in shareholder pressure on the few remaining employers of the pathway in the U.S. to do the same, or at least to consider feedstock diversification. Rare examples of public U.S. companies utilizing the pathway include Fulcrum Bioenergy (FLCM) and Rentech (NYSEMKT:RTK), both of which convert biomass-based syngas to biofuels (Rentech has already diversified into carbonaceous feedstocks in general). While projects employing natural gas as their sole feedstock will not qualify for the cellulosic biofuels RINs under the RFS2 (if and when a market is formed for them), they avoid the high capital costs associated with biomass pretreatment and gasification equipment [1].
Don't be surprised to see this trend away from biofuels production via biomass gasification continue if more countries begin to exploit their plentiful shale gas reserves. While natural gas is an inferior feedstock to biomass in terms of greenhouse gas emissions and sustainability, it could serve as a cost-effective way for syngas-to-liquids projects to gain operational experience while they wait for biomass supply chains to become well-established.
References
[1] Swanson RM, Platon A, Satrio JA, & Brown RC (2010) Techno-economic analysis of biomass-to-liquids production based on gasification. Fuel 89:S11-S19.
Disclosure: I have no positions in any stocks mentioned, and no plans to initiate any positions within the next 72 hours.