The 1971 Ford Pinto wasn't that bad of a car. The sad, painfully ugly 1970 AMC Gremlin, with its cheap windshield wipers, rust-prone nose-heavy frame, and flip-up back window that broke off in your hands? That was a bad car. By comparison, the Pinto was a decent car with a nasty habit of bursting into flames after a rear end collision.
What many people don't realize is that the public's preoccupation with the Pinto as a death trap was based largely on a myth. Motorists didn't die by the hundreds. In fact, the Pinto was as safer than many of the cars in its class. But the idea, given weight by the seemingly callous cost-benefit analysis of the Pinto Memo, cemented the idea that Ford had knowingly produced and sold a time bomb without regard for consumer safety. The National Highway Traffic Safety Administration (NHTSA) ultimately demanded the recall of the Pinto.
The Pinto Of Wall Street
Many on Wall St. today feel the same way about Facebook (NASDAQ:FB) as American motorists felt about the Ford Pinto in the late 1970s. After being railroaded out of a profitable IPO by Morgan Stanley's (NYSE:MS) last minute price hike, professional traders bailed, leaving retail investors to catch a falling knife. Just months after the dizzying media hype and fluff pieces that declared that no price was too high to own a piece of Facebook, disillusionment among investors has flipped the script. Now it seems that no price is too low to take a pass. Facebook is now the second-worst performing IPO since January 2011.
Short-sellers are ignoring positive technical indicators and piling on the social network's stock. The plunge in Facebook's valuation recently tripped the MACD. The MACD line came in at -2.25, while the average line was -2.31, indicating a "buy". But Facebook bears are ignoring the MACD due to the glut of new shares coming on line with the lockout expiration. The number of short positions has increased by 35% from just a month ago. Even optimistic investors -- such as analyst Ken Sena, who has a price target of $34 a share on the stock -- aren't buying right now.
More Shares Will Be Dumped On The Market
My impression is that most of the bad news has already been priced in by investors. Nevertheless, Facebook still has a lot further to fall. The number of shares traded today was four times average daily volume and increased Facebook's float by 42%. And it isn't over yet. Accel Partners just announced that it is offloading 50 million shares to limited partners to sell or hold as they wish.
(click images to enlarge)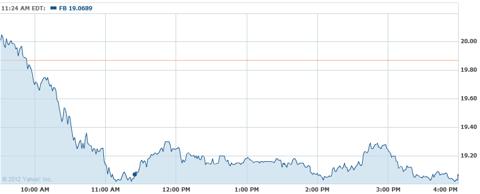 The rest of the lockup schedule is just as punishing. The biggest batch under lockup -- 1.2 billion shares -- expires on November 14, almost five times the number of shares available for release today. Most of those shares belong to Zuckerberg, and presumably, he won't be as eager to dump his stake as his fellow insiders and VCs. Still, the number of shares alone alters the equation, regardless of what Zuck does or doesn't do. In fact, it may make more sense for Zuck to dump the stock in November and buy it back later at a lower price after the December 14 expiration.

Worse, Facebook is issuing additional shares for stock grants and the purchase of Instagram. That means issuing another 600 million shares over the current 2.14 billion shares outstanding.
This endless dilution can't go on for much longer with negative EPS and a stratospheric P/E. Facebook needs to find a floor quickly in order to retain talent and evaluate its options, and every big ticket purchase Zuckerberg commits to only makes finding a bottom that much harder to achieve.
What we're witnessing now is the result of deeply flawed IPO and years of overly generous compensation schemes that allowed Facebook to siphon off talent from Google (NASDAQ:GOOG), Microsoft (NASDAQ:MSFT), and Apple (NASDAQ:AAPL). Now the chickens have come home to roost.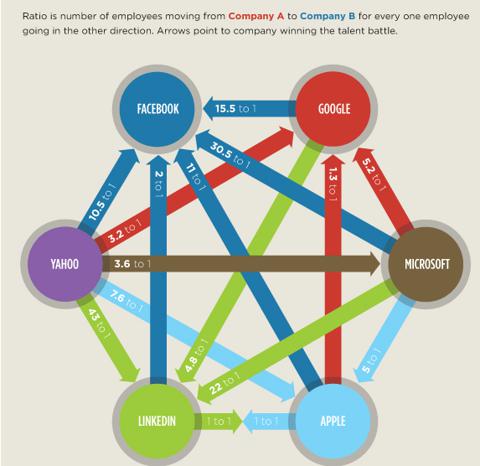 Zuckerberg needs to get on his bicycle and start paddling before he loses the company he spent the last eight years building. To be fair, there's only so much Facebook can do in a few months. Even a crash development program with near unlimited resources behind it takes at least six months to produce. Other companies can trim back on their R&D budget or cut staff, but Zuckerberg is already struggling to fend off raids by the likes of Apple, Pinterest and Google on his talent pool; and Facebook doesn't have a product line to cut. It's also difficult to focus on developing new, exciting products and services while the market is knocking your teeth down your throat.
The Gist
Facebook hate is being oversold right now, but that doesn't make it a buy. While Facebook is much more attractive at $19 than it was at $38, and I think it will find some support as the current price provides an attractive entry point for growth investors. In terms of a bottom, I expect Facebook to fall to about the $8-$10 range (14X P/E ratio) before rebounding sharply.
Disclosure: I am long YHOO.