Investors are attracted to Brazil for robust economic growth and the hope of high returns. One prominent hedge fund is betting on Brazil by using an ETF.
Money manager Ray Dalio, who runs Bridgewater Associates, a $120 billion hedge fund, purchased 2,002,700 shares of iShares MSCI Brazil Index Fund (NYSEARCA:EWZ) at an average $56 per share, or about $112.2 million worth of shares, reports Steven Orlowski for Emerging Money.
"The developed world remains mired in the deleveraging phase of the long-term debt cycle," Dalio wrote in a quarterly letter. "The European deleveraging has been badly managed and is escalating, bringing Europe closer to either debt implosion or a monetization and currency collapse."
Dalio's repositioning into Brazilian equities looks like a vote of confidence, especially as he purchased the shares during a period of falling prices and while some observers think emerging markets are slowing.
Brazilian growth has been attributed to credit expansion and rising consumer spending.
On Wednesday, Brazil revealed the first phase of a major economic stimulus package, investing over $60 billion in the country's infrastructure, BBC News reports.
"The measures unveiled by the Brazilian government this afternoon are good news insofar as they will help tackle some of the supply-side problems that are holding the economy back," Neil Shearing at Capital Economics, said in the article.
iShares MSCI Brazil Index Fund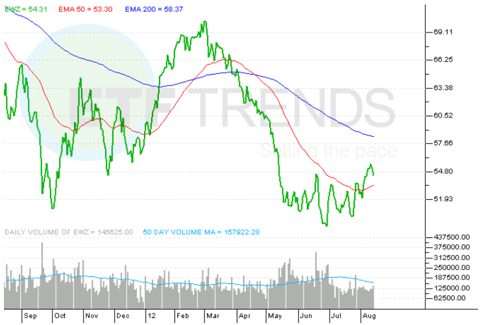 Max Chen contributed to this article.
Disclosure: I have no positions in any stocks mentioned, and no plans to initiate any positions within the next 72 hours.