The Swedish krona has been one of the best performing currencies as investors have searched out safe havens. The Guggenheim CurrencyShares Swedish Krona Trust (NYSEARCA:FXS) has risen as the krona is at a 12-year high against the euro.
"Because of Swedish companies' international focus, the krona has tended in the recent past to correlate particularly well with the U.S. S&P 500 stock index. The S&P was up 7 % since the beginning of June at 1,401 when European trading closed on Thursday. Over the same period, the krona was 8% higher against both the greenback and the European single currency, with rates at the European close of 6.7 krona to the dollar and 8.2 to the euro," David Turner wrote on Institutional Investor.
Swedish banks have remained healthy despite the eurozone debt crisis, and the country has maintained its "AAA" credit rating from the three major agencies, reports Jason Jenkins for Investment U.
The healthy export-driven economy has risen 2.1% over the second quarter of 2012, and steady interest has kept the krona elevated. The International Monetary Fund forecasts that the country will not report a deficit nor a surplus in 2012.
FXS, an ETF tracking the krona against the U.S. dollar, has gained about 5% over the past month. The ETF costs about 0.40% and has around $67 million in assets.
The krona "has both cyclical and structural forces propelling its move higher," said HSBC in a recent note. "In a world of so many ugly currencies" - ugly because of poor economic fundamentals - "this combination can be very powerful."
HSBC forecast that the appreciation of the krona, 8.1 krona to euro, the currency may be at the end of its appreciation. The krona is vulnerable to any negative news out of the eurozone, and just as quickly as the currency rose, it will depreciate.
Guggenheim CurrencyShares Swedish Krona Trust
Click to enlarge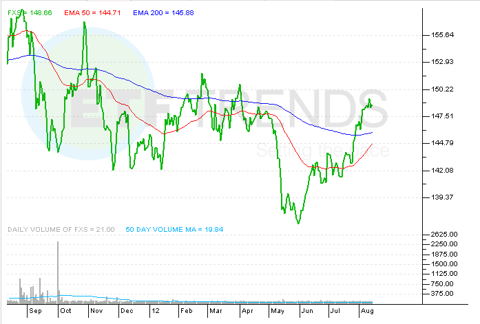 Tisha Guerrero contributed to this article.
Disclosure: I have no positions in any stocks mentioned, and no plans to initiate any positions within the next 72 hours.
Disclaimer: The opinions and forecasts expressed herein are solely those of Tom Lydon, and may not actually come to pass. Mr. Lydon serves as an independent trustee of certain mutual funds and ETFs that are managed by Guggenheim Investments; however, any opinions or forecasts expressed herein are solely those of Mr. Lydon and not those of Guggenheim Funds, Guggenheim Investments, Guggenheim Specialized Products, LLC or any of their affiliates. Information on this site should not be used or construed as an offer to sell, a solicitation of an offer to buy, or a recommendation for any product.