In this article, I take a look at Merck & Co Inc. (NYSE:MRK), a major drug manufacturer. Merck is trading near its high of the year. The company is pricey. The valuations are extended, as we have seen the valuation multiples expand. Merck is overvalued. We haven't seen Merck's share price start to decline, but there are signs of investors distributing shares. I believe the valuation could decline 33 percent. I don't think it'll be because of sales growth. We are in a low growth rate economy and sales probably won't increase fast enough to bring the valuation down. Merck's investors tend to be dividend investors, however, it takes buying to put up a stock. At this level, buyers probably aren't willing to purchase shares of Merck.
We will probably see the share price decline. Investors should reduce their exposure to Merck. Dividend investors will probably want to increase their exposure once the dividend yield increases. You earn the dividend yield by reinvesting dividends at the same yield.
Industry
Typically, healthcare companies are non-cyclical. The companies typically have stable cash flows and high dividend yields. Drug firms have historically created value for investors. Their return on invested capital has been higher than their weighted average cost of capital. The industry typically has high barriers to entry. For drug manufacturers, there is the threat of substitute products when their proprietary drugs are off patent. Initially, their customers don't have much, if any, bargaining power. And the industry typically isn't supplied with unionized labor. The suppliers of labor don't have much, if any, bargaining power.
Pharmaceuticals is a mature industry with little or no growth, industry consolidation and high barriers to entry. Industry growth is limited to replacement demand and population expansion. The companies should have brand loyalty and efficient cost structures. The industry usually avoids price wars. Companies in the industry with superior products or services are likely to gain market share and experience above-industry-average growth and profitability. However, the industry does face a potential threat from biotech.
Rating System
Buy - Be long
Neutral - No position
Sell - Be short
(The ratings, research and analysis in this article should be considered as a starting point for further research.)
Merck -- Neutral or Sell
Investment Thesis
Given the current lack of business diversification and the valuation, a short position in Merck is recommended at this time. The loss of patent protection for Singulair further heightens anxiety about the future of the enterprise. Should valuation metrics decline to levels reflective of Merck's future operations, I may recommend the accumulation of the common equity shares.
Additionally, credit risk stemming from Europe and the loss of patent protection for Singulair may result in Merck reporting substantially lower sales and net income.
Company vs. Industry [TTM]
Return on Assets: 6.47 vs. --
Return on Investment: 7.87 vs. --
Return on Equity: 12.15 vs. --
(The management effectiveness ratios courtesy of Reuters.)
Enterprise Operations
Merck's sales in 2012's second quarter increased 1.3 percent compared to the year-ago quarter to $12.3 billion. Operating costs declined 8.1 percent to $9.63 billion. The operating margin expanded compared to the year-ago quarter. However, net income declined 11.4 percent to $1.82 billion as taxes on income increased. Comprehensive income attributable to Merck declined 22.1 percent to $1.88 billion. During 2012's first six months compared to 2011's first six months, comprehensive income was flat.
Current assets increased 7.4 percent compared to 2011's fourth quarter. Investments increased 18.1 percent to $4.09 billion. Total assets increased 0.3 percent to $105.53 billion. Total current liabilities increased 4.1 percent to $16.91 billion. Merck became more liquid. The current ratio increased from 2.04 to 2.11. The cash ratio increased from 0.92 to 1.03. Long-term debt was roughly unchanged at $15.06 billion. Total liabilities was roughly unchanged. The long-term debt to equity decreased from 0.27 to 0.26.
More important than earnings is the quality of earnings, and Merck's earnings are high quality. Cash flow from operations was enough to cover capital expenditure. In the first six months of the year, compared to 2011's first six months, cash from operating activities increased 11 percent to just over $5 billion. Merck used $568 million of cash from operating activities in investing activities and spent $762 million on capital expenditure. Short-term borrowing totaled $1.63 billion. Capital repayments to equity shareholders totaled $3.54 billion. The dividend payment coverage ratio increased from 1.95 to 1.98. The debt coverage ratio increased from 0.26 to 0.27. Cash flow-revenue increased from 0.38 to 0.41.
As part of the 2008 global restructuring program, Merck has reduced costs, increased efficiency, and enhanced competitiveness. The restructuring program is mostly complete. Further, the gross margin should expand in the coming years.
Overall, the financial position improved and cash flow management was splendid. The financial performance was disappointing. Sales didn't increase. Also, comprehensive income over the first six months of the year didn't increase.
Credit Risks
As of June 30, 2012, the enterprise had $1B of exposure to Greece, Italy, Ireland, Portugal and Spain through terms of credit extended as part of business operations. That is down from $1.7 billion at the end of the first quarter.
Legal Risks
There is potential liability from court cases involving Vioxx and ENHANCE. Potential losses from Vioxx litigation are currently inestimable and could materially adversely impact the company's financial position, income, and cash flow.
Additionally, Merck faces litigation stemming from other products that may adversely impact the company's financial position, income, and cash flow.
Patent Risks
Between 2012 and 2013, Merck is expected to lose almost all of its revenue from the drug Singulair, as the patent expires. Singulair is one of Merck's best-selling drugs. Merck stands to lose roughly $4B-$6B in annual sales.
Competitors
Merck competes with Abbott Labs , Amgen (NASDAQ:AMGN), Astra Zeneca (NYSE:AZN),Bristol-Myers Squibb (NYSE:BMY), GlaxoSmithKline (NYSE:GSK), Johnson & Johnson , Novartis (NYSE:NVS), and Pfizer (NYSE:PFE).
Click to enlarge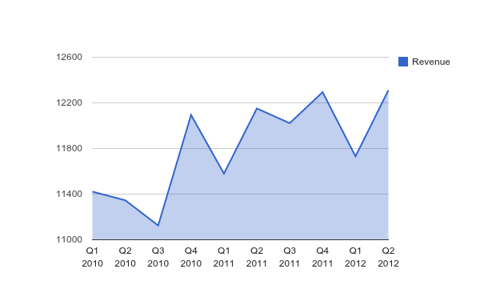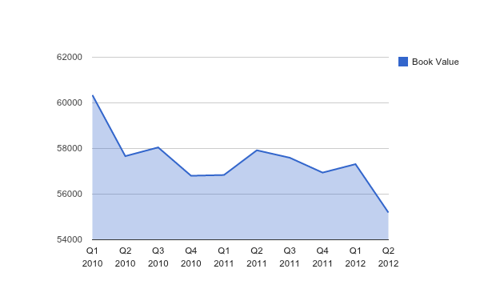 Revenue and book value are diverging. Top line sales growth isn't increasing the company's book value. Merck isn't managing expenses well.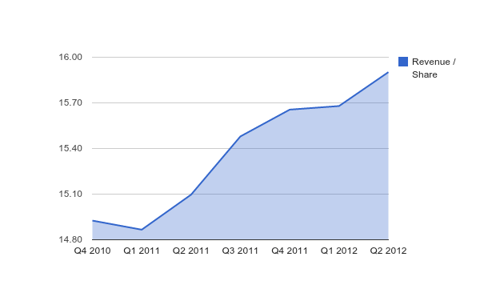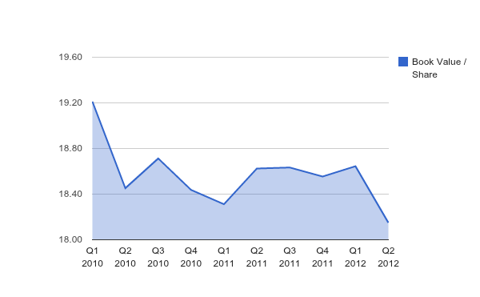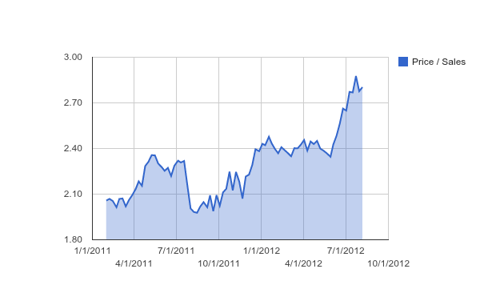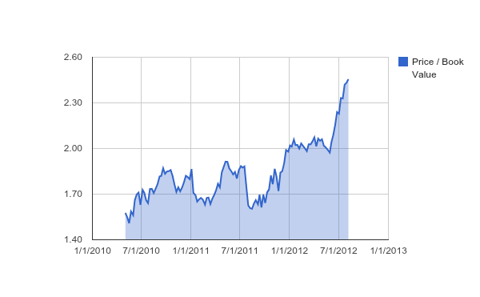 The price-sales and price-book value valuation metrics suggest Merck is overvalued. A price-sales ratio of three is towards the top end of the range. It is possible that price-sales could decline to 1.5-2. To reiterate, I don't think the decline in the price-sales metric will be because of rapid sales growth. I think it'll be because the share price declines.
Disclosure: I have no positions in any stocks mentioned, and no plans to initiate any positions within the next 72 hours.