iShares Dow Jones Select Dividend Index (NYSEARCA:DVY) is an exchange traded fund (ETF) with the objective of generating returns, before fees and expenses, of the Dow Jones U.S. Select Dividend Index. The Dow Jones Industrial Average has historically generated more than one third of returns from dividends, and this ETF attempts to capture the dividend performance without sacrificing capital gains. I will briefly analyze the top holdings of the fund to give you additional insight into the ETF, but first I want to provide some background into the overall fund so you have a better idea of what you are investing in. Note that all statistics are as of July month-end.
DVY invests in approximately 100 United States publicly traded corporations that are screened for dividend growth, payout rate, trading volume, and current dividend yield. This fund focuses on larger dividend payers with not only high yields but yields that are growing quickly. For this reason, the yield is relatively "low" at 3.5% but theoretically should grow at an above-average pace. The underlying investments have market caps that range from approximately $221B to $851M with averages and medians of $28B and $7B, respectively. As the chart below indicates, the most heavily weighted sector is utilities (33%) followed by consumer goods (18%) and industrials (16%). Surprisingly, this index has low concentrations in typical high-yield industries such as financials, telecom, and oil and gas. Overall, this is a very diverse (one might argue over-diverse) fund that offers above-average yield with additional growth prospects at moderate risk.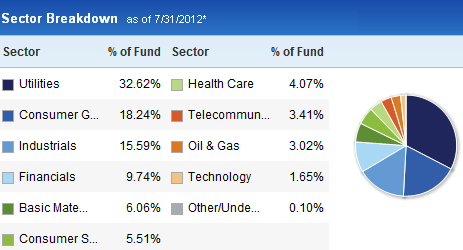 Below, I will provide some insight into the top five holdings as of July 31, 2012, which constitute 12.8% of the overall portfolio. While you might decide that DVY is not right for your investment objectives, the underlying investments may be appropriate for you.
Lorillard, Inc. (NYSE:LO): 4.9% Yield; 15.6 P/E
Lorillard is one of the "big tobacco" companies with brands including Newport, Kent, and True. I have invested in both Altria (NYSE:MO) and Philip Morris (NYSE:PM) with tremendous capital gains and dividends over the years. Lorillard does not have leading brands but the investment hypothesis is similar. Despite declining tobacco sales, e-cigarettes and smokeless products are proving to be surprising growth areas for tobacco companies. Furthermore, the legal ruling against strong warning labels on cigarettes should benefit all companies in the industry. Tobacco companies are both mature and safe; precisely what investors are seeking in this economy. For this reason, I hold PM in my Great Recession II portfolio. While LO has appreciated 22% in the past year, this is roughly half of the gains seen by Altria or Philip Morris.
Lockheed Martin Corp. (NYSE:LMT): 4.5% Yield; 10.3 P/E
Lockheed Martin is an advanced technology manufacturing company that specializes in defense and other related fields. Lockheed is the company behind the F22 fighter plane, as well as anti-missile defense systems. The stock has essentially remained in a tight range between the high 60s and low 80s since the first quarter of 2009, but has been on a rollercoaster ride recently. In April, LMT set a new 52-week high of $92 before tumbling back into low $80s two months later only to regain its year-high. If Lockheed can breakthrough its old high, it could rally further to support a P/E in the low teens but there is always concerns regarding Lockheed when the military budget is on the chopping block. With the super committee's failure to make a decision, defense spending is facing $600B in cuts, which could spur further downward pressure.
Due to the nature of operations, Lockheed is highly leveraged to government spending and Goldman recently estimated that the company has 97% exposure to "government agencies." Despite the potential decline in government spending, investors can collect a respectable dividend that has been exhibiting respectable growth in the past decade. Not only does Lockheed have a strong yield, the company is dedicated to repurchasing shares and repurchased over $400M shares so far this year. Sales growth continues to be slow across most divisions with Information Systems actually contracting. The lone bright spot was Space Systems, which increased by 18%. Overall, I consider Lockheed to be a slightly above-average company; however, the investment thesis is highly reliant on politics, and requires more monitoring than most dividend leaders. Lockheed's management has been proactive in attempting to diversify the company, which is commendable, but it is difficult to overhaul a company with such a storied history.
Kimberly-Clark Corp. (NYSE:KMB): 3.4% Yield; 19.2 P/E
Kimberly-Clark is the Kleenex, Scott, Huggies, Scott, Pull-Ups, Kotex, and numerous other personal care products that you can find in practically every home in America. It is difficult to find a more defensive industry, as even in recessions, people still rely upon these products. Consumers may shift more purchases to generic brands as the economy tightens but consumers have more brand loyalty when it comes to personal hygene products. This likely explains why Kimberly has appreciated 27% in the past year, as investors continue to chase safe yielders.
The company has experienced 2.2% year-over-year sales growth in the first half of 2012, but has been extremely successful in reducing costs, which resulted in a 24.2% rise in operating profits. For example, the consumer tissue segment saw sales decline by 3% but operating profits jumped 35%. Management has said that it "expects faster organic sales growth," but I am skeptical. The personal product market is inherently going to track the overall economy as this is hardly a growth market. There is a limit to how far a company can reorganize and reduce its costs and Kimberly may struggle to further improve margins.
Chevron Corp. (NYSE:CVX): 3.3% Yield; 8.23 P/E
Chevron is one of the largest oil and natural gas companies in the world with a market cap in excess of $220B. I recently covered Chevron in my aforementioned Great Recession II portfolio where I made the argument that the stock is one of the best long-term inflation plays in addition to offering compelling growth opportunities. Chevron has a P/E around 8, 3.3% yield, and a commitment to repurchasing approximately 5% of the outstanding shares annually - all of which are reasons why I continue to recommend the stock.
Chevron recently hit its 52-week high, so I do expect it to give back some gains this week; however, crude has significantly underperformed and Chevron has stagnated as a result. The company has lagged the S&P year-to-date but has largely traded between $100 and $110 for the past year, perhaps the stock is finally breaking the range and is poised to jump higher. Even if Chevron simply treats water in the near term, the above-average yield will generate returns.
Entergy Corp. (NYSE:ETR): 4.5% Yield; 13.6 P/E
Entergy Corporation is an integrated energy company engaged primarily in producing electric power for 2.8M retail customers in the Central U.S. I recently wrote a detailed explanation of how I analyze utility companies and in brief I focus on the number of customers and geographic location. Larger companies enjoy scale benefits and are able to profit more from smaller rate increases. While geographical differences exist for regional utilities, underlying operations are essentially the same: a stable, cash-cow business that returns most profits to investors via dividends and share repurchases. I am a little more leery of Entergy because it is one of the leading nuclear companies, but it is still a large utility company operating in an advantageous geographic region.
A full list of the holdings is available on the iShares website.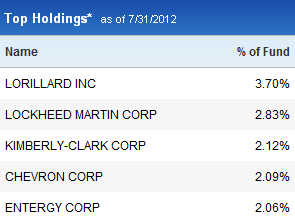 DVY is currently mere pennies away from its 52-week high of $57.55; however, the P/E of 14 indicates that the fund is still attractively priced considering its yield of 3.5%. Pundits continue to debate whether there is a bubble in dividend stocks but I believe there is still room to the upside for many of the underlying securities in the portfolio. The yield of the fund is somewhat underwhelming, but at a minimum, the portfolio offers a list of equities to consider for further research.
Disclosure: I am long CVX, MO, PM.
Additional disclosure: Author has written September covered calls against CVX and PM holdings.