I love dividends. Those companies that have boosted their dividend year after year are especially highly prized - some are titled "dividend aristocrats" or "dividend champions" or "dividend contenders".
They're great and they deserve accolades.
Ah, but so underappreciated are the companies that repurchase their shares year after year. No one has a "hall of fame" for firms that consistently buy back stock. These are "unsung heroes." Yet, by repurchasing shares, the path to higher dividends has been smoothed over: as the share count decreases, free cash flow is spread out over fewer share.
Consider Kimberly-Clark (NYSE:KMB), net income was unimpressive for the decade; however, due to a dedicated buyback program, EPS rose.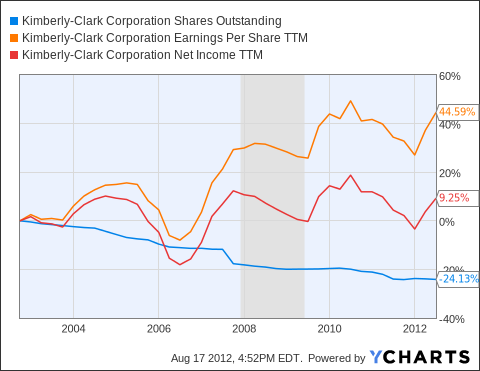 "Unsung Heroes": A New Category For The BuyBack Kings
It's time to acknowledge companies with dedicated buyback programs. They have demonstrated a willingness to step up to the plate in good times and bad. They have bought shares practically every quarter, reducing market timing risk.
To be included in the "Unsung Heroes," companies must have purchased at least 20% of their shares during the last decade and bought back shares during the "Great Recession" (Hey, it's my category, so I get to make the rules).
By the way, Exxon Mobil (NYSE:XOM) actually took down 10% of its shares smack in the middle of the recession when most companies halted their buyback programs. Incredibly, Wal-Mart, Exxon, Intel, and IBM all reduced share count significantly during the "Great Recession." That took a strong resolve. With the collapse of equity prices, those buybacks were well-timed.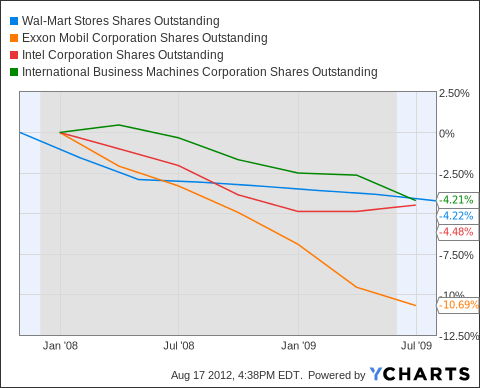 So let's praise the "Unsung Heroes" (in no particular order):
#1. Intel (NASDAQ:INTC): The decade long repurchase of 25% of its share count boosted EPS over net income.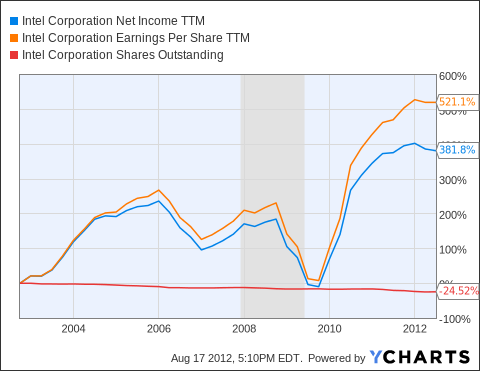 #2. IBM (NYSE:IBM): It bought 32% of its shares over the last decade, helping to create a third of the 391% EPS increase.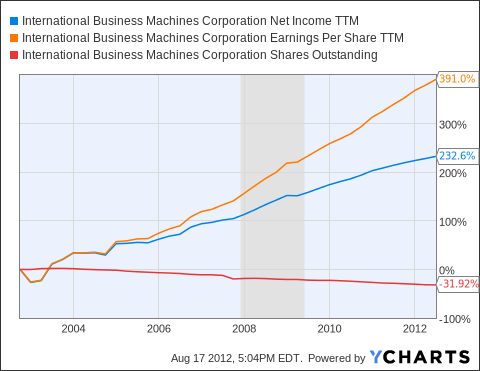 #3. Exxon Mobil: Decade long buybacks paid off in boosting EPS.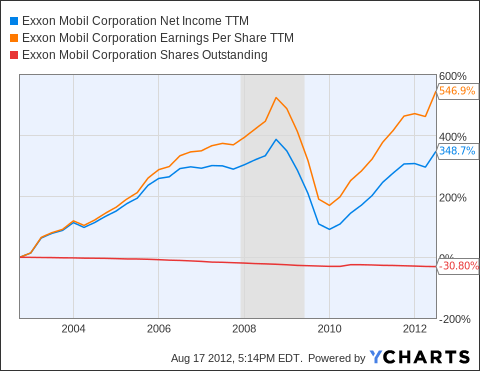 #4 Microsoft (NASDAQ:MSFT) and #5 Wal-Mart (NYSE:WMT) each decreased share count by over 20%.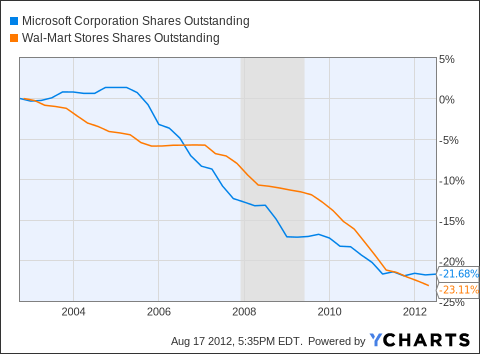 Kudos to the "Unsung Heroes!"
I would be remiss not to mention companies that were "Unsung Villains" - those that massively diluted share count. I've highlighted in the past one shareholder-unfriendly company Chesapeake Energy (NYSE:CHK) when it was at its high. Here is the chart of this not particularly warm and fuzzy company.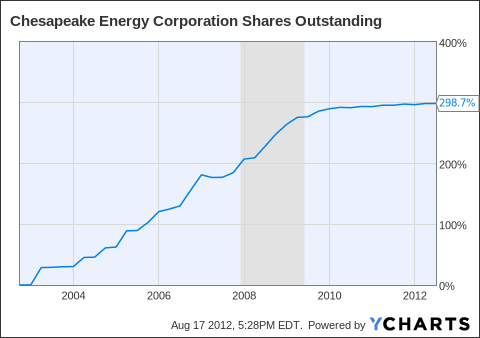 The "Unsung Heroes" deserve a shout-out, don't they? Perhaps you have a few to share? Throw in a few "Unsung Villains" too while you're at it.
Disclosure: I am long KMB, INTC.
Additional disclosure: The opinions in this document are for informational and educational purposes only and should not be construed as a recommendation to buy or sell the stocks mentioned. Past performance of the companies discussed may not continue and the companies may not achieve the earnings growth as predicted. The information in this document is believed to be accurate, but under no circumstances should a person act upon the information contained within. We do not recommend that anyone act upon any investment information without first consulting an investment advisor as to the suitability of such investments for his specific situation.