A couple months ago, I wrote an article about Western Asset Mortgage Capital Corp (NYSE:WMC) prior to their portfolio call (article here). In that article, I opined on the management team:
Western Asset Management Company (WAMCO) - owned by Legg-Mason (NYSE:LM) has been a global leader in diversified fixed-income management since 1971. As of December 31, 2011 the Firm had approximately $443 billion in assets under management. This number included $61.5 billion in total mortgage exposure, of which $37.6 billion was invested in Agency RMBS, $13.8 billion in non-agency RMBS, $2.4 billion in CMBS, and $7.7 billion in ABS.
While WMC is new, WAMCO has been around for quite some time. When I worked in the investment consulting industry, I recommended WAMCO for a variety of client mandates as I respected their abilities and their returns.
The management of WMC seems to be living up to expectations and their abilities are being evidenced in both their portfolio performance and portfolio positioning. WMC recently completed its first quarter since the IPO (not a full quarter, mind you), so we can get a feel for the results of their management of the portfolio and performance (47 days worth). From the Q2 2012 earnings release:
Generated core earnings of $4.8 million, or $0.47 per share,
Declared a $0.38/ps dividend for the 47-day period ending June 30, 2012,
$20.17 net book value of as of June 30, 2012 (now trading at a premium to book),
2.45% weighted average net interest spread, including IO securities and swaps,
8.3x leverage as of June 30, 2012.
Weighted average expected remaining term to maturity of the investment portfolio is 5.6 years.
Steve Fulton, CIO of WMC stated the REITs focus:
We currently have a heavy emphasis on call protected 20 and 30 year Agency mortgages, which reflects our view that they produce the highest, hedge adjusted carry in the current yield curve and interest rate environment. Under current market conditions, we expect to maintain leverage relatively consistent with the level we had at June 30, 2012.
Portfolio Breakdown:
By type: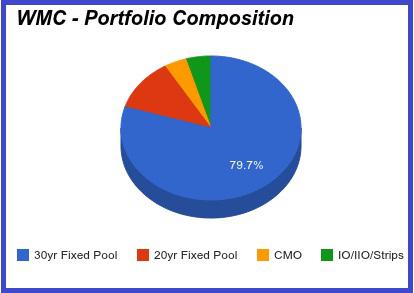 The overwhelming majority of the portfolio in 30 year paper should be expected, given this type of mortgage's dominance in the market.
By Coupon: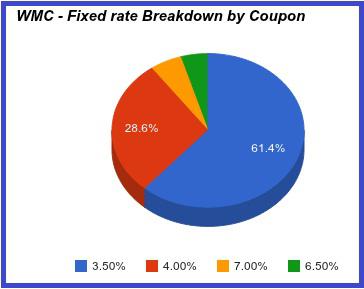 As one might expect, current coupon comprises the majority of the portfolio as it is the most prevalent and finding higher coupon (such as the 7%, which has great prepay characteristics) is the balance between premium and prepay and therefore harder to find.
Interest Rate Sensitivity:
The following is the sensitivity results they released in their 10Q:

It is helpful to view their sensitivities in relation to peers. For the peer group, Annaly Capital Management (NYSE:NLY), American Capital Agency (NASDAQ:AGNC) and Two Harbors Investment (NYSE:TWO) were used. The following table shows both the portfolio sensitivity and net interest sensitivity of the selected mREIT group: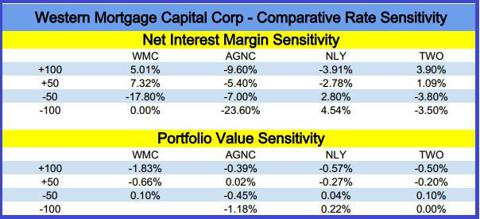 Note: Annaly uses +/- 75bps, not 100bps.
As the above table shows, Western Mortgage Capital is well positioned for rising rates (falling rates will take their toll though), with only Two Harbors positioned and hedged to the same degree.
Bottom Line: Western Mortgage capital Corp has positioned the portfolio for rising rates and has turned in a strong initial performance with $0.38/ps dividend for 47 days (which, if annualized, equates to a dividend yield of over 13% at current levels). The outlook given by the firm and their positioning for their outlook is rational and their targets seem within reason. The only concern I have is that rates could still fall from here (Europe is not done yet) and NIM could get hit pretty hard. Other than that, the REIT is living up to their potential and warrants consideration by investors.
An investment in mREITs is not a slam dunk and has numerous risks, including prepayment risks, spread compression risk, the obvious portfolio management risks and mortgage spread widening.
Disclosure: I am long NRF, REM.
Additional disclosure: This article is for informational purposes only, it is not a recommendation to buy or sell any security and is strictly the opinion of Rubicon Associates LLC. Every investor is strongly encouraged to do their own research prior to investing.