There is a widespread belief that the market operates under a transparent environment - that trading parties consist of well-informed investors who buy and sell to create an accurate market value. Yet what happens when misplaced associations lead opinions astray? What happens when a technology is so novel that its investment base struggles to understand its competitive advantages?
For a company like renewable oil innovator Solazyme (SZYM), a case of poor comparables might be justifying the company's current discounted valuation. Upon its initial public offering, Solazyme laid forth a detailed multi-year plan with key event markers by which investors should judge the company as it brought online initial production capacity that will ultimately lead to more accurate earnings accountability. Yet a little over a year since its public welcome to the markets, the company's shares now trade 27% lower from its IPO price of $18/share despite meeting and surpassing each of these performance benchmarks to date.
During a company presentation at the Pacific Crest 14th Annual Global Technology Leadership Forum found here, VP of Corporate Development Charles Dimmler made a subtle reference to the lack of comparable companies by which to evaluate Solazyme. On more than one occasion, he referred to those operating in a similar space as the "perceived peer group." In clear allusion to the lack of companies that are pursuing the same technology, the same business model, and even the same markets, one begins to wonder why it is that Wall Street is so quick to associate Solazyme with a specific group of company names.
Indeed, the perception of Solazyme's operations have often been largely associated to the broad spectrum of conversion technology, and more specifically to biofuels. As a result, the company is often compared alongside other public companies such as Amyris (NASDAQ:AMRS), Gevo (NASDAQ:GEVO), and KiOR (NASDAQ:KIOR), which have each developed a unique technology platform capable of producing drop-in biofuels. Yet one quick look at the characteristics of each and the tangible similarities between the companies begins to get hazy.
| | | | | |
| --- | --- | --- | --- | --- |
| Company | Technology | Feedstock | Output | Strategy |
| Gevo | Yeast Fermentation | Corn | Isobutanol | JV and Convert Existing Facilities |
| Amyris | Yeast Fermentation | Sugar | Farnesene | JV and Partner Funded Facilities |
| KiOR | Catalytic Pyrolysis | Woody Biomass | Bio-Crude | Build, Own, Operate |
| Solazyme | Algae Fermentation | Sugar | Triglyceride Oils | JV and Partner Funded Facilities |
What makes this market space so hard to compare in particular is that there are so many scientific approaches being used to explore an already broadly defined goal. For instance, Gevo's isobutanol product derived from yeast fermentation has been used in US Air Force jets and in the development for Coca-Cola's (NYSE:KO) 100% plant-based plastic bottle. Amyris' yeast fermentation was largely planning on being used for synthetic biology innovation until setbacks restrained the company into strictly being a farnesene producer most akin to a petrochemical company. As for Kior's fluid catalytic cracking technology, the company's bio-crude output appears largely constrained to addressing the high demand for a low-margin commodity found in renewable fuels.
However, when it comes to Solazyme, the company creates a wide range of triglyceride oils that can be used to replace products derived from animal fats, plants, and petroleum - a combined replacement market space valued at over $3.1 trillion by itself. The company is presently concentrating on commercializing skincare products, chemicals, food, and fuel. Yet whereas isobutanol and farnesene also have additional applications outside of fuel, Solazyme's exceeding market scope is advantageously paired with a far more sophisticated degree of control. The company can adjust saturation levels, have functional groups, and even adjust the carbon chain length in order to ultimately mold the output product in ways never before capable.
It is this unique ability to customize the output that is allowing Solazyme to run ahead of the perceived pack, even as it lingers a bit behind from getting manufacturing capacity online. Contrary to these other companies that are each looking to replace specifically established chemical and commodity markets, Solazyme's microalgae fermentation technology takes the company in a direction that goes one step further. With the ability to tailor customized oil products, the door is swung wide open in regards to the possibility of new untold markets. Solazyme's technology no longer merely replaces existing products but can provide superior alternatives to them as well. The company gains the ability for value creation. The company can therefore create the next generation of products which existing agricultural, seed, and petrochemical companies are unable to produce utilizing present-day technology.
For example, Dow Chemical (DOW) was quick to pick up on the company's capabilities to provide a superior dielectric fluid, which delivers enhanced oxidative stability and fire resistance while still being biodegradable. Should-be competitor Dow has even entered into a conditional offtake agreement with Solazyme for the purchase of the company's production at its not-yet-constructed 100,000 MT production facility. The company also released news of its latest two oil profiles now under development. The advantages of these profiles have thus far revealed benefits perceived unable to currently be achieved outside of Solazyme's technology platform. More detail of this can be found in my other article linked here.
Even in areas that have largely utilized naturally occurring benefits, the company has excelled in bringing them to market. In its commercialized line of cosmetics, Solazyme extracted alguronic acid - an active ingredient leading to the company's triple digit revenue growth in its cosmetic division. In foods, the promise of the company's non-genetically modified brand of Almagin and the multiple product lines it entails offer industry-leading advantages when it comes to the ideal characteristics desired by the modern day consumer. Without sacrificing taste and texture, the brand offers a low-fat, low-cholesterol, high-protein, high-fiber, non-allergenic, vegan solution that can flexibly be used in a range of products varying from beverages to baked goods. The whole food "flour" is being marketed as a means to replace eggs and butter. One example of the company's product benefits can be found here:
Click to enlarge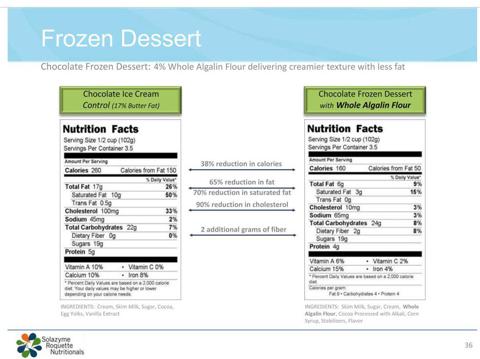 Above all, the company has exerted the advantages of a strong management team that values fiscal responsibility and practicality rather than overstepping its means. Unlike KiOR, which was determined to own its facilities outright, Solazyme recognized its limited balance sheet and brought in joint ventures with partners willing to pay part or all of the capital expenditures involved. In doing so, the company was not only able to preserve capital, but was also able to leverage the benefits of market expertise, distribution advantages, and supply chain security. As Gevo, Amyris, and Kior all now face the prospect of raising additional capital in a market that has become hostile to the thought of biofuels, Solazyme currently has no pressing need to do so. With $195 million in cash and short-term investments, the company currently remains well-capitalized to endure the ongoing hostile environment.
| | | | |
| --- | --- | --- | --- |
| Company Name | June 2012 Total Assets | June 2012 Cash & Short-Term Investments | March 2012 Cash & Short-Term Investments |
| Gevo | $117.5 Million | $39.2 Million | $74.0 Million |
| Amyris | $295.1 Million | $67.1 Million | $103.4 Million |
| KiOR | $337.3 Million | $107.0 Million | $152.2 Million |
| Solazyme | $255.5 Million | $195.5 Million | $218.7 Million |
With such vastly different technologies yielding far from similar products, it appears as if the market is either unable or unwilling to evaluate Solazyme apart from its "perceived peer group." Despite the large advantage of value creation and the superior benefits of higher margins that result from a technological advantage, Solazyme continues to be contrasted against poorer performing companies found in Amyris, Gevo, and KiOR. Yet as Solazyme continues to deliver along its timeline amidst ongoing setbacks in its peer group, there is a larger question that is bound to be posed amongst institutional investors: "Did the market ever accurately assessed the company to begin with?" If not, what exactly is the fair price of this company with abundant growth potential?
Disclaimer: Please refer to my standard disclaimer statement found here.
Disclosure: I am long SZYM.