In a world where retail is constantly changing and external factors like the internet are impacting how consumers shop, the top five retailers in America must fight for every dollar in order to keep Wall Street satisfied. Over the past several years, retail in America has changed dramatically. Target Corporation (NYSE:TGT) and Wal-Mart Stores, Inc. (NYSE:WMT) have entered the field of food through PFresh and the Supercenter, respectively, and Costco Wholesale Corporation (NASDAQ:COST) has continued to grow market share and loyalty within its markets, while simultaneously increasing its geographic footprint.
In this changing landscape, retailers like Kroger Co. (NYSE:KR) have faced a difficult challenge of maintaining market share in the face of competition from Amazon.com, Inc. (NASDAQ:AMZN), TGT, WMT, and COST - all which were not the threat they are today only three years ago. Though in a different vein than the aforementioned, Home Depot, Inc. (NYSE:HD) has had to face harder competition from its major competitor Lowe's Companies, Inc. (NYSE:LOW) and has faced volatility in sales as the economy has changed due to the business's reliance on the housing sector. Costco has three major points of strength that make it a long-term buy. These strengths have the potential to provide investors with both security along with a platform for continued growth and expansion.
Click to enlarge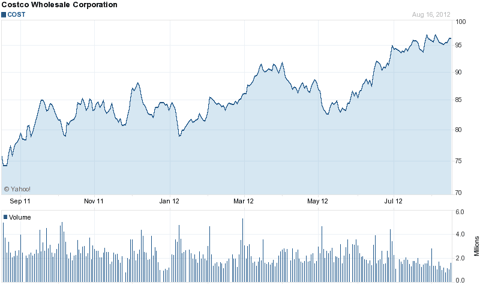 (Yahoo! Finance)
Growing Sales/Expansion Potential/Clear Business Model
Costco reported July comparable-sales growth of 5%, with a 7% increase within the United States. In addition, over the 48-week period, COST reported that its international sales climbed 9% year-over-year. These numbers are a result of COST's clear and defined business model, along with value proposition to consumers around the world. Over the past five years, COST has been able to win more and more customers through the quality if offers, the service it provides, and ultimately the deals it gives customers day after day. This business model has allowed the company to bring its format to Australia and Asia over the past several years to boost its geographic footprint in addition to proving that the concept works.
This sets the stage for further international growth and ultimately growth in revenue and profit over the coming years. COST business model fits well within many individuals lives and in doing so provides value to both consumers and shareholders. Many would argue that COST value proposition out ways both TGT and WMT in the face of its limited assortment nature. In addition, the company's wide array of quality yet affordable products makes it more stable in the marketplace than HD and KR.
Consistent Quarterly Revenue and Profit Growth
Costco has been able to grow profit and revenue consistently over the past several years through its growth both within and outside its current store base. This has resulted in the company delivering strong earnings, and in the previous quarter delivering:
Quarterly Revenue Growth (yoy): 8.20%
Quarterly Profit Growth (yoy): 19.10%
Though this is just one quarter (yoy), it marks the company's ability to grow revenue and sales through its consistent and focused business model. As an investor, the company's past track record illustrates its ability to both grow revenue and profit in tandem.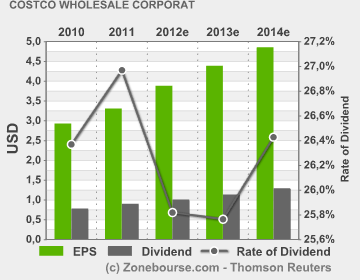 (4-Traders)
The graphic above highlights both how COST has been able to grow EPS/dividend year-over-year along with its expectation to continue to grow EPS. TGT has seen profits flatline due to the cost of expansion and COST may see the same as it gears for a more international presence, but growth has been constant and stable thus far and is expected to remain so into the coming years.
Cash on Hand:
Another major advantage COST has is its tremendous cash position, which will allow it to both remain stable along with fund its growth and ultimately revenue and profit increases.
COST cash-debt: $4.61B
WMT cash-debt: -$46.69B
TGT cash-debt: -$16.83B
KR cash-debt: -$7.629B
HD cash-debt: -$7.99B
This disparity between COST and the other major retailers in the United States illustrates another key advantage COST has: its ability to continue to fund its expansion, along with giving its investors stability. In an uncertain world, this level of cash gives COST a fantastic advantage and is not to be scoffed at by investors.
Conclusion
Costco, through its past earnings performance, market position, value proposition to consumers, and cash-on-hand, provides investors with a stable investment into the future. In today's economy, Costco has the potential to grow loyalty through its value proven format and ultimately drive sales into the future with less impact from the economy than other retailers.
All financial metrics referenced above are obtained from Yahoo Finance, CNBC Analytics, S&P Capital IQ and Thomas Reuters.
Disclosure: I have no positions in any stocks mentioned, and no plans to initiate any positions within the next 72 hours.