I'm a skeptical and analytic person, but I think HEK still has upside…unless it's a scam.  (No offense Dick H.)  I started a position at $8.27, upon the first few days of the stock showing strength.  I was a little skeptical, because the stock was just too much of a bargain.  I say this because of the guidance combined with likely valuation multiples, the macro economic trends, and Dick Heckmann's track record.  The fact that the stock didn't jump into the low teens made me feel like there was something I was missing.  I set out to figure out what.
Like every other person holding HEK, after the deal closes, I will own a tangled mess of subsidiaries, as well as a history so convoluted retail investors may give up trying to sort it out.  See, Heckmann is buying a company, China Water & Drinks, which is actually an amalgamation of 11 subsidiaries, with some more on the way.  The summation of these groups and holding companies now sells bottled water in China. The parent company which merged with China Water & Drinks, UGODS Inc,. used to be a junior mineral explorer in Canada. If you didn't read that last part twice, check your pulse. This is according to SEC filings, and the China Water & Drink 2007 Annual report.
Word of advice: Do not try searching SEC filings and making any sense of the 11 subsidiaries/parents:
UGODS, Inc.
Guangdon Taoda Beverage ("GD Taoda")
Zhanjiang Taoda Drink Co. Ltd
Changchun Taoda Beverage Co. Ltd.
Shandong Olympic Forward Drink Co. Ltd.
Shandong Olympic Forward Trading Co. Ltd.
Shenyang Aixin Co. Ltd
Hutton Holdings Corp.
Gain Dynasty Investments Ltd.
Pilpol (NYSE:HK) Biological Ltd. of Hong Kong
Fine Lake International Ltd. of British Vergin Islands
I tried my best, took me all day, pretty much just spun my wheels and didn't get anywhere fast. 
Yah, red "this is sketchy" alarms went off in my head, but that's one of the risk factors going forward.
Searching "Taoda", "Ice Dew", "Sensation", "Darcunk" in the SEC database, and their top customer's website (NYSE:KO), and browsing China Water & Drinks site all proved enlightening.  You'll stumble across things like this:
http://www.sec.gov/Archives/edgar/data/1344133/000114420408030506/v114948_ex10-24.htm
If you ignore the weird little part of the convoluted history, the rest of the story looks too good to be true.  Management is capitalizing on trends through acquisition in both the flavored and unflavored single serving and water cooler sized bottle markets. They are setting goals and making deals all over China.  Until September the downside in HEK is $7.90 due to SPAC rules (not 100% positive on this). 
Dick Heckmann is a proven veteran in the field of mergers and acquisitions.  Growth at China Water & Drinks, going forward is predicted to be amazing with different sources estimating between 20% and 40% over the next 4 years. Like I mentioned, macro winds are at the back of China Water & Drinks eg. According to "Datamonitor" (in the '07 China Water & Drinks Report), the global bottled water market reached a value of $61B in '06, and is forecasted to hit $86.4B by 2011.  If China's per capita consumption grew to the global average of 29 liters per year of bottled water, which would add ~20B L per year in consumption, which is astonishing comparing that to the '06 world consumption total of 115B L.  See the chart below (click to enlarge) for 2006 bottled water consumption per capita.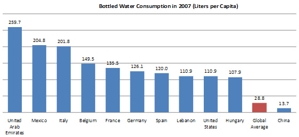 Valuation-wise, many people I know are trying to assign multiples to the stock.  I'm quitting attempting to do that since there is no telling if growth will be 20% or 40%.  Throw out all and any price targets on this company. 
That being said, even if JUST the 20% growth comes true, the stock has some upside. I say the price targets are garbage because their fiscal year ended Dec 31st '07, but on November 20th they lowered revenue guidance from $68M to $57.5M…yet re-iterated $19M net income, only to finish the year at $56.7M in revenue.  In the same press release they expected $105M revs for '08 and $30M in net income.  6 months later, now guidance for the '08 year is revs of $220M with net earnings of $70M, pending certain acquisitions closing.  In other words, management's guesstimations seem volatile, and climbing.  But the $105M figure dates back to SEC filings as far back as mid 2006.  So the stock will be volatile, unless when Dick H gets control of everything he adds some stability. Volatile guidance and earnings are likely because, just for instance, consider this ~$650M company which is in the process of commissioning a facility in Changchun (scheduled for completion in H1 '08) has a planned capacity of 178.5M bottles per year.  Predictions surrounding sales of 178.5M units of anything, is going to swing a $650M company, guaranteed.
The risk that seems to be a pro and a con is that Coca-Cola is their largest customer, making up 20% of sales in '07.  Except the contracts in place are not locked in.  Their 5th largest customer, some Chinese name, was 9% of sales. One fun fact that at the peak, only 6 months ago, China Water & Drinks had a market cap of $1.4B USD.