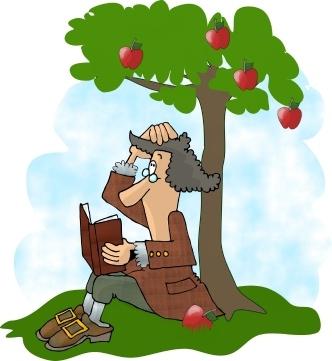 I hate all of the financial phrases that are tossed about, despite the fact that I can lay claim to at least one of them, maybe even more if all of life would obey the laws of timestamps.
"Kicking the can down the road," a "rip your face off rally" and "moral hazard" come quickly to mind.
Lately, CNBC has had a feature that focuses on what they are referring to as the "financial cliff." I guess that no one from CNBC has noticed the absolutely horrendous sound effect that's used to simulate the sound of the cliff falling, yet sounds just like static or papers rustling together.
Finally, by mid-day on Thursday (August 16, 2012), someone finally used the expression "melt up" to describe the recent situation in stock prices. The slow daily move up in shares without any apparent stimulus is exactly how the first three months of 2012 unfolded.
To give you an idea of where we've come since then, the first quarter of 2012 saw the S&P 500 close at 1408.
During that time, we went as low as 1278 on a week-closing basis, only to end back at 1416 nearly 5 months later.
How did we get from 1408 to 1278 and then back?
Some basic rules always apply. The one that I find easiest to remember is attributed to Isaac Newton, who was much more eloquent than I could ever be in summarizing his fascinating observation.
"What goes up must come down."
In the case of April's 1408 level, it was the re-emergence of volatility that drove shares down the cliff, although one can certainly introduce the chicken and egg conundrum. Certainly, however, the absence of a single triple digit during those first three months could not have been a coincidence.
It ultimately took 9 weeks to fall and 11 weeks to return to the summit, but Newton never really said anything about there being an obligation for things to rise again. I wonder what he would say about the sixth consecutive weekly rise that was put on the books following today's closing bell?
Somewhat interesting is that shares of Apple (NASDAQ:AAPL) have gotten back to those April 2012 highs, just as has the S&P 500.
Click to enlarge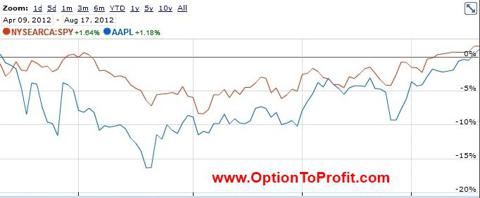 Looking at the above graph, you might wonder why we don't just track the S&P 1, instead of the S&P 500, as Apple and the index have tracked beautifully during the most recent uptrend.
So here we are, at the foot of that cliff again, and once again Newton comes to mind.
The slow melt up was the market equivalent of kicking the can down the road in an attempt to avoid the reality of nature. Think of the reality being a case of Thelma and Louise meeting Isaac Newton and perhaps ripping his face off before the final plunge. I wonder what he would say about that as well.
With the expiration of the August 2012 option cycle, I find myself in a position that requires replacing more of my portfolio than my comfort level cares for as the "melt up" just bypassed far too many strike prices.
Although I have no complaint regarding the returns gained by having done so, but having lots of money to invest when the market is sitting at a high point is a tenuous situation. It is at the intersection of Fear and "FOMO", also known as the "Fear of Missing Out." On the one hand, you're afraid that you may be at the precipice, but on the other hand, what if it's just a way station?
The challenge is resisting the temptation to quickly spend the money like a sailor on shore leave for the first time in a year, yet still be open to some of the enticements that may come along the way, regardless of what those Public Service Announcements may warn. I don't know if there's an antibiotic equivalent in the risk-filled world of impetuous investing.
So it's with a little bit of trepidation that this week's selections are presented, especially listening to absolutely unanimous agreement among the "experts" after the closing bell on Thursday that they would sell into the rally.
Talk about conflicted.
Well, back to next week's stocks. As usual, they fall into the Traditional, Momentum and Double Dip Dividend categories (See details).
With upward marching prices, it's sometimes difficult to spot bargains, but a good place to begin is simply to look and see which among my favorite and reliable stocks have under-performed the S&P 500 over the past month.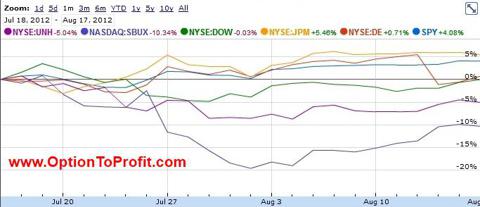 Sometimes that means even considering the repurchase of recently assigned shares, albeit at a price higher than assigned. I hate doing that as much as I get ecstatic when I get to repurchase assigned shares at a lower price. Fortunately, the latter tends to be much more common, but the past month has been trying in that regard.
Among the potential purchase targets in the Traditional category are Starbucks (NASDAQ:SBUX), Deere (NYSE:DE), Dow Chemical (DOW), JPMorgan Chase & Co. (NYSE:JPM) and UnitedHealth Group (NYSE:UNH).
Of those Starbucks, Deere, Dow Chemical and JPMorgan represent recent recycling of assigned shares, while UnitedHealth was on the radar screen last week, but never purchased. The single big caveat is that during the S&P 500 fall that began in April 2012, JPMorgan significantly under-performed the S&P 500, even before the May 10, 2012, disclosure of trading losses by the "London Whale."
Recently, Momentum stocks have not fared terribly well. Although they always carry greater risk and are more responsive to news, especially bad news, the market tone has not been kind to these stocks.
Chesapeake Energy (NYSE:CHK) seems to have digested much of its bad news as it did a number of years ago when its CEO's problems first shocked us and then shocked us again.
Most weeks there is some opportunity in either ProShares UltraShort Silver (NYSEARCA:ZSL) or its long counter-part ProShares Ultra Silver (NYSEARCA:AGQ). Sometimes, there is opportunity in both, concurrently or alternatively, and they are always on the radar screen, particularly as overall portfolio hedges.
Lexmark (NYSE:LXK), similarly seems to be battling back from the sudden shock that people aren't printing as much. In almost a heartbeat, its shares fell from $27 to $17 and it has battled back to above $20 over the course of 4 weeks. It is also going ex-dividend during the September option cycle.
A word about dividends, particularly for Limited Brands (LTD), which is providing a $1 "Special Dividend," with an ex-dividend date of August 23, 2012, along with its regular dividend of $0.25
Special Dividends come in different varieties. One subscriber alerted me to the special dividend being offered by Choice Hotels (NYSE:CHH). That one is very different from the one offered by LTD, due to the size of the distribution and the rules that apply to it because of that size.
In the CHH case, the special dividend is $10.41. What makes it very different is that the record date is actually before the ex-dividend date, as is the pay date. Typically, a dividend's record date and pay date are both after the ex-dividend date. In other words, there is no ability to trade around or exploit an inefficiency in the case of CHH. The option premiums reflect the inconsequential nature of that dividend.
In both cases, the option strike prices will be adjusted to reflect the special dividend.
Finally, Williams Companies (NYSE:WMB) seems like a very ripe Double Dividend play, although it is trading just 5% from its yearly high.
Traditional Stocks: Deere, Dow, JP Morgan Chase, Starbucks, United Healthcare
Momentum Stocks: Chesapeake Energy, Lexmark, ProShares UltraShort Silver or ProShares UltraSilver (as conditions may warrant)
Double-Dip Dividend: Lexmark (8/29), The Limited (8/21), Williams Co (8/22)
Once again, I find myself hoping for a return to pricing sensibility as the new option cycle begins and the strength to resist the temptation to recklessly spend. After a while, you do get tired of being wrong.
Remember, these are just guidelines for the coming week. Subscribers will get Trading Alerts if these appear to be reasonable actions as trading begins next week. If you're on your own, please adjust accordingly with market movement and you'll have the makings of a healthy income stream for the week with reduced risk.
Disclosure: I am long AGQ, ZSL, JPM, LXK, DOW, CHK.
Additional disclosure: I may initiate positions in DE, UNH, SBUX, LTD and WMB