It's not very often that you find small and/or mid cap stocks with attractive dividend yields. And in an environment where interest rates are so low and the economic environment is so uncertain, they may be even harder to find. Ditto for micro cap stocks. They are the small and up and coming companies that need to reinvest their cash to keep growing. So finding attractive dividend yields in that space is difficult. Investors usually invest in micro caps for growth. But what if you can find a company with the potential for both?
We looked for companies that paid a high dividend but that also had high levels of current cash and attractive operating income growth paired with revenue growth.
Dividend Yield - the dividend yield is the amount of the annualized dividend payment divided by the current share price. Dividends are typically paid quarterly. A high dividend provides an investor with income from the investment in that stock, and also provides somewhat of a cushion against price drops. For example, a dividend yield of 5% allows for the price of a stock to fall by 5% per year and the investor will still be breaking even. The key for the dividend is its sustainability. The higher the cash on hand and the higher the cash flow generated, the more likely the dividend will continue or increase. And we should also be mindful of the payout ratio, which is the percentage of earnings paid out in dividends. A payout ratio that is unsustainable can threaten the viability of the dividend and the company.
Operating Income Growth - Growth in operating income indicates a companies ability to 1. Grow revenue, and/or 2. Reduce cost of sales, and/or 3. Reduce operating expenses. A decrease in expenses alone is not beneficial over long periods, but when accompanied by strong revenue growth, it may be a harbinger of good things to come.
We screened companies for a Dividend Yield greater than or equal to 5% (Dividend Yield>=5%), Operating Income Growth>=15%, and Revenue Growth>=10%. And finally, we limited the market caps of these companies to less than $300 million.
The following three stocks met our criteria
1. North European Oil Royalty (NYSE:NRT)
North European Oil Royalty Trust holds royalty rights covering gas, sulfur, and oil production in Germany. The rights are held under contracts with local German exploration and development subsidiaries of Exxon Mobil (NYSE:XOM) and Royal Dutch Group. Under these contracts, the trust receives various percentages of royalties on the proceeds of the sales of certain products from the areas involved. It has a dividend yield of 8.72%, year over year operating income growth of 29%, and revenue growth of 28%.
Click to enlarge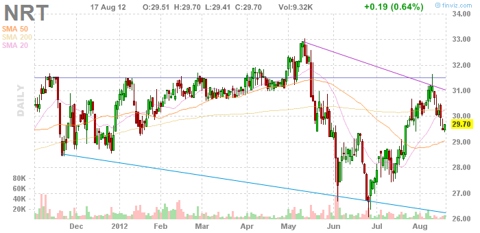 2. NGP Capital Resources Company BDC (NGPC)
NGP Capital Resources is a business development company classified as a closed-end investment company that invests mainly in small- and mid-sized energy companies. It primarily invests in domestic oil and gas exploitation, development, and production businesses, but also invests in coal, power generation and distribution, and alternative energy companies. NGPC's operations are managed by NGP Investment Adviser, LP. It sports a dividend yield of 8.5%, year-over-year operating income growth of 38%, and revenue growth of 18%.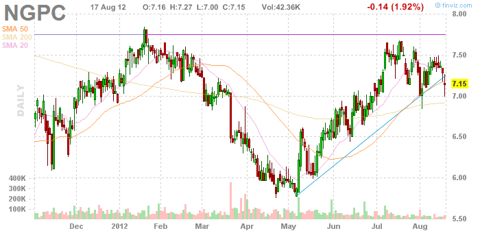 3. Asia Entertainment & Resources (AERL)
AERL is an investment holding company, which operates through its subsidiaries and related promoter companies as a VIP room gaming promoter, and is entitled to receive all of the profits of the VIP gaming promoters from VIP gaming rooms. AERL's VIP room gaming promoters currently participate in the promotion of three major luxury VIP gaming facilities in Macau, China, the largest gaming market in the world. One VIP gaming room is located at the top-tier 5-star hotel, the Star World Hotel & Casino in downtown Macau, and another is located in the luxury 5-star hotel, the Galaxy Macau™ Resort in Cotai, each of which is operated by Galaxy Casino, S.A. The third VIP gaming room is located at the Venetian Macao-Resort-Hotel in Cotai
Asia Entertainment has a dividend yield of 8.63%, year-over-year operating income growth of 90%, and revenue growth of 97%.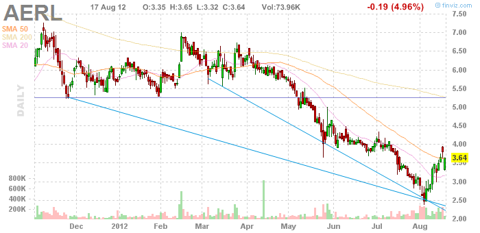 Take a closer look at each of these stocks and determine for yourself if they are a good addition to your portfolio.

* Company descriptions and financial data obtained from Morningstar.com
Disclosure: I have no positions in any stocks mentioned, and no plans to initiate any positions within the next 72 hours.