Last week, when discussing what to do if you "sold in May", I shared a stunning statistic: Over 19% of the Russell 2000 (NYSEARCA:IWM) increased by 5% (or over 4X the S&P 500 (NYSEARCA:SPY)) in the week ending 8/10. This took place in the context of just a small relative advantage for IWM over SPY (1.7% vs. 1.1%). I found this extreme move in the "tail" to be bullish, as Small-Caps have been out of favor for most of this year, dating back really to the collapse in early August of 2011.
Well, this week, we saw smaller stocks again do better, with IWM gaining 2.2% vs. just 1.0% for SPY, narrowing the YTD gap to 2.5% underperformance for Small-Caps, which are leading in August but still trail in Q3. Most remarkably, the tail performance remains robust, with 436 members of the R2000 gaining 5% or more (5X SPY). That's almost 22%!
What I find most interesting is that these big rallies aren't just laggards rallying, which is certainly happening, but rather strong stocks getting stronger. The entire list has a YTD average return of 24%. There's a large skew, to be sure, as 22 of these stocks have doubled or more in 2012.
New-found strength in Small-Caps comes after a highly disappointing year. In the chart below, you can see how Small-Caps have lagged: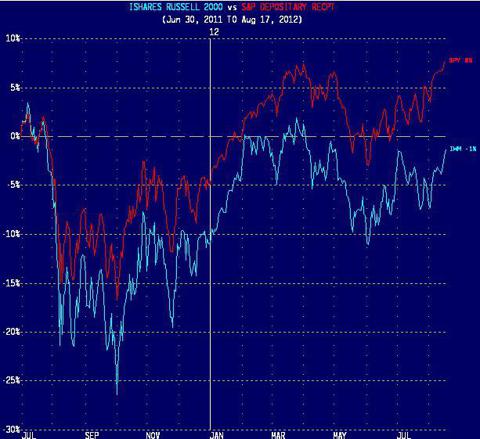 The chart dates back to the end of Q2 a year ago. You can see that the real damage was during last summer's correction. In fact, after a strong run in late January, Small-Caps almost caught up, but they have been lagging again. While SPY has moved to its highest close in more than four years, IWM is still below the high print in March and even below last summer's peak.
Now, to be fair, Small-Caps have had a great period of outperformance until this past year. Here's a longer perspective: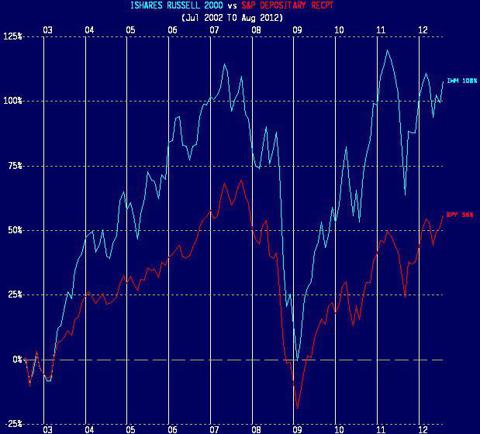 As you can see, IWM has more than doubled over the past decade, while SPY has increased 56%. SPY is still below it's peak from 2007, while that high for IWM last year was an all-time high.
I believe that Small-Caps are just getting started here. With all of the fear regarding Europe and other macro concerns, many hedge-funds were reducing positions going into the summer. This put pressure on smaller stocks, which are typically bought by hedge-funds. Additionally, the equity flows remain absolutely horrible, as domestic mutual funds continue to bleed assets that are being shifted into the bond market. One has to wonder how much pain these sheep will take before we finally see some abatement if not a reversal to this trend. A final factor may be the obsession over dividends, which has favored larger companies. Overlooked, of course, has been the stronger earnings growth of smaller companies.
As I mentioned, smaller stocks are still lagging in Q3, but there are signs of a shift lately with the two weeks of outperformance with substantial activity in the "tail" as I described. Yes, Small-Caps are coming back to life. In my Top 20 Model Portfolio, I have been shifting out of larger companies and adding Small-Caps and Mid-Caps. I shared last week that Middleby (NASDAQ:MIDD) was a recent addition - we also have added several others, including Mako Surgical (NASDAQ:MAKO) and Haynes International (NASDAQ:HAYN).
It's pretty clear to me that the market is set up for a nice run into the elections, and this likely bodes well for smaller stocks. I shared a screen designed to identify some opportunities last week, searching for laggards with huge growth. My thinking is that we should see valuations improve as investors gain confidence that the economy isn't heading back for recession. If you agree and like to invest in individual stocks, there were 20 stocks that met the criteria. Otherwise, I recommend buying IWM.
Disclosure: I have no positions in any stocks mentioned, and no plans to initiate any positions within the next 72 hours.
Additional disclosure: Long HAYN, MAKO and MIDD in one or more models managed by the author at InvestByModel.com