Banco Latinoamericano De Comercio Exterior, S.A.(NYSE:BLX), often called Bladex is a Panama based supranational bank established by several of the central banks of Latin America and independent Caribbean countries to finance trade in the region. It does not provide retail banking services to the general public and does not take retail deposits. Bladex is engaged in providing trade financing to commercial banks and corporations in the Latin American and Caribbean region. Funding comes from debt securities offered to financial institutions and investors from around the world. (TD Ameritrade)
S&P considers the outlook positive for the company since it has no direct exposure to the eurozone. It is exposed to the growing economies of Latin America that have continued to grow in spite of the economic problems in Europe and the U.S. S&P reported that book value per share was $21.29 as of June 30,2012, which is very close to the current selling price of the bank. Earnings have been growing lately; earnings per share were $1.15 for 2010, $2.24 for 2011 and $1.46 for the first half of 2012. Since the bank is only selling at 8 times earnings, there is plenty of room for capital appreciation.
Return on equity (ROE) was 14.1% for the first half of the year compared with 11.9% a year ago. Return on assets (ROA) was 1.8% versus 1.6% a year ago. The dividend has increased from $.20 per quarter last year to $.25 per quarter this year. The dividend represents a 4.5% return at the current price. Payout ratio is currently only 36% of earnings, which is lower than it has been over the past few years. (S&P) It has been paying between 45-55% of earnings so I consider it likely that the bank will increase the dividend again in the near future.
Further evidence of good things happening at Bladex came from Fitch Ratings in August. Fitch upgraded its rating to BBB+ from BBB with a stable outlook. Fitch commented that Bladex has "strengthened its balance sheet by improving its funding structure and closing maturity gaps, while maintaining ample liquidity, sufficient capital and outstanding asset quality."
This is not a sleep well at night (SWAN) investment. Bladex is now on the upward curve of a roller coaster price swing that has marked its past. This company is not a Coke (NYSE:KO) or Proctor & Gamble (NYSE:PG) type of investment that you check once a year, but rather one that needs to be continuously scrutinized. See Chart below from FreeStockCharts.com
: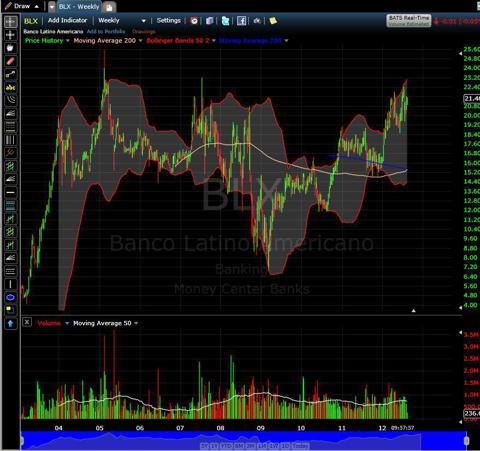 Earnings and dividends tend to fluctuate greatly as well. For example in 2002 the company lost $15.42 per share. The next year it made $3.88 per share. The chart below shows 10 years of earnings and dividends (data from S&P):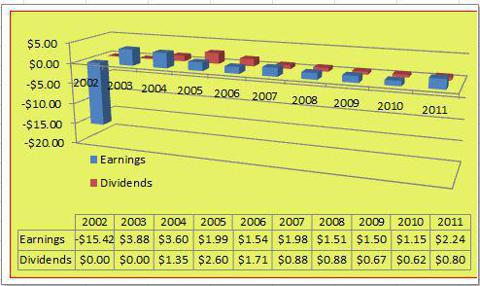 This flux in earnings and dividends can work to one's advantage if one is willing to take some risk by using options to capitalize on its price movements. The method to risk some capital on this equity is to purchase a put. For example, today the Dec. 21, 2012 $20.00 put is selling around $.80 - $.90. Selling it should net one around $.85 per share which is just $.15 short of the dividend now offered by BLX. If the stock is at or below $20 per share on Dec. 21, one buys the stock at less than current book value. If it is selling above that price, one will have collected 85% of its dividend for a year by letting the put expire, a good return on one's money.
Historically Bladex's worst quarter is the third quarter and its best quarter is the last quarter. Since the company reports the third-quarter in October and the final quarter in January, one could easily become an owner of the stock with a $20.00 put that closes in December.
Keep an eye out for major disruptions in Latin America that could adversely affect the company. Currently things are relatively calm in the region and trade is growing. This bodes well for the company and I foresee further growth in earnings and dividends over the short run. However, one must be prepared to run for the exits when major disruptions occur to our neighbors to the south.
Disclosure: I am long BLX.
Additional disclosure: I am long on BLX with open December puts and calls on the equity.