For years, we've seen countless articles entitled "Stocks That Will Double By 2013," with GM (NYSE:GM) and Ford (NYSE:F) as the focus tickers. When it comes down to it, those who have thought and continue to think that these companies are "easy doubles" are being blinded by what look like low P/E ratios. Instead of looking at the companies and then weighing their prospects relative to their current market values, the Ford and GM bulls are getting excited by the "cheap" valuations and the fundamentals are an afterthought.
The Bull Case For GM And Ford
U.S. automobile sales have been one of the bright lights in this economy since the recession ended: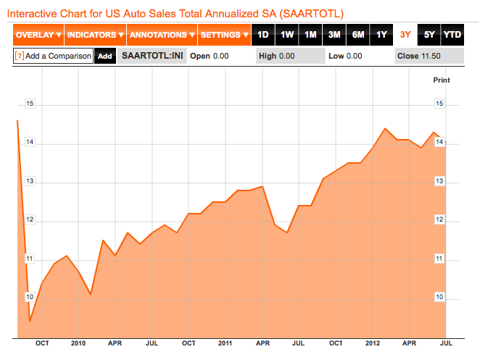 With U.S. automobile sales now running above a 14 million annual rate, both GM's and Ford's North American businesses have done reasonably well.
According to GM's most recent 10-K, the company's NA (North American segment) had adjusted EBIT, or earnings before income taxes, of $7.2 billion. This figure was substantially improved from 2010's $5.7 billion. Ford's NA business generated 2011 EBIT of $6.2 billion, up more than $600 million year-on-year.
In 2Q 2012, GM's NA business earned $1.97 billion, compared with $2.25 billion in the year prior. Ford NA earned about $2 billion in 2Q, up slightly from $1.9 billion during the same period in 2011.
With SAAR running at over 14 million, bulls are probably expecting the annual sales rate to reach 17 million in the next few years, as we saw in the bubble years. To catalyze this sales growth is the fact that the average car on the road is almost 11 years old, along with easing unemployment, and more fuel-efficient product offerings.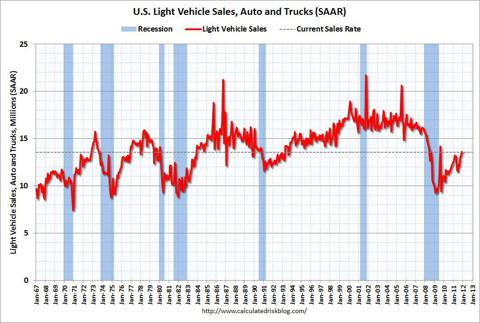 FY 2012 EPS for GM is expected to come in at $3.15, down almost 20% from 2010. As for Ford, EPS is expected to be 17% lower at $1.25, thanks in part to a European loss that may come in at $1 billion. At current prices, GM will be trading at 6.67 earnings, and Ford at 7.52.
The immediate reaction to these valuations tends to be that the multiples will double, bringing them closer in-line with the broader market multiple of about 16. If not double, the low valuations are supposedly generating a substantial margin of safety, whereby even if the companies don't perform as expected, they are so cheap that the stock won't go down very much.
Arguing Against The Bull Case
Any sort of medium-term value call has to be predicated on analysis of SAAR.
As I've written before, SAAR returning consistently to 17 million, even meaningfully above 14 million, doesn't make much sense for several reasons.
First off: the demographics. The older population in the U.S. is growing at a rapid rate; the 2010 census showed that those aged 62 and older grew 21% from 2000. 75 million Americans are expected to be 60 and older by 2020.
Older households generally don't need more than one car, and oftentimes can't afford more than one in retirement. Additionally, since they're not commuting to work everyday, buying a used car or simply driving the "old family car" gets the job done. With the U.S. population growing older at an accelerating pace, the days of the average American household owning 2.28 cars are likely over.
Secondly, it's illogical to assume that the kind of debt-financed consumer spending we saw during the housing bubble will, or should come back. With soaring home prices, consumers were able to use the equity in their homes to buy cars they didn't really need, and shouldn't have been buying.
Lastly, the fact that cars are at an average 11 years old doesn't make a compelling case for a surge in auto sales. The pent-up demand argument should have come to fruition by now; the private sector has largely delevered, automotive lending is very strong (and cheap), and both F and GM have rolled out several new lines. If consumers really needed new cars, they would have bought them by now.
Additionally, cars simply last longer today, due to regulatory scrutiny and technological improvements. Consumers are also far more willing to repair their cars, or just buy a used car in order to save.
When we consider these factors, the SAAR doesn't have a ton of upside. By no means am I calling an end to the U.S. auto growth story, but we are far closer to the end of the cycle than most believe.
With U.S. sales potential capped, at least Ford and GM have the rest of the world, right? While GM does earn significant profits in China, both companies are losing hundreds of millions in Europe, with Ford projected for $1 billion in losses this year. These losses don't appear to have quite bottomed yet either, with projections continually trending downwards and the EU now in an official contraction.
While both companies can attempt to cut costs in the EU, the operating losses are going to remain a hindrance until either the European economy takes a 180 degree turn or until both companies can sell their European units. Simply closing the segments would cost tens of billions in legal and other various costs, and may not be politically possible for the time being.
Conclusions
When it comes down to it, there's not a ton of downside to either Ford or GM. Both Ford and GM can be expected to trade at 5 or 6 times free cash flows; exceedingly cheep for most U.S. companies. The automotive industry is unique, however, in its inconsistency. When we consider that companies are valued on the net present value of the expected future cash flows, the "expected" aspect of the valuation is why these companies deserve such seemingly cheap multiples.
A look at the performance of these companies over the last decade proves just how inconsistent cash flows can be. Even during years of huge losses, these firms have to invest huge sums of cash just to remain relevant. The bull argument is that Europe can largely be brushed aside, and that U.S. sales will continue to grow until at least 17 million in SAAR. This latter figure is unrealistic unless the Fed can manage to inflate another bubble. With the private sector continuing to steadily delever as a percentage of GDP, the odds for 17 million SAAR aren't too hot.
While U.S. sales may not have quite topped out yet, both companies' margins have compressed a bit, and the trend toward smaller vehicles has weakened revenue. Add in continued deterioration, and it won't be long before those low P/E multiples transform into 15 or 16.
This is a classic example of investing in cyclicals. The time to buy is actually when they are losing billions, or the P/E is something outrageously high, implying the bottom of the sales cycle. Many Steel companies, like ArcelorMittal (NYSE:MT), were trading at single-digit multiples as a result of poor expectations. Sure enough, MT is now trading at 134 times earnings.
If you're into cigar-butt investing, you might do alright with Ford or GM, if you can get the timing right. If you're a long-term investor trying to find companies with durable economics, steady cash flows, and reasonable valuations (which combine to result in a convex, or asymmetric return profile), then these companies are value traps.
Disclosure: I have no positions in any stocks mentioned, and no plans to initiate any positions within the next 72 hours.