Investors should structure an investment strategy and asset allocation mix consistent with the principles of diversification, as well as their specific needs and investment goals. Once deciding your appropriate level of REIT exposure, an investor must then determine the level of sub-allocation among the different property sectors, investment characteristics, and geographic locations.
One way to target REIT sub-allocations is to target specific geographic markets where fundamentals are the strongest. For example, I have written on shopping center REIT, Retail Opportunity Investment Trust (NASDAQ:ROIC) - a west coast REIT that focuses on the densely populated, middle and upper-income household markets in the western regions of the U.S. - primarily Northern California (28 percent of GLA), Southern California (27 percent of GLA), Portland (23 percent), and Seattle (22 percent).
As I wrote in a previous article, ROIC has been very active increasing revenues and growing a strategic portfolio of high-quality retail centers (90 percent of ROIC's portfolio is unencumbered) in densely populated west coast markets.
The west coast has seen better than average job growth and the above-average population growth has created strong demand for real estate. These favorable demographic trends make the west coast a significant investment market - as evidenced by the fact that California and Washington combined have the 6th largest GDP in the world.
One other west coast REIT that has focused on the same favorably robust markets is Essex Property Trust Inc. (NYSE:ESS). Based in Palo Alto, CA, Essex is a fully integrated REIT that acquires, develops, redevelops, and manages multifamily residential properties in selected West Coast communities. Since its founding in 1971, Essex has developed a clearly defined approach for creating value and managing risk. The Company's approach has three components - a sound real estate strategy, an experienced management team, and a strong financial condition. These three factors have contributed to the Company's historical results and future growth potential.
Essex Property Trust - A Differentiated Multifamily REIT
Driven by limited supplies of housing and job growth that exceeds the national averages in Northern California and Seattle (and modestly below the national average in Southern California), Essex Property Trust enjoys a differentiated investment strategy where approximately 65 percent of the company's NOI is located in the top 5 projected rent growth markets.

In addition, job growth in many Essex markets outpaces U.S. averages. In addition, the improvement in west coast job growth is driven by many high paying industries that materially impact many of the Essex markets such as San Jose, San Francisco, Seattle, and Orange County.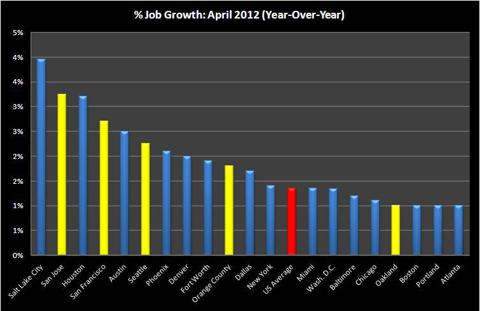 On the supply side, the multifamily sector has been muted, below 1 percent annual addition to residential stock. In addition, the west coast is relatively constrained (for new development) as the coastal areas make it difficult to build new projects due to lengthy entitlement processes. In addition, the restrictive lending standards and higher housing costs have further constrained new multifamily supply.
The high demand for west coast multifamily housing has further created opportunities for Essex. Despite the fall in home prices since 2008, prices remain high in many west coast markets. Single family prices (for west coast markets) have restricted many homeowners and that has created additional demand for high-quality multifamily housing owners.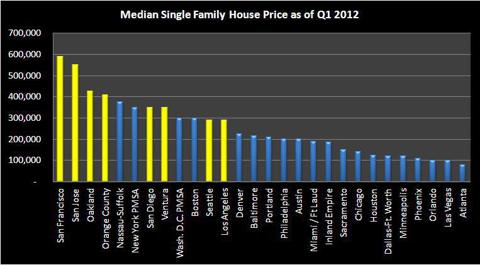 Conversely, low homeownership rates compared to the national average (due to unaffordable single family housing) has resulted in more renters and a better ability (for Essex) to increase rents.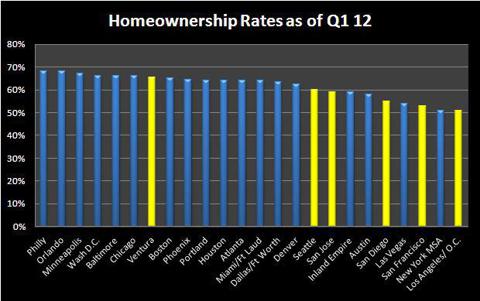 Essex Property Trust: A Growing West Coast Brand
Essex has a well-balanced portfolio of 164 properties (as of Q2 2012) consisting of 33,015 rental units and over 28.703 million square feet. Here is a snapshot of the company's supply-constrained geographic concentration: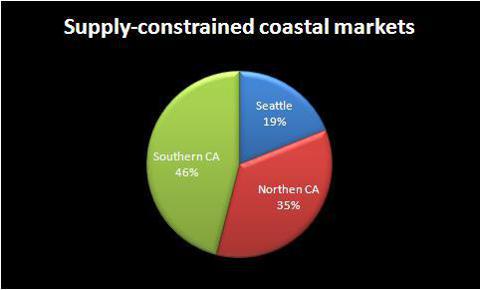 Since the beginning of 2010, Essex has acquired around $1.2 billion of assets - representing a 30 percent expansion of gross asset value. As of Q2 2012 assets were $4.339 billion: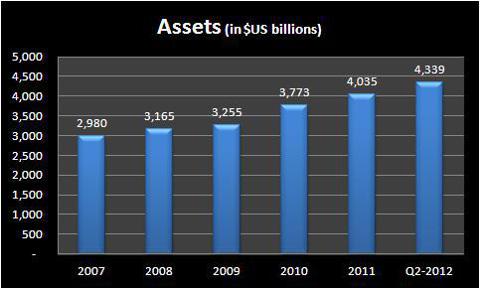 Source: SNL Financial
From 2007 through 2011, Essex increased its revenues by approximately 22.1 percent. The company announced during the second quarter that it had acquired two communities for an aggregate investment of $72 million comprising 366 units. In July, the Company acquired a community for $52 million comprised of 248 units. Here is a snapshot of the company's historical revenue performance: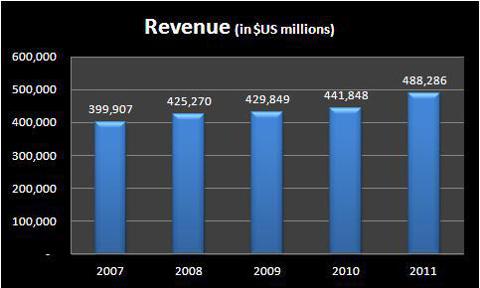 Source: SNL Financial
Recognizing geographic risk is extremely critical for a multifamily investor. Even if the national economy is doing fine, the regional and local economy can drop into a recession or worse, causing occupancy rates to decline and rents to flatten or even fall. Fortunately, Essex has focused its business model on the west coast markets, and that strategic differentiation has led to consistent occupancy performance of just under 97 percent (as of Q2 2012).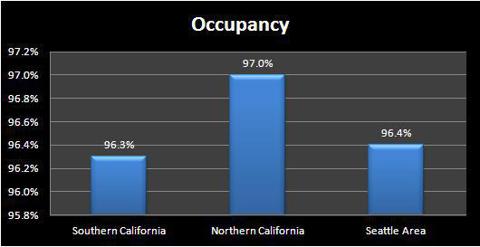 Source: Q2 2012 Report
Essex Property Trust: A Performance Brand
Essex has a conservatively proportioned and flexible balance sheet that consists of common equity (69 percent), secured debt (20 percent), unsecured debt (8 percent), credit facility (2 percent), and preferred stock (1 percent).
Essex has been de-leveraging its balance sheet and reducing its debt to total market capitalization. The company has a current debt to market cap of 29.85 percent and that is one of the lowest of the multifamily peer group. This is a snapshot of the company's historical debt to market cap ratio: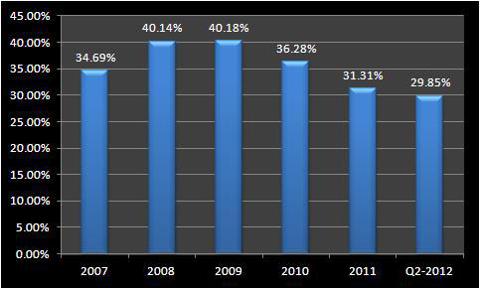 Source: SNL Financial
In addition, Essex has around $475 million in available liquidity from cash on hand, marketable securities, and unused balance on its credit line. Essex also expanded the capacity on its 5-year bank term loan by $150 million to $350 million and reduced the spread to 130 basis points over LIBOR (as of Q2 2012). With the prepayment of secured debt obligations, Essex has approximately 50 percent of the portfolio's net operating income generated from assets now unencumbered.
Essex has limited near term debt maturities with less than 15 percent of debt coming due over the next 3 years. The company has investment grade credit ratings of BBB - Stable (S&P) and BBB - Positive (Fitch).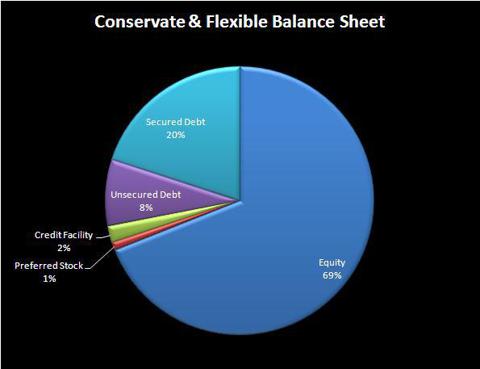 Source: Company Presentation
Essex recently announced its second quarter 2012 earnings results and its Funds from Operations for the latest quarter totaled $62.4 million ($1.69 per diluted share) compared to $45.3 million (or $1.32 per diluted share) for the quarter ended June 30, 2011. Net income available to common shareholders for the latest quarter totaled $37.1 million ($1.07 per diluted share) compared to $10.3 million ($0.32 per diluted share) for the quarter ended June 30, 2011.
Essex also increased its full-year FFO guidance range from $6.60 to $6.80 as a result of same-property NOI growth exceeding internal forecast during the first half of the year. This guidance assumption represents 15-20 percent FFO growth.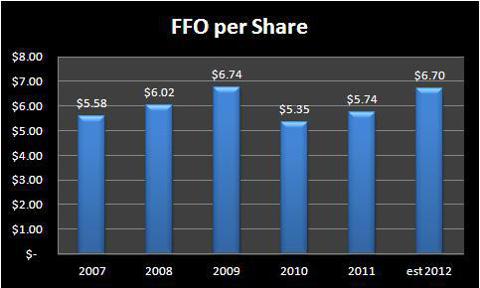 Essex Property Trust: Peak Peer Performance
The apartment REITs are currently enjoying strong occupancy (95 percent) and are making capital outlays on more properties, so many are finding themselves vulnerable to a bubble deflation. Not surprisingly, apartment REITs have outperformed other types of REITs since the housing price crash that began several years ago.
Essex has certainly been vulnerable to the renting paradigm; however, the company's differentiated west coast focus has provided some extraordinary results. The company's recent performance is best explained by Michael J. Schall, President and Chief Executive Officer, in the company's second quarter earnings release:
We are pleased with the quarterly results for the Company, which support our expectation for very favorable housing fundamentals in our coastal markets for the foreseeable future. We believe the strong job growth will continue in Northern California and Seattle, driving housing demand above expected levels of supply. Southern California continues its steady recovery amid negligible housing construction. With strong results year-to-date, we expect to achieve the high-end of our same-property NOI guidance range provided earlier this year and are raising the midpoint of our FFO guidance range by 5 cents per diluted share
There are currently 15 multifamily REITs (with a market capitalization of $76.29 billion) that are included in the FTSE ™ NAREIT ® Index. The year-to-date total return performance for the sub-sector is 13.3 percent, compared with 17.4 percent for the entire all equity REIT index.

The peer group for Essex includes BRE Properties Inc. (NYSE:BRE), Equity Residential (NYSE:EQR), Home Properties, Inc. (NYSE:HME), Avalonbay Communities Inc. (NYSE:AVB), Camden Property Trust (NYSE:CPT), UDR, Inc. (NYSE:UDR), Apartment Investment & Management (NYSE:AIV), Colonial Properties Trust (NYSE:CLP), Mid-America Apartment Communities (NYSE:MAA), Post Properties, Inc. (NYSE:PPS), and Associated Estates Realty Corp. (NYSE:AEC).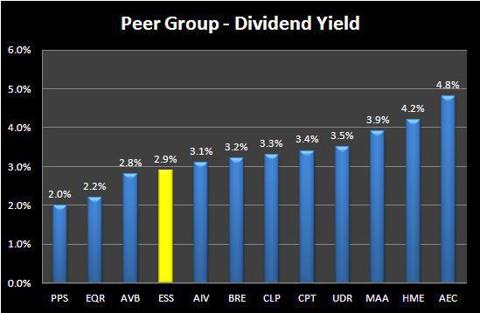 Essex has averaged 3.7 percent compound same-property NOI growth rate over the last 16 years. This extraordinary historical performance validates Essex as one of the top multifamily REITs in the sub-sector.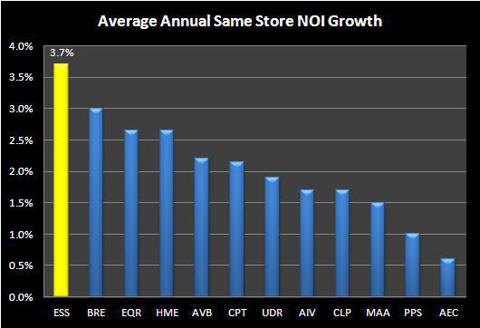 Essex is also projected to lead the peer group in NOI growth in 2012. Essex's same-property net operating income for the first 6 months is up 10.2 percent over the 6 months results ending in 2011. The new guidance for 2012 forecast net operating income increasing in a range of 8.5 percent to 9.5 percent for the entire year.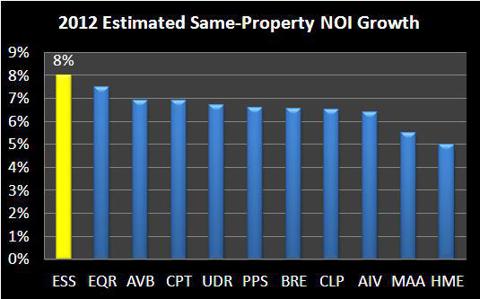 Only three multifamily REITs have had positive growth in distributions over the past 10 years, and did not decrease dividends along the way in 2009. Of these three, only Essex has maintained the consistency of paying increased cash dividends for 19 years. This incredible record of consistency makes Essex one of just a handful of REITs that have never cut dividends - even in the worst recession since the great depression.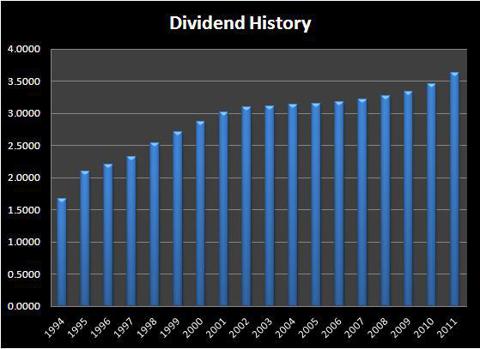 Source: SNL Financial
The select few REITs that have also maintained the same extraordinary dividend performance history include Federal Realty (NYSE:FRT), HCP, Inc. (NYSE:HCP), Universal Health Realty (NYSE:UHT), National Retail Properties (NYSE:NNN), Essex Property Trust, Tanger Factory Outlets (NYSE:SKT), Realty Income (NYSE:O), Urstadt Biddle Properties (NYSE:UBA), Omega Healthcare Investors (NYSE:OHI), and National Health Investors (NYSE:NHI).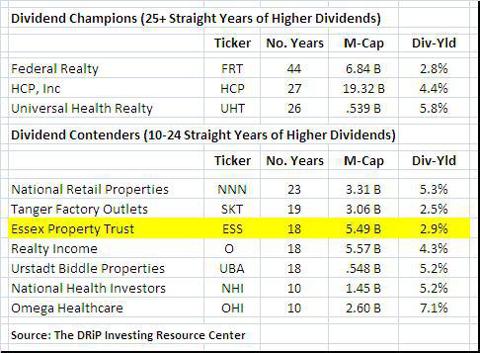 This elite group is part of a larger group of public companies that are often referred to as "Dividend Champions". Seeking Alpha contributing writer David Fish produces this "US Dividend Champion" report on his DRiP Investing Resource Center site.
So Should I Include Essex in my Dividend Portfolio?
Like most other multifamily REITs, Essex appears to be overvalued. The current price is $150.90 per share and the current dividend yield is 2.92 percent. The yield is depressed due to the REIT's rising price and the company has produced a year-to-date total return of 11.28 percent.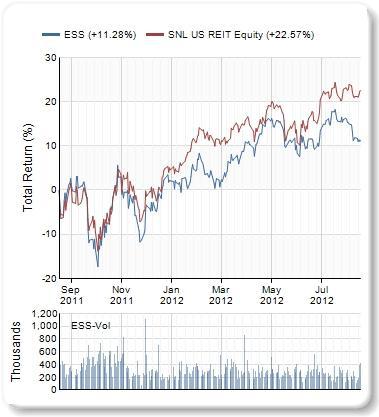 Source: SNL Financial
In some ways, less exposure to apartments and some diversification may be a better long-term strategy; however, the historical performance of Essex warrants a closer look. Since the company's IPO, Essex has produced a 19 percent compound annual total return.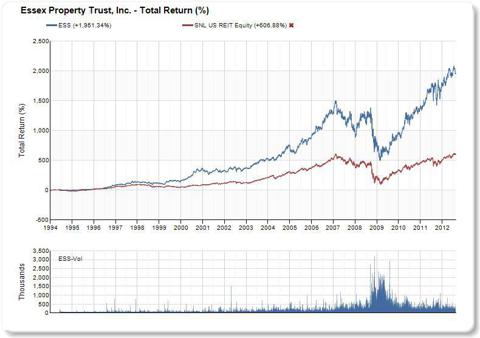 Source: SNL Financial
This chart tells me that Essex has been a leading performer and the REIT offers investors a "blue chip" value proposition (ESS led the multifamily sector in 2011 with a total return of 27 percent). I consider Essex to be candidate for your diversified long-term retirement portfolio and this west coast REIT provides ample and diversified exposure to the apartment sector.
If you are concerned that the entry price is a little high, Essex has one class of straight preferred (ESS-H) and here are the details:
Price: $26.70
Current Yield: 6.67%
Call Date: 4/13/16
Rating: BB+
Yield to call: 5.10%
Essex Property Trust: An Intelligent REIT That is Hard to Beat
As Ben Graham wrote (in The Intelligent Investor),
The defensive investor must confine himself to the shares of important companies with a long track record of profitable operations and in strong financial condition.
Graham believed that "one of the most persuasive tests of high-quality is an uninterrupted record of dividend payments going back over many years" and that "consistency in the products" is what "creates consistency in profits". As Graham believed, both "consistency and durability are attributes for competitive advantage".
Essex Property Trust has excelled at sustaining its differentiation over time and accordingly this "intelligent" REIT provides investors with one of the strongest sources of differentiation in the multifamily sector. Because of the company's focus on investing in high-quality west coast properties, Essex is considered one of the most successful REITs as measured by its repeatable track record of paying and increasing dividends for 19 years and running…..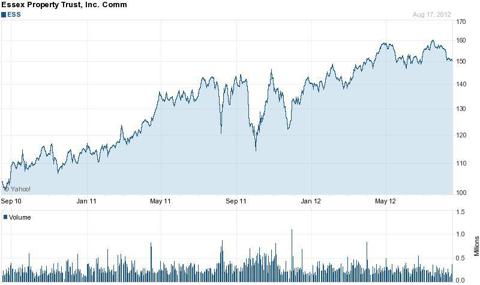 Source: SNL Financial, NAREIT, and Essex Investor Presentation
Disclosure: I have no positions in any stocks mentioned, and no plans to initiate any positions within the next 72 hours.