Pac Crest was out with a note on Varian Semi (NASDAQ:VSEA) Monday, raising their price target on the semiconductor equipment name by $6 bucks to $50. That looks like the most aggressive move on the stock from the sell side in recent months, so we thought we'd take a closer look.
Essentially, Pac Crest finds the company's earnings leverage compelling and they are expecting significant earnings growth exiting the current downturn. They kept shares at outperform, which we think makes sense given the degree to which the stock has gotten torched in the last 2 quarters based on cap ex cuts across the board from leading chip makers. We owned VSEA in a student-run fund last Fall and got stopped out after making the mistake of focusing to much on the firm's attractive technology and market penetration metrics – and not enough on where we stood in the cycle (Varian subsequently missed Q2 by 9c and guided Q3 20c lower than consensus, whose estimates, like ours, were way too high). Now, Pac Crest is suggesting that VSEA has gotten its beating and is picking up share even in today's tough climate for equipment orders. This implies that VSEA could be one of the first names the buy side warms up to once the cycle peaks.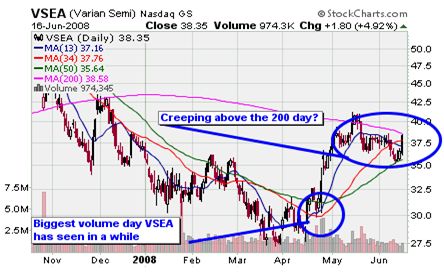 In other words, VSEA is more than just a valuation story – it is highly likely that the company will end up with over 70% of the overall implant market past 2008 as rivals have exited the cost-intensive business, essentially forking over their customers to VSEA. Ion implantation is the process by which chips are activated much the way your cell phone gets "activated" and ready for use once you leave the carrier store. Implanters essentially alter the surface properties of semiconductor materials when ions introduce both a chemical change in the target: dopants such as boron, phosphorus or arsenic create a charge carrier in the semiconductor, thus modifying the conductivity of the semiconductor in its vicinity. This space is one of the higher margin and harder to enter segments along the semi equipment food chain. 
Varian's single wafer fab process simplifies equipment needs and reduces their customer's cost of ownership, more so than the equipment made by rival Axcelis (NASDAQ:ACLS), whose batch technology has been proven to destroy chips at the 90 nm level & lower. As nodes get smaller, Varian's equipment becomes more critical. The stock is down hard because of Varian's exposure to memory: mem pricing has gotten slammed and that in turn has pulled down capacity expansion. However, memory won't be in the gutter forever, especially when you bake in the shift within the semiconductor industry from spending being centered on corporate IT to being centered on consumer demand for rich digital media like cell phones, digital cameras, and MP3 players, all of them gadgets that have  become as addictive as caffeine and tobacco.
Bottom line: Bookings across the semi equipment space are soft and will likely remain soft till the beginning of Q4, think some of our contacts who follow these stocks. That said, you don't buy these stocks when things have already turned up -- you buy them at least 2 quarters in advance of the cycle's inflection point. VSEA remains a market share grab story with room for margin expansion and revenue upside potential as the cap ex cycle troughs, which should materialize in the back half of the year. In addition, Varian possesses one of the most transparent management teams in the sector and they are still repurchasing stock – your downside is getting in the stock too early, as DRAM and NAND spending this year looks horrific. But given that VSEA is 35% off its highs, we'd argue the worst has been already discounted by the street.  
Disclosure: No position in stock.