After declining by 61 tonnes in late April, the number of "tonnes in the trust" at the SPDR Gold Shares ETF (NYSEARCA:GLD) has increased steadily over the last month.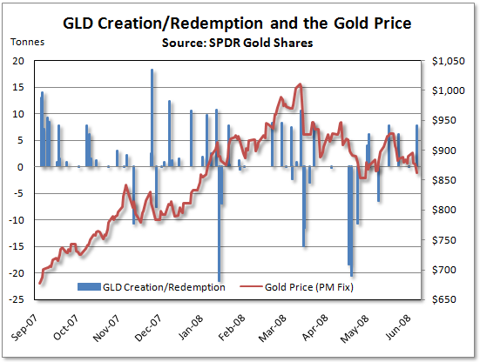 Total inventory peaked in mid-March at 665 tonnes which would have put the world's largest gold ETF eighth in the the Gold Council's Official World Gold Holdings, between Japan at 765 tonnes and the Netherlands at 621 tonnes.
At the current level of 605 tonnes, the Gold ETF is again sneaking back up on the Dutch.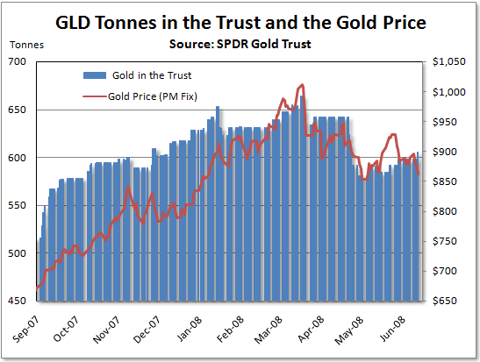 The United States ranks number one with 8134 tonnes (though no one's really sure how much is really there), followed by Germany at 3417 tonnes (it's all there) and the International Monetary Fund at 3217 tonnes (where economists seem desperate to unload some of the stuff).

Earlier this year, there was much discussion about what role the gold ETF was playing in a soaring gold price that rose from $650 per ounce last summer to over $1,000 in March.

With crude oil having risen from $70 to almost $140 during that same time, no one seems to be too concerned about the yellow metal anymore.

If yesterday's price movement is any indication, that may be changing