By Steven Orlowski
It sure feels good when reported results, from either a company or a country, meet or exceed expectations. With much of the world struggling to stimulate growth, such positive news is rare. But the Malaysian economy has given emerging market investors something to smile about.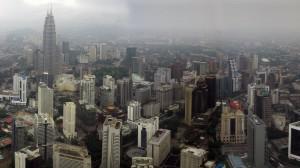 Economists had forecast that the Malaysian economy would show GDP growth of 4.6% for the three-month period ended June 30.
Malaysia's central bank announced a much better than expected 5.4%. It also upwardly revised GDP growth for the first quarter, from 4.7% to 4.9%. Growth for the first half of the year remained at 5.1%, compared with the same period a year ago.
Fueling the Malaysian economy growth was private and public investment, up 24.6% and 28.9%, respectively. The central bank reported that private consumption was up 8.8% and public consumption 9.4%.
Approximately 60% of the Malaysian economy is tied to exports, which continue to grow despite the global slowdown. Exports increased 3.95% in the second quarter, compared with 4.4% in the first quarter. The central bank is holding its GDP target for 2012 at between 4% and 5%, but it did say it expected that number to land closer to 5%.
The only ETF dedicated to Malaysia, the iShares MSCI Malaysia Index Fund (NYSEARCA:EWM), reacted positively to the news but failed to hold the gains. In the chart below, I've circled the trading day, with shares of EWM trading up to $14.72 per share but closing at $14.64, the exact same close as the day before.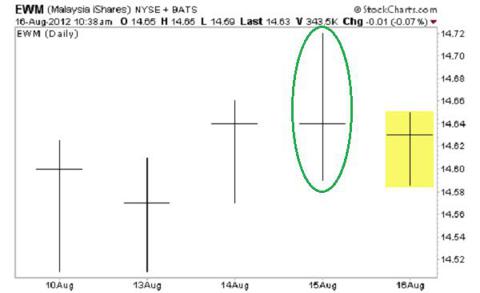 The one-year chart below shows a very nice upward climb for EWM shares despite a fair amount of volatility. Unfortunately, there does appear to be some resistance at $14.75. Nonetheless, the outlook for the Malaysian economy and the ETF is better than that for many other emerging markets.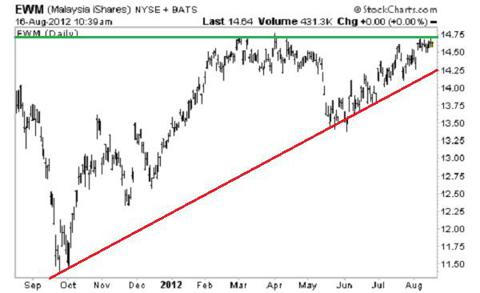 The five-year chart below also looks good. Even with some short-term resistance at $14.75, the ETF is trading in a channel that has narrowed since the bottom that occurred for most equity markets in March 2009. Given the positive fundamental outlook and technical observation, I expect Malaysia to continue to perform better than most of its peers.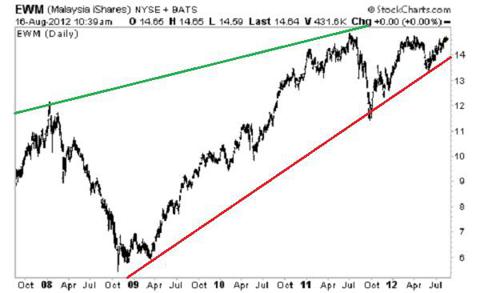 Last, a comparison between EWM and the S&P 500 succinctly tells the story of emerging and frontier markets. While investors holding U.S.-oriented ETFs, mutual funds and stocks are celebrating that they have almost recovered their losses from the stock market sell-off that extended from October 2008 through March 2009, investors in EWM have not only recovered losses but exceeded the highs attained in late 2007 and early 2008. Longer-term expectations for emerging and frontier markets are for this type of activity to continue, with developing countries leading the way and developed countries following.