Lowe's Companies Inc. (NYSE:LOW) will provide the biggest earnings announcement before the bell on Monday August, 20th. The Street is looking for $0.70 per share, and based on Home Depot's (NYSE:HD) earnings, investors will likely be expecting a strong quarter from Lowe's. Lowe's has modestly beat earnings estimates in each of the last four quarters, and in the second quarter of 2011 it beat estimates by two cents when it announced earnings of 68 cents per share. Lowe's stock, along with its rival Home Depot's, have outperformed over the past year, with the stock rising 45% over the past 12 months. However, Lowe's still appears to present a good value. The company has a forward P/E of 12.7, a PEG ratio of 0.9, an EV/EBITDA ratio of 7.2, and a dividend yield of 2.3%. This compares to Home Depot with a P/E of 16.8, a PEG ratio of 1.3, an EV/EBITDA ratio of 10.5, and a dividend yield of 2%. The chart of Lowe's indicates there could be some support around $25 per share. I would closely look at Lowe's earnings and then watch the stock for a possible entry close to the $25 price level.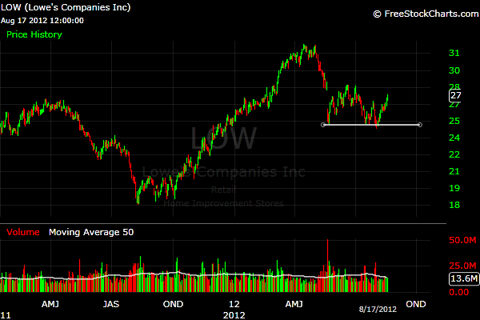 After the bell Monday, the most interesting stock to watch will be Urban Outfitters Inc. (NASDAQ:URBN) from which the Street will be looking for 33 cents per share on revenue of $671.6 million. The company has a mixed history, beating earnings estimates last quarter but missing the quarter before. I believe investors will be looking for a small beat as retail has been improving, a miss would be disappointing to apparel retailers.
Before the bell on Tuesday, three retailers will be out with earnings, Barnes & Noble, Inc. (NYSE:BKS), Best Buy Co., Inc. (NYSE:BBY), and DSW Inc. (NYSE:DSW). I last wrote about Barnes & Noble on June 19th, and the stock has since declined 14% to close last Friday at $12.34. This quarter, the Street will be looking for a loss of 98 cents per share, and this estimate has improved sharply in the past 90 days, from a previous estimate for a loss of $1.10 a share. The company does not have a strong track record of beating estimates. However, this quarter will be important for the company to prove it has things turned around. With that said, at this time I would not consider investing until the stock at least reaches support under $11 per share.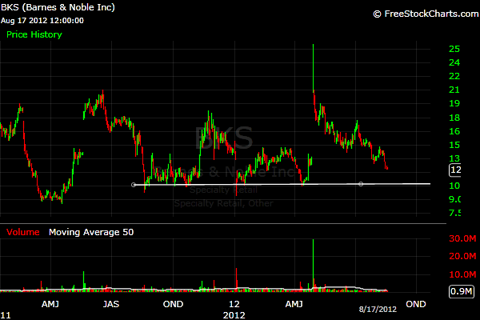 Analysts will be looking for 31 cents per share from Best Buy, compared to earnings from the same quarter a year ago of $0.47 per share. The stock remains in a down channel, and at this time shows no signs of breaking out, I would also avoid this stock.
DSW, the shoe retailer, is expected to earn 62 cents per share, on revenue of $510.9 million. This stock has performed very well over the past year. However, at over $60 per share and a PEG ratio of 1.8, I would wait for this stock to come down before investing.
The big earnings announcement after the bell Tuesday will be from Dell Inc. (NASDAQ:DELL). Analysts are looking for Dell to earn 45 cents per share, compared to 54 cents last year. Dell will be closely watched as investors look to see if the company is making any progress turning the business around and finding where Dell's future growth will come from. Earnings estimates have declined 10% over the past 90 days, indicating this quarter could be challenging for Dell, which has missed slightly in each of the last two quarters.
La-Z-Boy (NYSE:LZB) will also announce earnings Tuesday afternoon, with the Street looking for 8 cents per share. While La-Z-Boy has gone nowhere since I last visited it, it does appear to be making a break higher recently. I would closely review this quarter's earnings looking for growth to pick up before investing. There might be some room to the upside in this stock. However, I think it will run into resistance above $16 per share.
Disclosure: I have no positions in any stocks mentioned, and no plans to initiate any positions within the next 72 hours.