Microsoft's (NASDAQ:MSFT) Windows 8/Surface rollout is the most important event in the company's history since the release of Windows 3.1. Never mind if some of the "cool" has rubbed off the Windows brand, never mind Android Jelly Bean or iOS6. The Windows operating system is the most pivotal piece of software in the world. The October 26 dual release is a HUGE deal. It will affect everything—from desktops to laptops, desknotes (DTRs), tablets, ultra-mobiles, gaming computers and workstations.
Everyone still uses Windows. The OS dominates both PC and Office/Enterprise level systems. As of 2011, there were over 1.1 billion computers in the world, and approximately 90% of those computers use Windows.

By comparison, Apple iOS and Google Android combined account for only 1.39% of worldwide users.
The Lost Decade
The Windows 8/Surface rollout is Steve Ballmer's baby. This is his last chance to persuade Wall St that he is the right man for the job of leading Microsoft.
His performance thus far has been less than inspiring. Just one of Apple's (NASDAQ:AAPL) products (the iPhone) has made more money this year than every other Microsoft product combined. Just this week, Vanity Fair ran a brutal exposé criticizing the cultural shift at Microsoft, which under Ballmer's leadership has shifted emphasis from Product Development to Marketing.
What emerged—when combined with the bitterness about financial disparities among employees, the slow pace of development, and the power of the Windows and Office divisions to kill innovation—was a toxic stew of internal antagonism and warfare.
Morale killing internal policies such as stack ranking have been adopted; with counterproductive results.
An informal poll conducted by Forbes.com revealed that after the Vanity Fair article, 41% of readers believed that the stack ranking system introduced under Ballmer's leadership was at the heart of Microsoft's problems, while 53% thought stack ranking was "partially (responsible) but there are definitely other factors." Only 6% of respondents thought stack ranking had nothing to do with the disconnect at Microsoft.
If you were on a team of 10 people, you walked in the first day knowing that, no matter how good everyone was, two people were going to get a great review, seven were going to get mediocre reviews, and one was going to get a terrible review," said a former software developer. "It leads to employees focusing on competing with each other rather than competing with other companies."

Supposing Microsoft had managed to hire technology's top players into a single unit before they made their names elsewhere-Steve Jobs of Apple, Mark Zuckerberg of Facebook, Larry Page of Google, Larry Ellison of Oracle, and Jeff Bezos of Amazon-regardless of performance, under one of the iterations of stack ranking, two of them would have to be rated as below average, with one deemed disastrous.

For that reason, executives said, a lot of Microsoft superstars did everything they could to avoid working alongside other top-notch developers, out of fear that they would be hurt in the rankings.
The article drew a scorching response from Frank X Shaw, Microsoft's VP of corporate communications.
Einchenwald's piece in VF, where he pretends to be an expert on all things m(icro)s(oft) and performance management, cleverly neglecting to mention that (no) company has a per(fect) management system, and that all have plusses (sic) and minuses. In case nobody noticed, we don't live in Lake Woebegone or Pee Wee Soccer worlds!
Maybe not, but if Surface bombs all the indignant alpha-male spin appeal in the world won't be able to save Microsoft's CEO from investor's wrath. Windows 8/Office and the Surface are not like Zune or Microsoft Bob. They are Microsoft's whole strategy, integrated with everything: from Office 2013, to Windows Phone and Xbox. If Microsoft may be able to patch the holes if Windows 8 flops, but they won't be able to walk away from it. Microsoft has spent too much of its partners good will to get here.
Break Up, Make Up
Microsoft's OEMs are furious - and not just because Ballmer's steering Redmond into a collision course with the hardware industry. Microsoft had early access to OEM's ARM-based designs, which means knew not what OEMs were launching, but their intended price points. That allowed Microsoft to design a tablet that would be superior to the OEM's tablets in every way. Considering what happened with both IBM (NYSE:IBM) and Apple when Microsoft launched Windows 3.0, the OEMs certainly have a right to be wary.
In a report published in the Financial Times last Monday, Campbell Kan, president of PC global operations for Taiwanese computer maker Acer (OTC:ASIYF) said:
If Microsoft ... is going to do hardware business, what should we do? Should we still rely on Microsoft, or should we find other alternatives?
In the same story, Acer chairman and CEO JT Wang lashed out at Microsoft's plans for the Surface tablet.
We have said [to Microsoft] to think it over. Think twice. It will create a huge negative impact for the ecosystem and other brands may take a negative reaction. It's not something you are good at so think twice. (emphasis added)
The OEMs will do what they're told for now. Lenovo, Samsung, Asus and Dell are all producing ARM-based tablets running Windows RT. However, disloyalty is a two edged sword that can cut both ways. That "other alternative" is undoubtedly Google (NASDAQ:GOOG).
Deploying Windows 8 also introduces a variable Microsoft hasn't had to consider in decades: Competition. Microsoft's dominance during the 90s was absolute. Windows was literally Too Big To Fail. If you didn't like the new operating system or failed to appreciate its advantages, tough. The world rolled on without you. A failed rollout today would present competitors like Apple and Google with a gift wrapped opportunity to savage Microsoft's market share.
Converting China To The Digital Faith
For the moment, however, the greatest threat to Windows 8 isn't Microsoft's competitors. It's unrepentant Win XP users.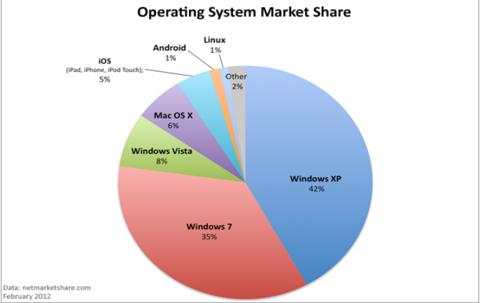 These XP holdouts are located almost exclusively in China; and that makes them difficult to monetize, regardless of how many "genuine experience" stores Microsoft sets up in Beijing Zhongguancun.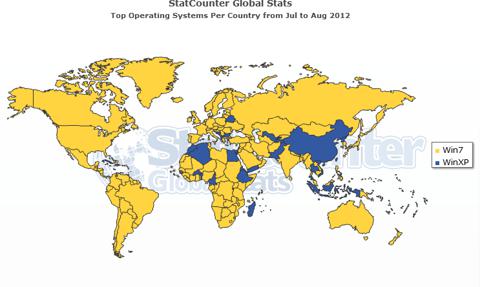 According to Microsoft's own data, XP has a whopping 81.8% share in China, while Windows 7's share was only about 10%. Most mainland Chinese users are still using IE6 and refuse to update, for fear that Microsoft will detect that the operating system the browser is running on is stolen. Microsoft has been very tight lipped concerning its strategy for China, saying only that "it has one." Let's hope so.
Reviews
The good news is that Windows 8 reviews are positive by a 2-1 margin. (The 15-1 Google Search ratio between "I hate Windows 8" and "I love Windows 8" is a sobering reminder that the Long War between hardcore Apple fans and Microsoft, now in its 24th year, is still raging.)
CNET loved it. Infoworld hated it. Gizmodo gave it a B-. Most of the other reviews fell somewhere between CNET and Gizmodo. The consensus? Windows 8 is one of the best things that ever happened to tablets. The following is a quick summary of what reviewers like about Windows 8 so far:
The Metro interface is the most aesthetically pleasing OS that Microsoft has ever produced. The control gestures are touch-intuitive and natural, and they work much better than they did in the Preview version.
IE now supports Flash (A leaked Adobe memo indicated that Flash has special privileges that enable it to run more seamlessly than other third party Metro apps). The Do Not Track feature is a welcome reprieve from the prevailing social media ethic.
The Semantic Zoom feature, with its optical zoom-like pinch gestures allowing the user to switch between different views of the same data, is intriguing.
Both OS boot and login are fast.
Aero Glass is history. The hot corners for charms have been tweaked so they're harder to trigger by accident. The Mail, Calendar, People and Photos apps have all been improved.
That's the good news. The bad news is that Windows 8 is one of the best things that ever happened...to tablets.
PCs are a different story.
Instead of trumping the limitations of iOS, Microsoft replicated them. For starters, there are no windows in the Metro interface. Every app runs full screen. That may work fine for Apple, but Windows users expect all the classic multitasking functionality they're used to. To do that, you have to switch over to Desktop Mode. You can consume content within the Metro interface, but you need the Windows 8 desktop to create it easily. To do that, you have to switch over to...(take a guess.)
Microsoft set out to create a different experience in the Metro interface, and they succeeded with a vengeance. The switch to DM is jarring, and Windows 8 always boots into the Metro interface.
There's no Start button. Instead, there is a Start Menu on the Charms Bar that replicates the desktop.
You have to climb a steep learning curve to make Windows 8 really walk and talk. The learning curve is more than important, it's potentially decisive. Think about it: Every year that the Windows GUI stayed more or less the same, productivity improved. Activities that once required actual thought have become habit. When's the last time you actually thought about something as simple as saving a file, switching between applications, or installing a new program?
Conclusion
Microsoft is a blue chip, cash flush company with stellar revenues. It's a market leader. It has a natural monopoly in the Windows franchise. Despite all this, the stock has been dead money for the better part of a decade. This tug of war between the bulls and the bears over Microsoft's future has kept the stock tightly range bound. The October 26 dual release of Windows 8 and the Surface, just in time for the holiday season, has the potential for a breakout. The breathing spell between now and October may provide an attractive entry point for investors looking to buy into the New Microsoft.
Disclosure: I have no positions in any stocks mentioned, and no plans to initiate any positions within the next 72 hours.