Liquidity Services, Inc. (NASDAQ:LQDT) operates online auction websites based in the US for sellers to remarket wholesale, surplus, and salvage assets. The company's stock has recently dropped by 27% from its 52-week high of $66.57 attained in May. I believe the plunge has created an excellent buying opportunity for this high-growth company, as the stock price is cheap relative to the company's robust fundamentals.
My value analysis is primarily based on comparing LQDT with a set of peers (See below), including some major online consumer service providers. There are five reasons to support a solid buy rating on LQDT:
1. The stock is cheaply priced relative to the company's growth potential. Analysts in average predict LQDT's revenues, EBITDA, and EPS to rise by significant 2-year CAGRs of 32.3%, 65.1%, and 156.2% over the current and next fiscal years. The expectations are substantially higher than the peer averages of 22.2%, 147.3%, and 17.1%, respectively. However, the LQDT stock is only trading at 0.7x PEG, a much lower valuation compared to the peer average PEG of 1.3x.
2. Although revenue, EBITDA, and EPS estimates have experienced multiple upward revisions over the past 12-18 months, the stock's P/E and EV/EBITDA multiples remain very close to its 52-week lows (see below).
Click to enlarge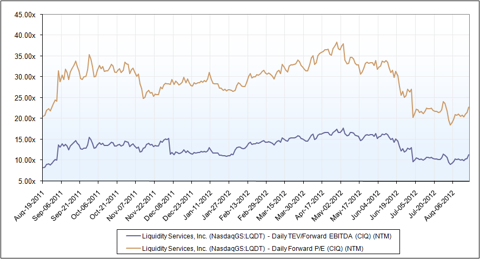 3. The stock price also appears to be cheap relative to the company's other fundamentals (see below). In addition to the fast-growth prospects, LQDT's ROE and ROIC are also superior to the peer averages. The company's profitability margins are generally lower than averages, but the underperformance in EBITDA margin and EBIT margin is just marginal. In term of liquidity, LQDT's LTM FCF margin is slightly lower than the peer average. With a comparable leverage level, the company is able to maintain a healthy interest coverage ratio. Both current and quick ratios suggest a fairly healthy and liquid corporate balance sheet.

As such, I believe the solid financial performance should at least warrant an on-par stock valuation with LQDT's peers. Assuming the LQDT stock trades at no premium of discount to the five peer average valuation multiples and each of the multiples has an equal weight in determining the stock value, the estimated stock price would be $70.12, indicating a 45% upside from the current price of $48.45 (see above).
4. On a technical perspective, the recent price action suggests good timing for entry. The chart below shows that since 2011, the stock's 50-day simple moving average had been supporting the upward price trend all the way till June 2012, when the stock fell substantially below the 50-day SMA. As the stock has recently bounced back over the 50-day SMA, it is very likely that another upward price momentum would follow.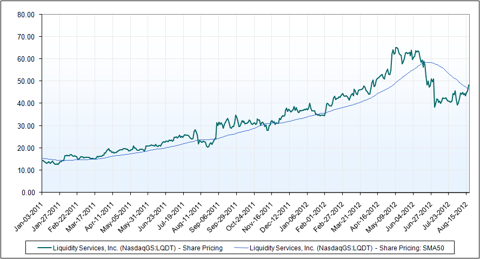 5. Analysts are also very bullish on the stock. Of the total 9 ratings based on Thomson One data, there are 6 strong buys and 3 buys.
Bottom line, due to LQDT's robust growth potential and solid financial fundamentals, I believe there will likely be a valuation correction down the road - which would lead to higher and more reasonable trading multiples. Moreover, investors can be somewhat protected by the margin of safety derived from the current cheap valuations. As such, I strongly recommend acquiring the share at the current price or selling out-of-money put options to establish a long position.
Valuation multiple and technical price charts are sourced from Capital IQ, other tables are created by author, and all financial data is sourced from Capital IQ and Morningstar.
Disclosure: I am long LQDT.