We were disappointed when we read that the Australian High Court violated the intellectual property rights of the tobacco makers by preventing the tobacco makers from displaying company trademarks on the packs of cigarettes sold in Australia. This law was passed last year by Australia's Parliament and upheld by the Australian High Court on August 15th. We were not happy about this because this constitutes an expropriation of tobacco maker trademarks, but would be a pure and simple confiscation of the core of the tobacco maker businesses.
Philip Morris International (NYSE:PM) is fighting this by serving a notice of claim on the Australian government stating its intention to take Australia to international arbitration pursuant to the Hong Kong-Australia Bilateral Investment Treaty regarding plain packaging for tobacco products. The parties were not able to reach an amicable settlement, so formal arbitration proceedings under the Investment Treaty were initiated against the Australian government on November 21, 2011. In the arbitration, Philip Morris Asia Limited is seeking substantial compensation from the Australian government for its forcible acquisition of Philip Morris Limited's intellectual property.
There are a number of reasons why we weren't happy with regards to this ruling. First off, Philip Morris and other tobacco makers sell a legal product that people want. Secondly, Philip Morris does not force people to buy what it is selling (unlike the government). Third, Philip Morris and the rest of the tobacco companies already pay the Commonwealth of Australia and its state and local government billions of dollars in excise tobacco taxes, as well as corporate income taxes and local property taxes, not to mention provides jobs to Australian citizens. Finally we find it to be an overreach of the government's power.
While this is a negative headwind for Philip Morris, we don't believe that it is the end of the world for the company. For one thing, this litigation wasn't even discussed at the Q2 2012 Earnings Call between Philip Morris and its analysts. Secondly, the market did not make that big of a deal about it on August 15th (which was the first trading day after the news was announced), because Philip Morris's stock only closed down 17 cents (.18%) during the day's trading and PM's stock only saw slightly below average trading volume. And third, despite the fact that over 50 countries have mandated pictorial health warnings since 2001, Philip Morris's revenue has tripled since 2001.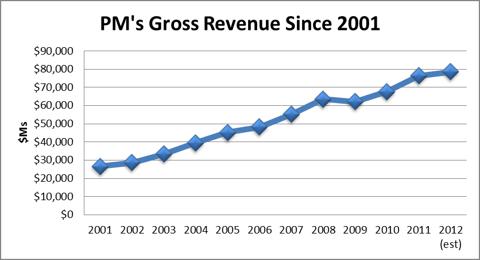 Source: Altria Annual Reports 2001-2007 and Philip Morris Annual Reports since 2008
In conclusion we are not happy with the news but we don't believe that it is the end of the world for Philip Morris. The good news with regards to Philip Morris's shares is that it will result in the price of the shares to see some short-term softness and we believe that this will allow investors who missed the 50% run-up since September 2011 to revisit the company, put it on their watchlist and have a second chance at getting into a world-class global tobacco company at a lower price. We are most certainly not sanguine about this law, not one bit. However, we will note that this new law will have some unintended effects that the legislative sponsors underestimated, such as an increase in tobacco counterfeiting and smuggling because all packs will look the same and will be easier to copy. While we think that Denis Leary was exaggerating people's carefree attitudes towards cigarettes nearly 20 years ago in his comedic routine, despite all the years of warnings and despite all the years of increased excise taxes on tobacco, the tobacco makers are practically indestructible.
Disclosure: I am long PM.
Additional disclosure: Saibus Research has not received compensation directly or indirectly for expressing the recommendation in this report. Under no circumstances must this report be considered an offer to buy, sell, subscribe for or trade securities or other instruments.