Yahoo Finance lists 47 biotechnology companies valued between $100 million and $2 billion. Of these, eight gained more than 3% on Friday, most on no news at all. They are: Santarus, Inc. (NASDAQ:SNTS), Arena Pharmaceuticals (NASDAQ:ARNA), Affymax (NASDAQ:AFFY), Clovis Oncology (NASDAQ:CLVS), AVEO Pharmaceuticals (NASDAQ:AVEO), ChemoCentryx (NASDAQ:CCXI), Geron Corporation (NASDAQ:GERN), and BioTime (NYSEAMEX:BTX).
A full 17% of small cap biotechnology stocks returned more on Friday than U.S. bonds do in a year, and that is just another day for these stocks. That potential for quick gains (and losses) is why biotechnology offers such intriguing prospects.
One problem these stocks often have, though, is that they are speculations that may mint money in the future, but currently lose money. The consequences of losing money can be unpleasant, of course, and include issuing more shares to raise money (hence diluting business ownership for current shareholders), taking on debt, or going bankrupt.
One metric to keep in mind when searching this space is operating cash flow:
Operating cash flow is important because it indicates whether a company is able to generate sufficient positive cash flow to maintain and grow its operations, or whether it may require external financing.
So with that in mind, we ran a screen on Yahoo Finance to find small cap biotechnology stocks that are cash flow positive and have at least $100 million on hand to cover current expenses. Please use this screen as a starting point for your research (after each company's description we recommend a place to begin your research). The results:
Industry =Biotechnology
Market Cap >100m and <2b
Operating Cash Flow >=0
Total Cash >=100m
Ticker
Company Name
Total Cash
Operating Cash Flow
(NASDAQ:VPHM)
ViroPharma Incorp
471.9M
122.7M
(NASDAQ:PDLI)
PDL BioPharma Inc.
228.3M
44.6M
(NASDAQ:NKTR)
Nektar Therapeuti
432.9M
146.3M
(NASDAQ:ALNY)
Alnylam Pharmaceu
229.0M
196.5M
(NYSE:EBS)
Emergent Biosolut
161.8M
55.4M
(NASDAQ:INFI)
Infinity Pharmace
103.9M
12.1M
(NASDAQ:ENZN)
Enzon Pharmaceuti
129.2M
100.4M
(NASDAQ:TRGT)
Targacept Inc.
156.5M
24.8M
(All company bios sourced from Google Finance)
ViroPharma Incorp
What the company does:
ViroPharma Incorporated (ViroPharma) is a global biotechnology company. The company is engaged in the development and commercialization of products that address diseases, with a focus on products used by physician specialists or in hospital settings. The company markets and sells Cinryze in the United States for routine prophylaxis against angioedema attacks in adolescent and adult patients with hereditary angioedema (HAE). Cinryze is a C1 esterase inhibitor therapy for routine prophylaxis against HAE, also known as C1 inhibitor (C1-INH) deficiency, a rare, severely debilitating, life-threatening genetic disorder. It also markets and sells Vancocin HCl capsules, the oral capsule formulation of vancomycin hydrochloride, in the United States and its territories. Its product development portfolio is primarily focused on three programs, C1 esterase inhibitor [human], VP20621 and VP-20629. On November 15, 2011, the company acquired a 100% ownership interest in DuoCort Pharma AB (DuoCort).
Where to start:
The FDA recently ruled on "the supplement to the Cinryze Biologics License Application (BLA) for industrial scale manufacturing changes" which you can read about at the linked press release. Have a look at the chart below and see if you can guess when the ruling happened and if it was approved or denied by the FDA:

Listening to conference calls is one of the best ways to get to know a company and get a feel for their business prospects and management. Have a listen to ViroPharma just a few days after its FDA ruling by clicking the link.
PDL BioPharma Inc.
What the company does:
PDL BioPharma, Inc. is a is a biotech company. PDL is engaged in the management of antibody humanization patents and royalty assets, which consist of its Queen et al. patents and license agreements with various biotechnology and pharmaceutical companies. The company receives royalties based on sales of humanized antibody products marketed and may also receive royalty payments on additional humanized antibody products launched before final expiry in December 2014. It has entered into licensing agreements with numerous entities that are independently developing or have developed humanized antibodies under which it has licensed certain rights under its Queen et al. patents to make, use, sell, offer for sale and import humanized antibodies.
Where to start:
Nothing much to see here. Just another small biotech company paying an 8% dividend and sporting a sub 6 price-to-earnings multiple.
This is, quite literally, too good to be true. You should see warning lights flashing and hear sirens blaring when you see gaudy numbers like that. Red alert and all hands on deck, look out below, circle the wagons, gather the children and tell them not to take candy from PDL BioPharma because something is wrong with this picture: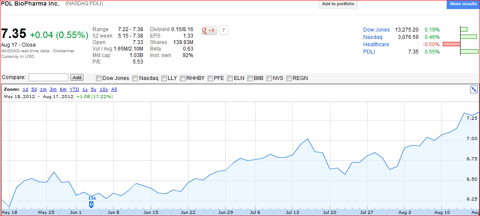 Fortunately for us Paulo Santos already did some great diligence and that linked article is where to start:
Although PDLI seems incredibly cheap by mere fundamental analysis, the company is close to hitting a wall where it loses patent protection during 2014 and potentially winds down until 2016. As it stands, the company is basically a liquidating asset, and it doesn't seem likely, at this point, that PDLI will return more cash than what it owes + its market capitalization.
Nektar Therapeutics
What the company does:
Nektar Therapeutics (Nektar) is a clinical-stage biopharmaceutical company developing a pipeline of drug candidates, which utilize its PEGylation and advanced polymer conjugate technology platforms. As of December 31, 2011, its pipeline was consisted of drug candidates across a range of therapeutic areas, including oncology, pain, anti-infectives, anti-viral and immunology. Its research and development activities involve small molecule drugs, peptides and other potential biologic drug candidates. In addition, it utilizes pharmacologic targets to engineer a new drug candidate. As of December 31, 2011, the company's NKTR-118, was an oral peripherally-acting opioid antagonist, in Phase III clinical studies for the treatment of opioid-induced constipation (OIC) in patients with non-cancer pain and cancer pain. Its NKTR-102, is a topoisomerase I inhibitor.
Where to start:
That's a wide range of drugs and therapies Nektar is pursuing. Don't forget to consider something while your mouth waters at all those possible home-runs:

Drugs and therapies are expensive to develop and so are the trials that must be run to satisfy the FDA. Let's do some back of the envelope math based on the numbers above.
If there are over 100 million shares of Nektar Therapeutics and each share loses $1.20 per year, then this company is burning over $120 million in a single year. The screen we ran showed the company has $146 million so it had better start making money in the next 12 months or else funds will have to be raised by diluting shares or taking on debt.
Best to take it directly from management as to this company's short-term plans, listen to last week's conference call linked here.
Alnylam Pharmaceuticals
What the company does:
Alnylam Pharmaceuticals, Inc. (Alnylam) is a biopharmaceutical company developing therapeutics based on ribonucleic acid interface (RNAi). Its Alnylam 5x15, is focused on the development and commercialization of novel RNAi therapeutics for the treatment of genetically defined diseases. Its core programs in clinical or pre-clinical development are: ALN-TTR for the treatment of transthyretin-mediated amyloidosis (ATTR); ALN-APC for the treatment of hemophilia; ALN-PCS for the treatment of severe hypercholesterolemia; ALN-HPN for the treatment of refractory anemia, and ALN-TMP for the treatment of hemoglobinopathies, including beta-thalassemia and sickle cell anemia. The company has three partner-based programs in clinical or pre-clinical development, including ALN-RSV01 for the treatment of respiratory syncytial virus (RSV), infection, ALN-VSP for the treatment of liver cancers and ALN-HTT for the treatment of Huntington's disease (HD).
Where to start:
Stephen Simpson has had his eye on this one for a while and after the recent surge in share price he made a point that is worth bearing in mind when you research this and other biotech companies:
There's an old adage in biotech that says you raise money when you can, regardless of whether you really need it at the moment... Consequently, even just a small secondary (on the order of 5 million shares) could be worthwhile.
You make hay when the sun shines, so dilution could be in the offing. However, Alnylam just secured $3.2 million from GlaxoSmithKline (NYSE: GSK). If you are interested in this company start your research with both linked articles.
Emergent BioSolutions
What the company does:
Emergent BioSolutions Inc. is a biopharmaceutical company focused on protecting and enhancing life by developing and manufacturing vaccines and antibody therapeutics that are supplied to healthcare providers and purchasers for use in preventing and treating disease. The company operates in two divisions: BioDefense Division and BioSciences Division. It derived substantially all of its product revenues from sales of BioThrax to the United States government, specifically and the United States Department of Health and Human Services (HHS), as well as the United States Department of Defense (DOD). The company's BioDefense Division is directed to government-sponsored development and supply of countermeasures against potential agents of bioterror or biowarfare and targets the infectious disease anthrax.
Where to start:
This vaccine and disease prevention company is already profitable as it is located in the National Institute of Health's backyard of Rockville Maryland. Start your research on Emergent's future prospects with the recent webcast presentation at the Wedbush 2012 Life Sciences Management Access Conference.
Infinity Pharmaceuticals
What the company does:
Infinity Pharmaceuticals, Inc. is a drug discovery and development company. The company's lead product candidate is saridegib, also known as IPI-926, an oral molecule that inhibits the Hedgehog pathway by binding to the Smoothened receptor. The company's programs for the discovery and development of drug include the inhibition of the Hedgehog pathway, the heat shock protein 90 chaperone system and phosphoinositide-3-kinase. In January 2012, IPI discontinued its randomized Phase II clinical trial evaluating saridegib in combination with gemcitabine, a chemotherapy, in patients with previously untreated, metastatic, pancreatic cancer, following a preliminary analysis of data showing a difference in survival favoring the placebo plus gemcitabine treatment group.
Where to start:
Start your Infinity research with the linked press release on the company's recent secondary offering of 6 million shares. So that $103 million our screen showed Infinity had on hand was not enough to keep it from diluting. But take heart now in some simple distillation: This company is not going to do a secondary, it just did!
Enzon Pharmaceuticals
What the company does:
Enzon Pharmaceuticals, Inc. (Enzon) is a biotechnology company. The company's drug development programs utilize two platforms: Customized PEGylation Linker Technology (Customized Linker Technology) and third-generation messenger ribonucleic acid (mRNA) antagonists utilizing the Locked Nucleic Acid (LNA) technology. The company has four compounds in human clinical development, a PEGylated version of the active metabolite of the cancer drug, irinotecan, PEG-SN38, and mRNA antagonists Survivin and the Androgen Receptor (AR). In addition, it has mRNA antagonist targets in various stages of preclinical research. The company receives royalty revenues from licensing arrangements with other companies related to sales of products developed using its Customized Linker Technology-PEGINTRON. It is also using LNA technology to develop mRNA antagonists against oncology targets.
Where to start:
One of the most interesting things about Enzon is that "activist investor" Carl Icahn took a position and then got active pushing for a management change. He got it earlier this year as the linked SEC filing shows. Start there and see what you think of Carl's presence and new management.
Targacept
What the company does:
Targacept, Inc. is a biopharmaceutical company. The company is engaged in the design, discovery and development of NNR Therapeutics for the treatment of diseases and disorders of the nervous system. The company's NNR Therapeutics target neuronal nicotinic receptors (NNRs). As of December 31, 2011, the company had multiple clinical-stage product candidates and preclinical programs in areas. The company's drug discovery activities utilize computer-based molecular design methodologies and biological and chemical data for a library of diverse compounds developed and collected. The company refers to these technologies collectively as Pentad. Its clinical-stage product candidates include TC-5214, TC-5619, TC-6987, AZD3480 (TC-1734), AZD1446 (TC-6683), TC-6499 and TC-6987.
Where to start:
Start by describing Targacept's year in a word:

Professor: Describe your tavern, in one word.

Moe: Uh, is "crap hole" one word?

Professor: Yes, if it's hyphenated.
Sticking with the Simpsons theme, start your research into what happened with Stephen Simpson who clues us in that Targacept's once promising treatment for major depression is no longer promising:
At best, any success in these remaining studies would confuse the heck out of scientists and biostatisticians and require at least another pivotal study.
But all is far from lost. Just remember to keep in mind how much all these exciting opportunities cost:
The encouraging news for shareholders is that these weren't the only shots on goal the company had.

In addition to the inattentive ADHD indication, Targacept is investigating TC-5619 for use in treating what are called residual symptoms in schizophrenia... Targacept also has two drugs in trials for one of the holy grail's of biotechnology - Alzheimer's disease...Although Alzheimer's has chewed up many biotechs and only a handful of drugs have made it to approval (Forest Labs' (NYSE: FRX) Namenda and Pfizer (NYSE:PFE)/Eisai's Aricept among them), it too is a multi-billion dollar opportunity for an effective drug.

And Two More After That...

Those aren't the only ongoing clinical programs at Targacept. The company also has its TC-6987 drug in Phase 2 studies in both asthma and diabetes.
Disclosure: I have no positions in any stocks mentioned, and no plans to initiate any positions within the next 72 hours.