On August 15th, Cisco Systems (NASDAQ:CSCO) announced better than expected earnings results and momentum. Cisco's adjusted non-GAAP EPS of $.47 exceeded consensus analyst estimates by 3.3% and the best part of the company's results was that it reported nearly $520M less in "adjustments to GAAP operating expenses in Q4 2012 versus Q4 2011 levels. The company generated 4.4% sales growth in Q4 2012 versus prior year levels and was able to generate positive operating leverage from its many restructuring programs, which saw operating expenses decline by 5% on a non-GAAP adjusted basis and nearly 13% on a GAAP-reported basis. This enabled the company generate a 17.5% boost in its operating EPS and a 64% in its reported EPS, as well as minimizing the disparity between GAAP and operating EPS. The best part of the news was that CSCO boosted its quarterly per share dividend by 75% to $.14 in FY 2013 from its current dividend of $.08.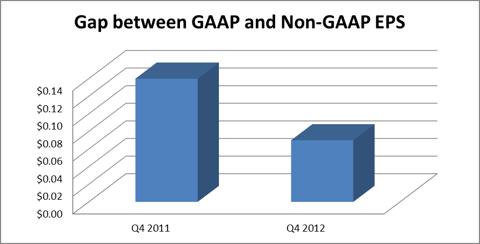 Source: Cisco's Q4 2012 Earnings Release
Products and Services: CSCO's switching revenue was up 3% and we were pleased to see stability in this product's gross margins. Gross margin levels on CSCO's Nexus 7000 switching product improved approximately 10 points over the past eight quarters. Routing revenue grew 2% and the market shift from wireline to wireless providing competitive advantages for CSCO. Collaboration revenue was up 3% for FY 2012 due to increases sales from SaaS and software-based offerings, which now represents ~50% of CSCO's overall collaboration business. Wireless had a very strong year with revenue up 19% with continued wireless LAN upgrades and deployments driving strong growth. Security revenue was up 12% reflecting the growing requirements of security and cloud, as well as BYOD deployment. CSCO's data center business had strong growth with revenues up 87%, CSCO's data center strategy by focusing on innovation and its convert stock architectural approach to meet the networking and computing needs of its customers.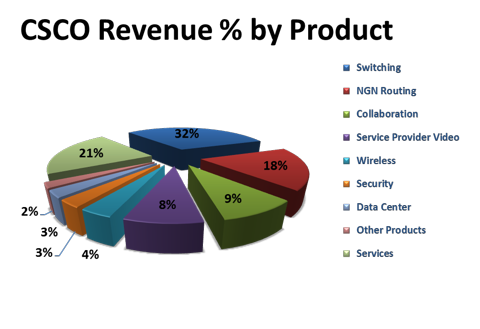 Source: Cisco Q4 2012 Product Revenue Supplement
On a geographical basis, revenue from the Americas region grew by 7% and 9% in the Asian markets. This helped offset a 5% decline from the Europe, Middle East and Africa region due to the intractable economic weakness in Southern and Central Europe. Total non-GAAP gross margin by geographic region was 62.7% for Americas, 61.6% for EMEA, and 69.6% for Asia. On a quarter-over-quarter basis, Americas was flat, while EMEA decreased 2.3 percentage points and APJC decreased 3.7 percentage points.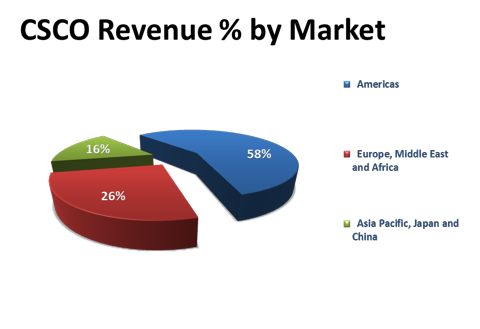 Source: Cisco Q4 2012 Geographic Revenue Supplement
Cash Management: We were pleased to see Cisco boost its per share dividend 75% from $.08 to $.14 and it explicitly stated that it would be returning a minimum of 50% of its annual free cash flows to shareholders through dividends and share repurchases. While the company has already been effectively doing this since 2002 we appreciate the explicit guidance from management in the conference call. Even if the company funds the dividend increase by reducing share repurchases, we would appreciate and prefer this action because the increased dividends would allow Cisco investors to realize value from the company without having to sell their shares. We also appreciate this because many companies use share repurchase programs merely to offset options issuance and sometimes buy back shares without regard for its intrinsic value. Cisco has $48.7B worth of cash, cash equivalents and investments as of the end of FY 2012. Of this total balance, approximately $6.2B was attributed to its US domiciled operations. Cisco's CEO John Chambers previously touched upon how the tax code encourages company's like Cisco and other tech firms to attribute as much and resources as possible to captive foreign subsidiaries in offshore locations, however if the company repatriates the foreign source income to the US, the company is liable for up to 35% federal corporate profits tax, plus state and local taxes. That is why Cisco and other tech giants have large cash balances, yet are cautious with regards to returning cash to shareholders.
CONCLUSION
In conclusion, we are pleased that Cisco was able to generate over $8B in Net Income for FY 2012. Cisco's $8.041B in GAAP-basis net income was only $11M off its all-time high set in 2008. We can see why Cisco's stock was bid up by 9% on August 16th, which was the first day of trading for the company after it released its results. For years we had been shocked at how Cisco has been stagnating and meandering as a company. While the Cisco Kid may not regain the youthful exuberance that it enjoyed during the 1990s, we believe that patient value investors should keep Cisco in mind. We were especially pleased to see it boost its dividend by 75% and we believe that we will see more disciplined capital allocation by the company going forward. We also believe that while Cisco sees macroeconomic headwinds, it will continue to take steps necessary to enhance shareholder value. While CSCO's PE of over 125X EPS in 2000 was absolutely unsustainable, its trailing PE of 10.3X adjusted EPS is very cheap and it would be unreasonable to expect it to decline much further.
Disclosure: I have no positions in any stocks mentioned, and no plans to initiate any positions within the next 72 hours.
Additional disclosure: Saibus Research has not received compensation directly or indirectly for expressing the recommendation in this report. Under no circumstances must this report be considered an offer to buy, sell, subscribe for or trade securities or other instruments.