Alcatel-Lucent (ALU) incorporated in 1898, based in Paris, is the world's leading supplier of digital subscriber line equipment and is among the top leaders in telephone switching equipment, optical and data networking gear, and communications software.
It is well positioned to benefit from the growing optics and IP markets. These two divisions currently represent 25% of the revenues generated from the total Networks segment, and this figure is expected to move towards 30% by the end of 2012. The stock is also extremely cheap and trading roughly 60 cents below book.
Additional reasons to be bullish on Alcatel-Lucent:
Swelling growth in mobile broadband data traffic has increased the expenditure in wireless equipment spending in North America. This has pushed carriers to add more capacity and upgrade their 3G data networks, which should lead to a boost in revenues from its wireless division.
Net income increased from $-703 million in 2007 to $1.48 billion in 2011.
A projected 3-5 year EPS growth rate of 10%.
A decent current ratio of 1.4.
A decent levered free cash flow of $127 million.
A high beta of 2.13 makes it a good candidate for covered writes and for selling naked puts.
It's trading $0.60 below book value.
Projected year over year growth rates of 147% for 2013.
An adequate interest coverage ratio of 1.72.
Cash flow increased from $-0.22 in 2009 to $.050. in 2011.
Annual EPS before NRI increased from $-0.27 in 200y to $0.47 in 2011.
Zack's has a target price of 2.50.
Reasons to be cautions
The telecom industry is affected by several factors such as the economic environment, decisions by service providers to expand or cut back on spending, demand for services by businesses and consumers, etc.
It operates in a very competitive industry that has several big players. Competition is intense and increasingly focused on price. If enterprise can obtain similar products and services from a competitor, the odds are high that they will start to use the competitor's services.
43% of its revenues in 2011 came from its 10 largest customers. Verizon (NYSE:VZ) and AT&T (NYSE:T) account for 10% and 12% of revenues respectively. A loss of one or more of its key customers could adversely have an impact on revenues, profitability and cash flow.
30% of its revenues come from Europe and as the economic outlook on Europe is still far from healthy, this could be an issue going forward.
Suggested strategy
The stock broke through a zone of strong support when it traded below the 1.20-1.25 ranges, turning this former zone of support into resistance. On the bright side, it has managed to recover most of those losses. It is now at a crucial point, either it breaks out or retests its lows again. Generally speaking, it takes several attempts for a stock to break through resistance and so there is a pretty good chance that it could trade in the 1.00-1.10 ranges again. A weekly close above 1.30 will turn the short-term outlook to bullish and should result in a test of 1.50 plus ranges.
If you are going to take a position, consider dividing your money into two lots and deploy one lot on a test of the 1.00-1.10 ranges and deploy the second lot on a weekly close above 1.30.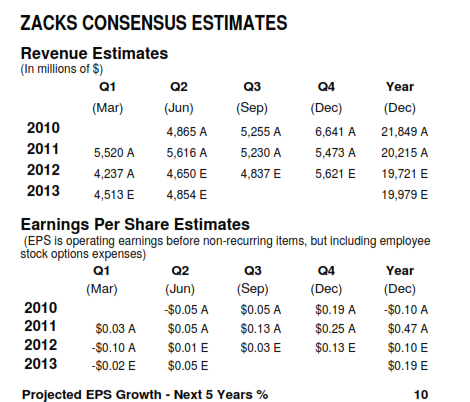 Company: Alcatel-Lucent
Basic overview
Quarterly revenue growth = -9.2%
Beta = 2.13
52 week change = -63%
Book value = 1.81
Short ratio = 1.00
Profit margins = 8%
5 year sales growth = -3.5%
Sales vs 1 year ago = -7.3%
Long term debt to equity = 1.18
Levered free cash flow = 127M
Growth
Net Income ($mil) 12/2011 = 1484
Net Income ($mil) 12/2010 = -387
Net Income ($mil) 12/2009 = -703
EBITDA ($mil) 12/2011 = 699
EBITDA ($mil) 12/2010 = 82
EBITDA ($mil) 12/2009 = -534
Cash Flow ($/share) 12/2011 = 0.50
Cash Flow ($/share) 12/2010 = -0.09
Cash Flow ($/share) 12/2009 = -0.22
Sales ($mil) 12/2011 = 20215
Sales ($mil) 12/2010 = 21849
Sales ($mil) 12/2009 = 20856
Annual EPS before NRI 12/2007 = -0.27
Annual EPS before NRI 12/2008 = -1.02
Annual EPS before NRI 12/2009 = -0.23
Annual EPS before NRI 12/2010 = -0.1
Annual EPS before NRI 12/2011 = 0.47
Performance
Next 3-5 Year Estimate EPS Growth rate = 10
ROE 5 Year Average = -5.14
Current Ratio = 1.4
Current Ratio 5 Year Average = 1.25
Quick Ratio = 1.1
Cash Ratio = 0.7
Interest Coverage Quarterly = 1.72
Conclusion
It is extremely cheap and trading roughly 60 cents below book value. It has a positive levered cash flow, and it is well-positioned for the rapidly growing optics and IP market. These two sections currently account for 25% of the revenues generated from the total network's segment.
It has also launched a new product the "7950XRS," which seeks to challenge the dominant players -- Juniper networks (NYSE:JNPR) and Cisco (NASDAQ:CSCO) -- in the core router market. Management states that this product (7950XRS) will offer better performance, power efficiency and cost less than competing systems. The 7950 XRS is estimated to be five times faster and 66% more energy-efficient than its competitors' products. It would take 10-12 routers from Cisco or Juniper to be linked together to produce the same results as the 7950XRS.

Management is hoping to duplicate their success in the edge router business. From having no market share eight years ago, they now control 24% of this market. The core router market is a $4-billion market, so if they could duplicate the success they had in the edge router market, this segment could generate an additional $1 billion in revenue. However, a drop in growth in other segments could easily wipe out these gains. It also relies heavily on 10 large customers, and if it should lose one or more of them, or if they decided to cut back on spending, this could adversely impact Alcatel-Lucent's earnings. Another potential problem comes from the fact that 30% of its revenues come from Europe. Thus, at this point of the game, we would have to state that only individuals willing to take on some risk should consider this play.
EPS and Price Vs industry charts obtained from zacks.com. A major portion of the historical/research data used in this article was obtained from zacks.com. Consensus estimate analysis table sourced from reuters.com. Earnings and growth data sourced from dailyfinance.com.
Disclosure: I have no positions in any stocks mentioned, and no plans to initiate any positions within the next 72 hours.
Disclaimer: This list of stocks is meant to serve as a starting point. Please do not treat this as a buying list. It is imperative that you do your due diligence and then determine if any of the above plays meet with your risk tolerance levels. The Latin maxim caveat emptor applies-let the buyer beware.