We are initiating coverage of Organovo Holdings, Inc. (NASDAQ:ONVO) with an 'Outperform' rating. We believe the company's pioneering efforts into three-dimensional bioprinting have the potential to dramatically improve drug discovery and development. Organovo's bioprinter, the NovoGen MMX, is a first-in-class device capable of creating three-dimensional living tissue that can be used to model a specific disease or pathway, build complex pharmacokinetic and toxicology assays, and even potentially create human organs for transplantation or other regenerative medicine applications.
Cutting Edge Science
Tissue engineering is a complex process that combines living cells, synthetic or natural biomaterials and growth factors designed as a biological substitute for tissue. In the classical approach to tissue engineering, cells are seeded and grown in a biocompatible matrix designed to direct cell differentiation and function. Scaffoldings play an important role in providing the cell architecture for structure and migration, as well as enabling the diffusion of vital nutrients and expressed product. Unfortunately, there are challenges that exist with the classical approach. Scaffolds, made from both natural and synthetic polymers, must be engineered to degrade at a rate in which the cells within them deposit and build their own extracellular matrix. Scaffold choice, immunogenicity, degradation rate, toxicity of degradation products, host inflammatory responses, fibrous tissue formation due to scaffold degradation, and mechanical mismatch with the surrounding tissue are key issues that may affect the long term behavior of the engineered construct, and directly interfere with its primary biological function. Additionally, scaffolds may elicit adverse host responses and interfere with direct cell-cell interaction.
To get around the challenges of classical tissue engineering, Organovo has developed the first 3D bioprinter, called NovoGen MMX. The NovoGen MMX Bioprinter is a novel, fully automated, hardware and software platform developed to fabricate three-dimensional (3D) primary human or other living mammalian cells into tissue, with tremendous cellular viability and biology that is superior to even an animal model.
Organovo's NovoGen MMX mechanical extruder enables the fabrication of three-dimensional tissue constructs in a wide variety of geometries (tubular structures, networked sheets, etc.). The speed and precision of this instrument enables the production of small-scale tissue models for drug discovery as well as various drug absorption and toxicology assays.
NovoGen MMX works similar to an inkjet printer, in where cells are printed in tiny spheres; essentially "bio-ink". The concept of bioprinting relies on the demonstrated principle that groups of individual cells will self-assemble to generate aggregates, through the actions of cell surface proteins that bind to each other and form junctions. Furthermore, if two or more compatible self-assembled aggregates are placed in close proximity, under the proper conditions they will fuse to generate larger, more complex structures. In essence, the physical properties of bio-ink are analogous to those that drive fusion of liquid droplets.

A key distinguishing feature of Organovo's platform is the ability to generate three-dimensional constructs that have all or some of their components comprised entirely of cells. The fully-cellular feature of the NovoGen MMX technology enables architecturally- and compositionally-defined 3D human tissues to be generated for in vitro use in drug discovery and development to potentially replicate the functional biology of a solid, fully cellular tissue. The tissue structures created by Organovo's bioprinter have the potential to create a paradigm shift in the approach to the generation of three-dimensional human tissue and the replication of clinical assay testing with respect to native human biology. Organovo's device improves on previous technologies by moving away from monolayer 2D cell cultures and by enabling all or part of the tissues created to be constructed solely of cells.
Applications
We believe that Organovo's NovoGen MMX Bioprinter is uniquely positioned to provide three-dimensional human tissue for use in drug discovery and development, as well as a broad array of tissue suitable for therapeutic use in regenerative medicine applications. Specifically, the NovoGen MMX Bioprinter has the ability to:
1. Produce highly specialized three-dimensional human tissues that can be utilized to model a specific tissue physiology or pathophysiology, such as cardiovascular disease, cancer, or fibrosis.
2. Facilitate biological assays through ADME and DMPK testing, as well as toxicology testing to determine the detrimental effects of a particular drug on specific tissues. This is a particularly attractive area for testing liver toxicity, which can be difficult to model in cell culture assays because the cells flatten out resulting in altered gene expression. We believe that Organovo will be in position to launch its first assay-based products specifically focusing on things like liver toxicology in 2014.
3. Provide the architectural precision and flexibility to facilitate the optimization, development, and clinical use of three-dimensional tissue constructs for use in regenerative medicine. The ultimate goal is to enable fully cellular constructs to be generated in a configuration compatible with surgical modes of delivery, thereby enabling restoration of significant functional mass to a damaged tissue or organ.
Partnerships To Drive Growth
A key component to management's business strategy is to pursue collaboration agreements with drug development companies that will allow Organovo to further develop the 3D bioprinting technology and the potential uses of the cellular structures and tissues that can be produced with the technology. Organovo's goal is to leverage the ability of the NovoGen MMX Bioprinter, either in 3D modeling a specific tissue physiology or pathophysiology, enhanced ADME and toxicology studies, or in regenerative medicine applications, and form strategic alliances that generate revenues and further push the technology forward.
Organovo has two active collaborations, one with Pfizer (NYSE:PFE) (signed December 2010) to develop specific three-dimensional tissue based drug discovery assays in two therapeutic areas and one with United Therapeutics (NASDAQ:UTHR) (signed October 2011) to establish and conduct a research program to discover treatments for pulmonary hypertension. Organovo also has formed academic partnerships with leading institutions to provide its technology to scientists at the Harvard Medical School and the Sanford Consortium for Regenerative Medicine. In addition, the company has been awarded five federally funded grants to date.
Our model assumes one new partnership with an upfront payment in the area of $1 to $2 million in the next twelve months, with potential backend milestone potential near $10 million along with low single-digit royalties on sales. We model this rate of new business - approximately one new partnership every nine to twelve months, over the next several years. It is after this period, starting in 2016, where we see the potential for a hockey-stick like ramp in revenues based on developmental and regulatory milestones from partners and sales of the company's ADME / toxicology assays. As Organovo continues to build out its offering to companies, we believe each new partnership turns into an annuity stream of research funding and potential backend milestones and royalties.
Understanding The Financials
Organovo came public via a reverse merger in February 2012. Following the closing of the merger, Organovo completed three private placements raising gross proceeds of approximately $13.7 million to fund operations and facilitate the advancement of the bioprinting technology. Through the private placements, Organovo issued 15.25 million shares of common stock and 16.75 million five-year warrants to purchase common stock. These shares were registered via an S-1 filing that became effective in June 2012.
In total, the fully diluted share count is 75.40 million. Of these, the basic share count is 43.77 million and there are currently 24.11 million warrants exercisable at $1.00 per share. The warrants are carried on the balance sheet as "Warrant Liability", which totaled $80.6 million as of June 30, 2012. We note this is a non-cash liability marked-to-market at the end of each quarter. As Organovo's stock price increases, the warrant liability also increases (and vice versa). Valuation of the warrants is done using a Monte Carlo simulation modeling. The increase in the liability recorded on the balance sheet requires subsequent accounting on the income statement. As a result, the company recorded a massive $32.5 million charge in the first quarter 2012 when the warrants were first issued, and another massive $33.9 million charge in the second quarter as the liability rose in accordance with the stock price.
All of the above adjustments to income are non-cash. Organovo only burned $3.6 million in the first quarter 2012 and $2.0 million in the second quarter 2012. Operating cash burn since inception (April 2007) is $8.9 million. Management expects operating burn of around $0.5 million per month for the remainder of 2012. Cash at the end of the second quarter 2012 stood at $8.5 million. Exercising of the warrants has the potential to infuse $16.75 million in cash into the company. We remind investors that these warrants are callable if the stock trades over $2.50 for 20-consecutive trading days. We expect Organovo to call all applicable warrants if the opportunity presents itself.
We believe the current cash balance is sufficient to fund operations well into 2013, and beyond if the company can sign additional licensing partners with upfront payments in the area of $1 to $2 million. We believe the company is financially sound and could achieve breakeven operations with the signing of two more corporate partnerships. With an estimated pace of one deal every nine to twelve months, we believe that Organovo can start generating positive cash flow from operating activities in 2015.
Valuation
We have built a year-10 discounted cash flow (NYSE:DCF) model to value Organovo. We assume that the company can secure one new research alliance every nine to twelve months. We expect that these deals will provide $1 to $2 million in upfront funding, along with backend milestones around $10 million and low-single digit royalties on sales. We also expect that Organovo will launch its first commercial product in 2014, which is expected to be a liver toxicology assay kit. Traditional cellular assays are a fast growing segment of the overall $40+ billion life science tools market. We believe that functional 3D cellular assays that can deliver superior biology can gain meaningful market share in this $14+ billion cell biology segment. We see this as a $20 to $30 million opportunity for Organovo in liver toxicology alone. New assays essentially add tens of millions to the overall potential.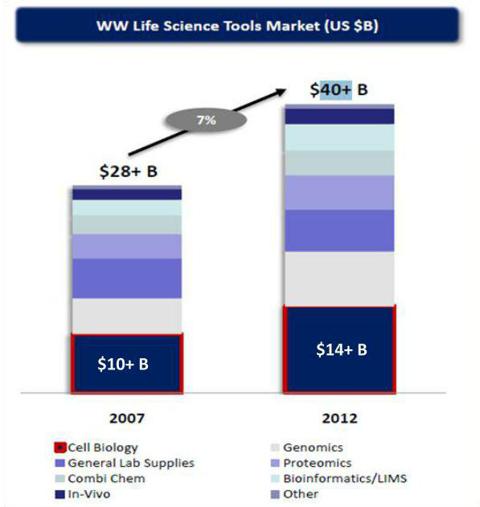 Our DCF model can be found in our full initiation report (ONVO/Napodano-8/20/2012). We expect the company's top-line to be lumpy, but eventually take off in a hockey-stick like ramp starting in 2015. We expect costs to remain low, as management looks to partner with larger organizations and academic institutions. We see $3.25 per share as fair value based on our modeling.
Disclosure: I have no positions in any stocks mentioned, and no plans to initiate any positions within the next 72 hours.