During 2Q 2012, U.S (NYSEARCA:SPY) personal consumption grew by a mere 1.5% annual rate, showing a pattern of anemic growth not seen since 2008. Annualized growth in real consumer demand has averaged 0.7% over the past 18 quarters, vs. 3.6% in the decade before the crisis erupted. The reasons are simple and straight forward: the huge gamble US consumers have taken on the housing and credit bubbles.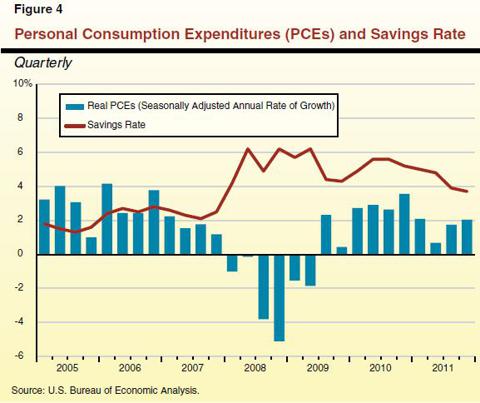 Loose monetary policies coupled with reckless regulatory oversight had led the U.S families to live beyond their means. With both the bubbles having burst now, the U.S households are now reeling under the chaotic pressures of post bubble financial wreckage. Amongst many problems they face include assets below book value, swelling debt, savings deficit, unemployment, fiscal deficits and subpar income growth.
As a result American households are walking the tightrope diverting their income towards paying down debt and replenishing their savings, instead of spending. This unprecedented cutback of spending by American consumers has turned the tables on the dynamics of the U.S. economy inside out. It should be noted that personal consumption accounts for around 70% of the US GDP component and is hardly growing with doubtful growth prospects in the near future as well. This puts enormous burden on the remaining 30% for the U.S. economy to regenerate the much needed recovery.
The components of other 30%: The other 30% of the GDP pie includes the four major components of government purchases, residential construction, net exports and capital spending by firms. The government sector does not offer much hope with the state and local governments on a retrenchment mode and federal purchases top out after post-crisis deficit explosions. The housing sector has started to recover over the past five quarters, but from such a severely depressed level that its growth has had little impact on the overall economy.
Capital spending and exports are the future growth engines: Going forward, Capital spending and exports (24% of GDP) could turn out to be the two major factors that could be decisive in bringing about a significant shift in the US growth model. This might need a fundamental rebalancing - moving away from excessive dependence on internally generated demand to drawing greater support from external sources. This should start with capital spending to armor US business with capacity, technology and private infrastructure and capture market share at home and in foreign countries. As a result, exports would grow in an impressive and sustained manner and stem the rising tide of imports from foreign players.
Challenges abound: However growing the 30% pie has its own set of strategic issues that America needs to steer through. America has fallen back on this front as its ranking on the WEF's Global Competitiveness Index slipped to 5th place in 2011-2012 and on a downward trend since 2005. Improvement on all counts is vital for America's competitive revival. But meeting the challenge will require vigorous growth from America's other 30% - especially private capital spending. None of this can occur in a vacuum. The investment required for competitive revival and sustained recovery cannot be funded without a long-overdue improvement in US saving. In an era of outsize government deficits and subpar household saving, that may be America's toughest challenge of all.
Now let's us look at the proactive steps taken by the US Government to revive manufacturing and investment options available to benefit from them.
Renaissance in US manufacturing: U.S president Barack Obama has embraced revival in U.S. manufacturing as a beacon of future success. He has also promised support for manufacturers that face subsidized foreign competition as part of his drive to increase exports. This should help companies like Boeing (NYSE:BA), which get 85% of its $296 billion jetliner backlog from buyers outside the U.S., making the company pivotal to Obama's plan to double exports by the end of 2014. Other investment options include stocks with huge emerging market exposure.
Increased advocacy of weapons makers: The government's increased advocacy of weapons makers would boost foreign military sales to a record level in the coming years. Arms sales had already surpassed $50 bn in fiscal 2012 ($30 bn in 2011). U.S. arms makers have cited growing demand from the Middle East, Asia and other regions for this rising demand This year's arms sales total was buoyed by a record $29.4 bn sale to Saudi Arabia of up to 84 advanced Boeing Co F-15 fighter jets and a $10 bn sale to Japan of 42 Lockheed Martin Corp F-35 Joint Strike Fighter aircraft.
Travel and tourism: The President has signed an executive order to boost travel and tourism (2.7% of U.S. GDP and 7.5 mn jobs in 2010). The industry has the critical mass being the nation's largest service export industry resulting in $134 bn in U.S. exports in 2010 (7% of total exports and 24% of service exports). I have written about the economic benefits of this renewed interest in my previous article "Discover America: Resurrecting Tourism's Lost Decade."
Now coming to the investment options:
1. The US housing sector looks set for a strong rebound and according to the S&P/Case-Shiller 20-city index, home prices rose 0.9% in May 2012 q-o-q, after having risen 2.6% since bottoming in January 2012. Investors wishing to take a broad based exposure can invest in SPDR Homebuilders (NYSEARCA:XHB) and iShares Dow Jones US Home Construction (BATS:ITB) ETF. Mad money host Cramer's has recommended the following stocks to play on the potential housing rebound - Weyerhaeuser (NYSE:WY), Stanley Black & Decker (NYSE:SWK), Masco (NYSE:MAS), Fortune Brands Home & Security (NYSE:FBHS), Toll Brothers (NYSE:TOL), Pier 1 Imports (NYSE:PIR), Home Depot (NYSE:HD).
2. For the first time in many years, manufacturing looks set to stand as an area of strength in the American economy. The United States is particularly strong in machinery, chemicals and transportation equipment, which together make up nearly half of the exports. Just how long the rise in manufactured exports can last depends, in part, on the health of other economies. The euro zone no longer takes as large a share of American exports as it once did, but it is still a major customer. A recession there this year, as has been widely forecast, would hurt all major exporters, including the United States. The following stocks with high exposure to emerging markets would do well under these circumstances.
3M (NYSE:MMM)

33% of Sales

Honeywell (NYSE:HON)

17% of Sales

Emerson Electric (NYSE:EMR)

34% of Sales

Qualcomm (NASDAQ:QCOM)

50% of Sales

Caterpillar (NYSE:CAT)

25% of Sales

Praxair (NYSE:PX)

32% of Sales

IBM corp. (NYSE:IBM)

22% of Sales

Air Products (NYSE:APD)

23% of Sales

Intel (NASDAQ:INTC)

15% of Sales

Mettler-Toledo (NYSE:MTD)

35% of Sales

NCR Corp (NYSE:NCR)

33% of Sales

NII Holdings (NASDAQ:NIHD)

100%

Boeing

50% of Sales

Honeywell

17% of Sales

The Dow Chemical (DOW), Deere (NYSE:DE) and General Electric (NYSE:GE)
3. I would also prefer investing in the following 8 aerospace and defense companies that are immune to the cuts in government defense spending. These stocks have presence in the civilian business sector such as supplying commercial airlines or providing defense gear to foreign allies. They include General Dynamics (NYSE:GD), Goodrich (NYSE:GR), Honeywell, Lockheed Martin (NYSE:LMT), Northrop Grumman (NYSE:NOC), Precision Castparts (NYSE:PCP), Raytheon (NYSE:RTN) and United Technologies (NYSE:UTX).
Disclosure: I have no positions in any stocks mentioned, and no plans to initiate any positions within the next 72 hours.