The implied volatility of options on everyone's favorite stock, Apple (NASDAQ:AAPL), is trading at a near all time low. VXAPL, the so-called VIX of AAPL, is around 22% at the time of writing, the lowest level for 6 months.
The last time it was this low, in January 2012, VXAPL didn't stay there for long (see below). Will history repeat?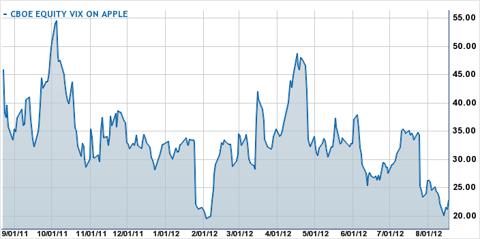 All charts courtesy of CBOE.
The recent collapse in IV has been caused by AAPL's run up from its post earnings miss low of around $575 to its present (as of time of writing) $643 level: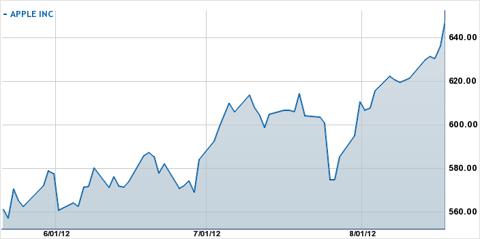 Will this continue? Or pull back in the short term as strong stock advances often do?
Well, frankly, I (and everyone else - don't let them convince you otherwise) don't have a clue about where the stock will go. However, the power of options is that this isn't a barrier to success. Volatility is mean-reverting, and so it can be stated with reasonable (but not complete) certainty that VXAPL will increase from its current lows to its historical average of 30, or beyond, eventually.
Of course, "eventually" could theoretically be a long time. However, again historically, AAPL IV has rarely stayed below 25 for long - the longest time is a couple of weeks - and so the odds are on our side that volatility will rise sooner rather than later.
As volatility is affected by events, is there anything that could cause AAPL volatility in the next few weeks? Well there's the ongoing Samsung vs Apple legal battle, treated like a bit of a sideshow by the media but which could have an enormous impact on Apple (and Samsung). And the various rumors about new products such as an iPad mini or Apple TV.
But, of course, the biggest potential volatility driver in the near term is the launch of the iPhone 5 on September 12. Many analysts see this as the most important product launch for years; 58% of Apple's Q2 revenue came from the iPhone (and related products and services), which for perhaps the first time has real competition from the likes of the Nokia Lumia/Windows 8 and Samsung. A successful iPhone 5 launch is therefore vital if the current positive market sentiment is to continue. Particularly after the surprise Q2 earnings miss.
So, an impending important product launch, legal battles and increased competition coupled with the usual enormous investor focus on AAPL all point to the historical IV lows being short lived.
Indeed volatility has started to rise. Here's last week's VXAPL performance: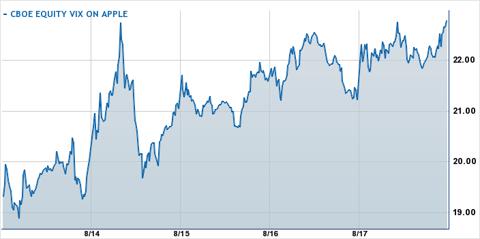 The trade
And so how to trade this expected IV increase?
A long straddle, where we buy ATM calls and puts, is an excellent choice. Straddles have positive vega; all things being equal, position value rises as volatility rises. And they also increase in value should, as we expect, the stock move.
The one downside is theta; a straddle loses value over time. This can be minimized by using longer term options, which have the added advantage of higher vega than short term ones (although you have to give up a few points of IV: October ATM options are priced at approx 24%-25% rather than 22%).
Here's the trade (with the stock at $648):
Buy 1 Oct12 650 call @ 27.30
Buy 1 Oct12 650 put @ 28.30
Net debit = $5,560
Aim to hold to 12 September 2012.
One of the great things about this trade is its risk is reasonably well defined (it's the theta risk) given volatility is unlikely to fall below its current level. The position will lose at most $44 a day initially, rising to $57 a day by 12 September. Should neither the stock or volatility move the total loss would be approx $1,200 (or an average of $52 per trading day) on this date, approximately 20% of the initial debit.
We'll be putting on a multiple of this spread. Up to 10% of our risk capital; hence keeping our risk to 2% of capital (the maximum we allow per trade). Let's hope for a good (and volatile) next few weeks.
Disclosure: I am long AAPL.