Two Harbors Investment Corporation's (NYSE:TWO) unorthodox diversification strategy of buying and renting out foreclosed single family homes seems to have backfired. Fitch Ratings (one of the big three crediting ratings agencies) has come out and said it will not give Two Harbors a good credit rating because of its move into the landlord business.
Fitch's analysts cannot give Two Harbors a good rating because they don't have enough data about the rental homes Two Harbors bought. Bloomberg reported that Fitch's analysts said they would need hard data on such topics as market rents, market roll histories, vacancy rates, and supply and demand before giving Two Harbors a good rating of AAA, or AA.
This doesn't mean that Two Harbors will get a really bad rating from Fitch. It might still give the mortgage real estate investment trust an A, which means the company is sound, but the economic situation can affect it. This does mean that Fitch's analysts don't think Two Harbors is a quality company.
Such a rating can affect a company's stock price because it may scare off institutional investors. On the other hand, it can attract value investors who smell opportunity when such bad news is spread about a fairly good company. This appears to be what happened at Two Harbors; its stock took a slight dip from a high around $11.50 to a low of around $11.10 when the news of Fitch's intentions broke on August 8th. By August 16th, Two Harbors' share price had rebounded to $11.26.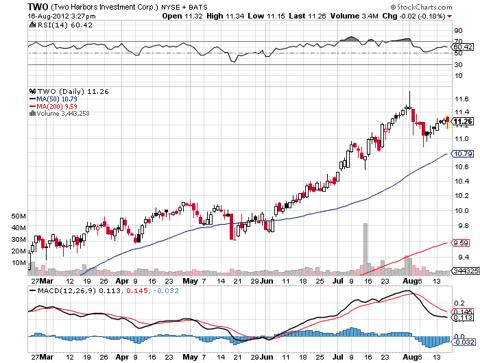 This performance seems to indicate that investors seem to be paying more attention to Two Harbors' dividend and earnings per share than any sort of announcement from Fitch. Two Harbors currently posts an EPS of $1.08 a share and a dividend and yield of $1.60 or 14.5%.
These indicate that Two Harbors' core business of buying and repackaging mortgages is sound and making money. Two Harbors has benefited from the expansion in the mortgage and refinancing markets caused by the record low interest rates this summer.
Despite this, Two Harbors is moving ahead with its home-buying strategy. Bloomberg reported that the mortgage real estate investment trust (mREIT) purchased $48 million worth of homes in July. The news service also reported that Two Harbors plans to buy $120 million worth of homes in 2012.
Two Harbors is not the only company following the strategy of buying foreclosed homes and renting them out. OchZiff Capital Management Group LLC (OZM), KKR & Co (KFN), and the privately held Colony Capital LLC are following a similar strategy, according to Bloomberg Business Week.
The Fitch action will probably not affect the returns and prices for Two Harbors' mortgage securities because those are unrelated to the rental homes. The ratings' agency's announcement might affect the price of any sort of bond or security backed by the rental homes.
The only way Fitch's announcement can drive down Two Harbor's share price is if costs related to the rental homes start eating into its revenues. Repair and maintenance costs, property taxes, and management-company fees might drain some of Two Harbors' cash.
Another way the homes might affect Two Harbors' revenues is if companies like Fitch start adding home values to their valuation of Two Harbors. Drops in property value might affect Two Harbors' bottom line. The reverse is also true because increases in property value might increase the ratings agencies valuation of Two Harbors. Median sales price for homes in 75% of U.S. cities did rise during the second quarter of 2012, according to data compiled by the National Association realtors.
Increased property values might increase Two Harbors' leveraged profits by increasing its borrowing ability. Rising home prices might give Two Harbors the ability to generate additional revenue by selling off some of the homes that it has purchased.
Two of the big three, Standard & Poor's (S&P) and Moody's (MCO), have not made any pronouncements about Two Harbors' plans. If S&P and Moody's don't concur with Fitch, it might boost Two Harbors' stock price. If they concur with Fitch, Two Harbors might lose some value.
Despite Fitch's statement, Two Harbors seems to be a good risk. It is delivering a high dividend and EPS at a low share price. It is also retaining its value and remaining stable in a volatile market. The ratings agencies' effect on this stock might be as great as you might think.
Two Harbors has embarked upon a very risky strategy that takes it far outside its core area of expertise. There is no guarantee the strategy will work and no good way to ascertain future costs associated with the rental home. The Fitch analysts' skepticism of Two Harbors' scheme is justified, but the stock itself is still a sound one because the company is sound. At the end of the day, Two Harbors is still a good basic mREIT that pays a nice dividend.
Disclosure: I have no positions in any stocks mentioned, and no plans to initiate any positions within the next 72 hours.