Quite reasonably, investors might expect that dividend stocks with very high yields are poor prospects for good forward total return. Backtest data from Recognia somewhat surprisingly suggest otherwise.
Rather than using perhaps 5% or 6% as a "safe" limit on yield in stock selection, a backtest from Recognia suggests that stocks with much higher yields (perhaps as high as 15%) could be effective in a generating good total return.
Note: We are not advocating reaching for equity yield. This article is simply a report of research motivated by several articles that stated that high yields are specifically dangerous. That may well be true. The goal of the research was to investigate whether adding bullish indicators to the selection process could overcome the logical problems anticipated with very high yield stocks.
Recognia is a 5-year back testing tool available to certain high asset or high trading volume clients of some brokers, such as Charles Schwab, Fidelity and TD Waterhouse.
In brief, Recognia works like this. Unlike backtests that begin with a stock selection based on stocks chosen today, the Recognia method selects stocks for the beginning of the backtest, based on the fundamental, valuation or technical conditions at that time. It equal weights those stocks then hypothetically sells all those stocks after 13 weeks, and makes a new stock equal weight selection based on the conditions at that time. It then repeats that method over the entire 5 years (20 stock selection events).
SELECTION CRITERIA:
We used these stock selection criteria in our investigation of yields at various levels versus total return:
at least 2 bullish technical indicators
minimum price $5.00
minimum market capitalization $500 million
minimum 5-year dividend growth rate 0%
minimum 1-year dividend growth rate 0%
minimum yield 3%
maximum yield stepwise from 4% through 15%.
We then did one more filter without any technical indicators involved.
RESULTS:
The cumulative total return of the dividend stocks (in green) versus the S&P 500 (in red) is plotted in this image.
The tabular data in the table shows the 5-yr, 3-yr, 1-year and 6-month total return of each dividend selection (based on constant criteria except stepwise increment of the maximum yield).
The tabular data also shows the average number of stocks used over the term of the backtest (the sum of the number used in each 13-week period, divided by 20 periods). Although many stocks may be found in any period, the Recognia method ranks the identified stocks by the degree of their conformity to the filter dimensions. They then use the top 10, or as many as there are if less than 10, to create the portfolio for each 13 week period.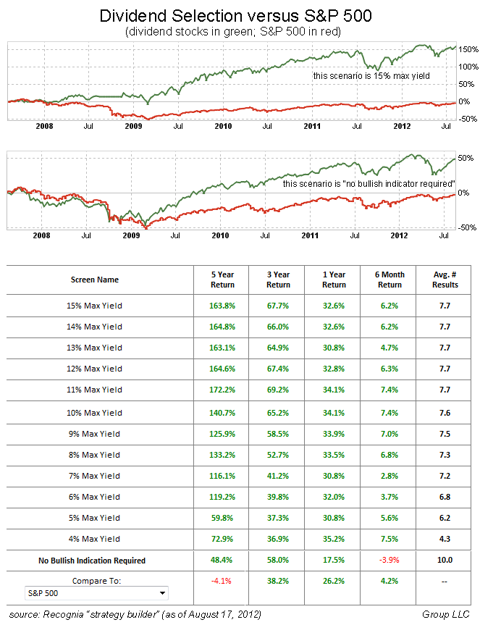 While the average number of qualifying stocks in each scenario was less than 10, the current number of qualifying stocks is much higher:
4% max yield: 35 stocks
5% max yield: 45 stocks
6% max yield: 52 stocks
7% max yield: 59 stocks
8% max yield: 61 stocks
9% max yield: 62 stocks
10% max yield: 65 stocks
11% max yield: 66 stocks
12% max yield: 66 stocks
13% max yield: 66 stocks
14% max yield: 66 stocks
15% max yield: 66 stocks
15% max yield with no technicals: 393 stocks
CONCLUSION:
The results, according to Recognia, suggest that high current yield is not necessarily a negative IF bullish technical factors are required to co-exist with the high yield.
SOME ADDITIONAL INFORMATION ABOUT THE BACKTEST:
The top 25 stocks identified in the maximum 8% yield scenario (only 10 of which would be used in the forward 13-weeks in the Recognia method) are:
| | |
| --- | --- |
| KRO | KRONOS Worldwide Inc |
| MBT | Mobile Telesystems |
| CA | CA Inc |
| STX | Seagate Technology PLC |
| GA | Giant Interactive Group |
| PHG | Koninklijke Philips Electronics |
| CEM | Clearbridge Energy MLP Closed Fund |
| YZC | Yanzhou Coal Mining |
| IP | International Paper Co |
| WM | Waste Management Inc |
| ARLP | Alliance Resource Partners Units |
| SCS | Steelcase Inc |
| SBGI | Sinclair Broadcast Group |
| WMB | Williams Companies Inc |
| TGP | Teekay LNG Partners Units |
| MOLXA | Molex Inc |
| NGLS | Targa Resources Partners Units |
| XTXI | Crosstex Energy |
| AYR | Aircastle |
| RCI | Rogers Communications |
| NCMI | National Cinemedia |
| KMP | Kinder Morgan Units |
| NVS | Novartis ADR |
| SNY | Sanofi |
| BAX | Baxter International |
| CIG | Companhia Energetica Minas Gerais |
The top ten ranked stocks in each screen change somewhat as the thresholds are modified. Recognia uses a ranking system that scores the magnitude of each metric for each company and rolls them up to a single rank score.
As an example, here are the symbols for the top 10 stocks for the scenarios that range from a 4% maximum yield to a 10% maximum yield.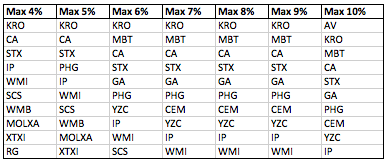 Here is how Recognia describes the top ten selections from the full list of stocks that pass the screen each 13 weeks:
The strategy rank is specified after stocks are sorted and is based on the average for those criteria in the strategy positions of a stock's values within the criteria value distributions. Some criteria are considered 'higher is better," others are 'lower is better' and still others, such as Exchange, are not used in scoring. The stock with the highest average of graded positions will be ranked as the top stock in the results. Tied stocks are sorted by Company Name.
We are not certifying the result from Recognia, and would strongly urge any investor to do independent research on the question of risks associated with very high dividend yield.
This article is merely a report of what a tool supplied by major brokers returns in the backtest specified.
Disclosure: QVM has no positions in any mentioned stock as of the creation date of this article (August 17, 2012).
General Disclaimer: This article provides opinions and information, but does not contain recommendations or personal investment advice to any specific person for any particular purpose. Do your own research or obtain suitable personal advice. You are responsible for your own investment decisions. This article is presented subject to our full disclaimer found on the QVM site available here.