Betting against the oil markets these days can be painful. I learned that lesson last week when I took out a small short position only to get whipsawed two days later as oil surged again and took me to the woodshed. As an old market sage once said: "Markets can stay irrational longer than you can stay solvent". So I started looking at companies that might benefit indirectly from the huge run-up we've had in gasoline prices.
It goes without saying that oil drillers and service companies will do well, as will the producers. Honda (NYSE:HMC) and Toyota (NYSE:TM) could do okay but the American consumer is tapped out so I'm not a buyer of those stocks now. However, more people are parking their SUVs and are riding their bikes or taking public transportation to work. That means municipalities will have to keep buying buses, particularly fuel-efficient ones, which in turn means that some of the bus manufacturers will be doing a lot of business over the next few years. GM (NYSE:GM) may be closing its pick-up truck plants but you can bet that no one will be shutting down bus production lines.
This brings us to this month's pick, New Flyer Industries (OTC:NFYIF) (a great name for a stock pick). New Flyer has been building buses in Winnipeg since 1930 and, somewhat improbably, has become a major player in the alternative drive systems that represent the future of public transportation. I say improbably because who would have thought that Winnipeg would turn out to be a player in the alternative bus business? Sometimes opportunities appear in the least likely places!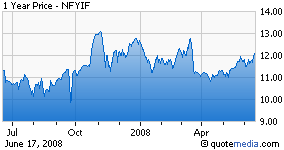 New Flyer builds electric hybrid vehicles, electric trolleys, and natural gas driven buses as well as the regular diesel-powered beauties we have suffered behind in traffic for years. They are looking at hydrogen and fuel cell development as well so they will be ready for the next level of technology. In April, New Flyer was named as one of Canada's most earth-friendly companies by the editors of Canada's Top 100 Employers.
In the good old days, like last year when gas was 40% lower than it is today, the economics of moving to more expensive alternative fuel bus drive systems were questionable and in fact the company reported a loss of $130.7 million in 2007. But now, needless to say, the math is working out just fine! Improved mileage is just one of the pluses offered by the new buses. Other advantages include clean air and improved reliability as well as lower maintenance costs. They all add up to a long backlog of orders for New Flyer.
Their products are not just used for municipal transportation. Car rental companies, universities, airport shuttles, etc. all need to replace their old diesel buses and many will chose different technologies. New Flyer has both the products and the contacts to take advantage of these trends. Also, the company has an ongoing relationship with its customers through its parts, service, and training divisions. All of these help to insure a steady cash flow for the business.
The company has two manufacturing facilities, one in Winnipeg and the other in Minnesota. As a result, the company is somewhat hedged against the U.S. dollar.
New Flyer posted record results last quarter with a 27.1% increase in EBITDA over the 2007 results. The order backlog reached $3 billion which was an increase of 5.2%. New orders increased by 137.8% compared to the first quarter of 2007. The company reported net earnings of $35.7 million in the quarter.
But I haven't told you the best part yet. New Flyer trades as an income deposit security [IDS]. This means it is a stapled note, with the monthly distribution of 9.75c per share made up of two parts: a dividend of 3.298c and 5.53c principal repayment on a 14% subordinated note. Based on Friday's closing price of $12.30, the projected 12-month yield is 9.5%.
It appears that this type of security will not be affected by the federal government's pending income trust tax, an important consideration.
What are the risks? A major concern is the fact the company will have to pay more for raw materials as a result in the recent run-up in commodity prices. Also, municipalities in the U.S. are having problems with their tax base because of the real estate debacle so even though public transit ridership is up some cities may have to cut back on services and defer new bus purchases.
Still, all things considered this looks like a good bet to me if only from the standpoint of yield. The shares trade in a narrow range so there does not appear to be a great deal of short-term capital gains potential here but that could change later as the demand for fuel-efficient public transit grows. So hop on board and enjoy the ride.
The shares trade on the TSX under the symbol NFI.UN and closed on Friday at $12.30. They are also listed on the Pink Sheets in the U.S., symbol NFYIF.PK, where they finished the week at US$11.69.
Action now: Buy for yield and a target price of $15.
Disclosure: Long