Higher gold prices on the commodities markets may not translate into bigger share prices and revenues for gold mining companies. Some analysts think that gold is going to rise to a price of $2,000 an ounce by the end of 2012.
One of those analysts, Merrill Lynch researcher Francisco Blanch, is so confident that he actually made a prediction of $2,000 an ounce for gold on CNBC Asia's "Squawk Box" show. Blanch called $2,000 sort of the right number for gold. If Blanch is correct, gold values would increase by around $425 an ounce by the end of the year. This figure is based on the price of gold on July 20, 2012, which was $1,583 an ounce.
Blanch thinks gold will go up because he believes the U.S. Federal Reserve will launch a program of quantitative easing, which means the Fed would start buying up certain securities. Blanch thinks that such an action would boost the price of gold. The Fed may take such an action in an effort to stimulate the economy and ward off another recession. Blanch didn't say why such an action would increase the price of gold.
Click to enlarge images.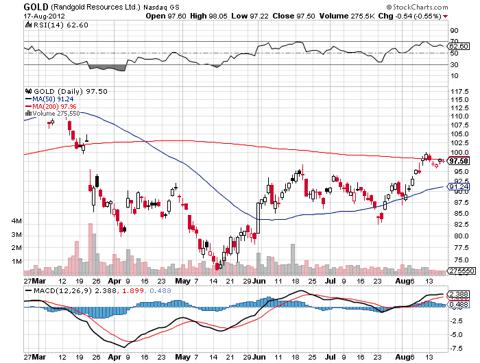 Companies that might get the biggest boost from higher gold prices will be those with the biggest gold reserves. That could include Rangold Resources (NASDAQ:GOLD), which has ridden the price of gold higher (see chart above); Barrick Gold (NYSE:ABX), which claims to have 139.9 million ounces of gold in reserve; and Newmont Mining (NYSE:NEM), which claims to have 98.9 million ounces in probable gold reserves.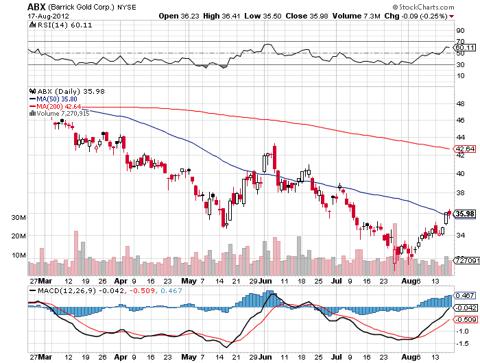 Rising gold prices have not helped Barrick Gold.
Small-Cap Miners Could See Biggest Gains
Even small-cap mining companies that don't currently have any mines in production could see a huge boost in stock value from such high gold prices. One small company sure to benefit would be Pershing Gold (NASDAQ:PGLC), which has begun development at the Relief Canyon Mine in Pershing County, Nev. When it was in operation, Relief Canyon had a historic production of 110,000 ounces of gold.
Bullfrog has an option to buy the Newsboy if it strikes pay dirt there. A press release indicates that Bullfrog has discovered what it calls high grade gold at the Newsboy.
If that wasn't enough, Bullfrog has an option to purchase claims at the Klondike Project in central Nevada. Bullfrog's geologists think that the geology at the Klondike could indicate the presence of a Carlin-type gold deposit. The Klondike is located in the same general area as Barrack's prolific Cortez gold mine.
Bullfrog is well-poised to exploit these possibilities because it has no debt and $1.4 million in cash. These strong financials put the company in a position to begin development and production to take advantage of higher prices in the near future.
So What Companies Could Profit From High Gold Prices?
The truth is that a wide variety of mining companies are in a position profit from $2,000 an ounce for gold and they are not just the ones you might think. In addition to gold specialists such as Goldcorp (NYSE:GG) and Goldfields (NYSE:GFI), this includes big diversified mining companies such as Freeport-McMoRan (NYSE:FCX) and Rio Tinto (NYSE:RIO). These companies produce a substantial amount of gold, in addition to the other minerals they produce. Companies like Freeport and Rio Tinto produce large amounts of gold when they mine copper, which is often mixed with gold in the ore.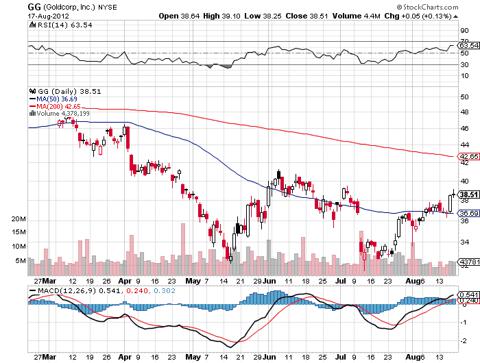 Goldcorp has only received modest gains from high gold prices.
Goldcorp estimates that it will produce between 2.35 and 2.45 million ounces of gold in 2012. Even with production costs of $310-$340 an ounce for gold, Goldcorp would reap a substantial profit, even in a year when its gold production is actually down. Goldfields claims to have 198.4 gold resources of 198.4 million ounces and reserves of 82 million ounces. Freeport expects its mines to produce 1.1 million ounces of gold in 2012. Rio Tinto expects to produce 330,000 ounces of gold a year at its OyuTolgoi mine in Mongolia alone. OyuTolgoi is expected to go into operation next year.
$2,000 Ounce for Gold Not Guaranteed
It is obvious that $2,000 an ounce for gold is not guaranteed. Indeed, most experts expect the metal to rise to $1,685 or $1,750 an ounce by the end of 2012. The majority of experts surveyed by Reuters expect gold to reach price of between $1,600 and $1,800 in the third quarter of 2012.
These forecasts don't take other factors, such as the impact of the European debt crisis and Indian inflation, into account, so the price is liable to be quite different. The fallout from both European debt and rising Indian inflation could increase the demand for gold and cause prices to rise.
There are many other factors that affect gold miners' revenues including energy costs, labor costs, labor strife, politics in gold producing regions and the cost of expansion. In many cases, these and other factors will eat up any additional money miners bring in before it can be added to profits.
As always, there are no guarantees that higher gold prices will translate into higher share values or increased dividends. Investors will be well advised to remember the basics of value investing and pay more attention to the company's financials than the commodities markets.
Disclosure: I have no positions in any stocks mentioned, and no plans to initiate any positions within the next 72 hours.