North Dakota is thriving -- unemployment is the lowest in the nation, municipal populations are doubling overnight, and exports are rapidly on the rise. The petroleum-rich Bakken formation, covering much of western North Dakota and neighboring Montana and Saskatchewan, has pushed the state into the public eye like never before. North Dakota is a modern-day gold rush.
Energy companies are the obvious focal point for the Bakken's profitable possibilities. But for large-cap players, North Dakota represents just a fraction of their business, and these players' stock performance is immediately subject to the volatility of the global commodity market. Though many of the mid-cap oil and gas companies have more Bakken exposure, it's our belief that the thriving North Dakota economy presents attractive alternative investments that are less volatile than pure petroleum plays.
Today, we look at some of the players involved in the Bakken's exploitation -- briefly examining the energy companies that are shaping North Dakota before turning to some of the peripheral companies that are poised to profit from the lucrative subsurface.
The Energy Companies: Mixed Results
Most of the top energy companies have stakes in the Bakken formation, from American Exxon Mobil (NYSE:XOM) -- the world's largest publicly traded international oil and gas corporation -- to Norwegian Statoil (NYSE:STO). While it's illogical to tie the stock performance of such widely exposed corporations to a single region, correlations can be more accurately drawn from Bakken focused companies.
There are a multitude of mid-cap players, most notably Continental Resources (NYSE:CLR), the largest holder in the Bakken with nearly one million net acres as of June 30, 2012. Smaller companies such as Kodiak Oil & Gas (NYSE:KOG) and Triangle Petroleum (NYSEMKT:TPLM) focus their extraction efforts primarily in the Williston Basin (the larger sedimentary basin in which the Bakken formation lies). With the potential that this region holds, there has been much speculation that these companies, amongst many, are destined for limitless gains in the markets. So how have the respective stock prices fared? The answer: up, down, and sideways -- anything but a sure thing.
Since going public in May 2007, Continental Resources' stock increased at an average annual rate of over 88% for four years. The company's stock reached its all-time high in February of this year, but has since lost 23% of its value. Though not in the game for as long, Kodiak Oil & Gas and Triangle Petroleum have seen similar declines, dropping 18% and 21%, respectively, during the same period. That is not to say that the future of Bakken focused stocks should be measured by one specific time frame, but there is certainly reason for pause when oil and gas operations (e.g., Continental) and integrated oil and gas (e.g., Exxon Mobil) have been thoroughly outperformed by the S&P 500 over the past year.
(click images to enlarge)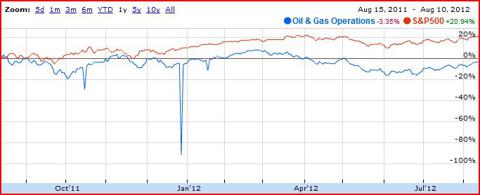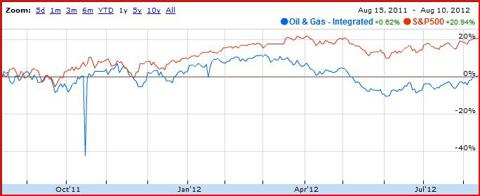 Alternative Investment Opportunities
We now look towards alternative plays for North Dakota, investment opportunities that look to benefit from the Bakken formation's proven potential without equal exposure to energy price volatility -- a major reason for mixed returns in the oil and gas industry.
Certainly, if the price of natural gas and/or oil drop below a certain threshold for a prolonged period of time, rigs grind to a halt, crews pack up and head home, and boomtown goes bust. We don't mean to suggest these opportunities are without risk, rather, that they are more protected from the macros -- Europe, a slowing Chinese economy, a crawling Japanese economy -- and, thus, less susceptible to sharp peaks and valleys. When the price of natural gas and/or oil dips 10%, it squeezes already-thin petroleum margins, but utility bills, shipping costs, and rent checks remain steady. Three sectors where we see opportunity are: transportation, utilities, and real estate.
One of the transportation leaders is Canadian Pacific Railway (NYSE:CP). Canadian Pacific has existing rails running through the Williston Basin and recently announced plans to supply frac sand to U.S. markets. Canadian Pacific's transcontinental lines connecting New York to Vancouver via the major energy hubs of the Midwest make the company a key component of North Dakota's transportation and logistics future.
Also, Canadian Pacific's stock has performed exceedingly well -- easily outpacing the major indices, while steadily rising over the past three years, gaining over 90% compared to 51% and 50% for the Dow Jones and S&P 500, respectively.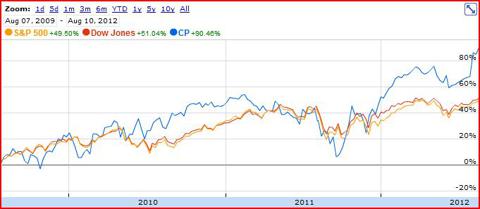 Consider this short PBS documentary outlining the explosive growth in towns such as Williston. North Dakota has bucked the trend of the national recession in a huge way: 1% unemployment versus the 8% national average, and building permits being processed at unprecedented rates. While the oil and gas industry is the ultimate driver behind this growth, many peripheral investments will capture a greater reach of North Dakota's burgeoning economy.
MDU Resources Group (NYSE:MDU) is a well-diversified utility and basic materials company that taps into this potential with less foreseeable downside than the oil and gas industry. While approximately a third of company's earnings do come from oil and gas production, the remainder derive from MDU's public utility division, Montana-Dakota Utilities Company, as well as pipeline services and construction services and materials.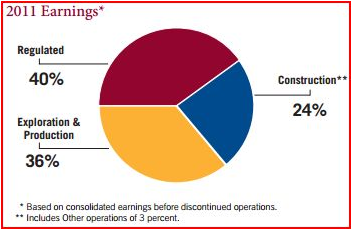 This widespread exposure throughout the U.S. Midwest will allow MDU's business to benefit from the Bakken boom, but does so with the utility sector's lower risk profile and moderate dividend yield, currently at 3.02%.
And for high-yield investors , Investors Real Estate Trust (NASDAQ:IRET) presents a North Dakota play with a current yield of 6.54%. IRET owns a diversified portfolio of properties throughout the Midwest, and has recently increased its holdings in Williston, the center of the Bakken boom. Headquartered in Minot, North Dakota, IRET is in prime position to capitalize on the state's now-explosive real estate economy.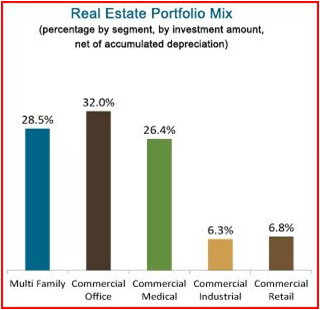 It's a natural progression. Workers who move to North Dakota for work need roofs over their heads. This need will create communities, and these communities will give rise to a slew of industries focused on providing goods and services to said communities. The need for real estate will cut across all sectors: multi-family, office space, medical, retail, and more. As an owner of assets across all major sectors, IRET is uniquely positioned to capture the value of this natural progression.
Conclusion
North Dakota's long-term challenge will be managing explosive growth. Strong leadership will be needed to ensure the new economy will transition to a state of sustainable growth rather than a state of bust. But that transition will be faced by the leadership of tomorrow. Today, there exists significant opportunity to capitalize on tomorrow's growth.
Disclaimer: As with any investment, we recommend you consult with your personal financial advisor before taking any position.
Disclosure: The author and WSF currently do not hold any positions in these companies.