Knowing the seasonal ebb and flow of markets, sectors, industries and stocks can improve the timing of your entry and exit points and help you determine over and underweight.
This is especially useful during periods when broader averages have a tendency to slide, allowing managers to pick up substantial ground against the index.
September is just such a month, with the SPY posting an average -1.72% return in the month since 2000. Given September seasonality suggests markets will consolidate recent gains, traders should keep a close eye on opportunities in those industries with better-than-market historical returns.
One basket likely to lead next month is retail.
The S&P Retail ETF (NYSEARCA:XRT) typically trails the market from the end of April through August, before bargain hunters jump back in during September for late year and Q1 upside tied to the holiday shopping season. This suggests opportunity in the ETF's most heavily weighted holdings, including Gap (NYSE:GPS), Cabela's (NYSE:CAB) and Ann Taylor (NYSE:ANN).
The following chart shows the average out and under performance of the XRT versus the S&P 500 by month. History suggests managers should be building positions into weakness in August and then again in October and November. Shorter-term traders should focus on trading retail throughout next month, given the benefit of tailwinds.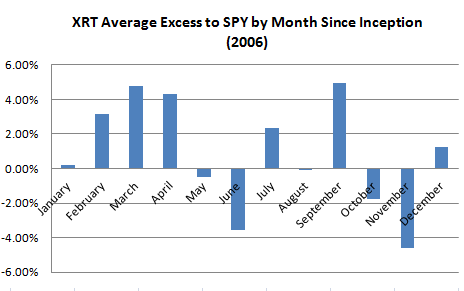 Drug makers enjoy strong seasonality in September too.
Since its launch in 2006, the S&P Pharmaceuticals ETF (NYSEARCA:XPH) has outpaced the SPY by an average of 320 basis points during September.
However, just as September is typically strong for drug makers, October is notably weak. Short-term traders may want to use September strength to book profits ahead of the typical fall pullback. Position traders can use October weakness to boost exposure ahead of year-end strength. The biggest positions in the XPH include Viropharma (VPHM), Watson (WPI) and Merck (NYSE:MRK).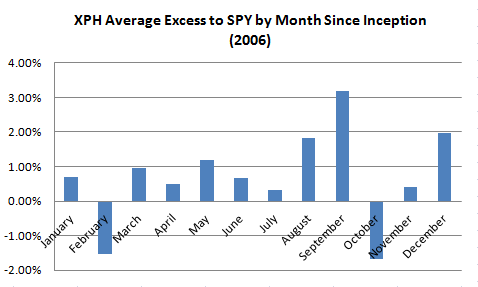 Investors may also be well served putting a few regional banks on their radar.
September has been kind to small-cap banks like Regions Financial (NYSE:RF), Keycorp (NYSE:KEY) and Suntrust (NYSE:STI). Since inception, the S&P Regional Banking ETF (NYSEARCA:KRE) has generated an average 336 bps of excess return to the SPY this coming month. As you can see in the next chart, such regional banks only offer robust outperformance during four months of the year, with September trailing only July for average excess return.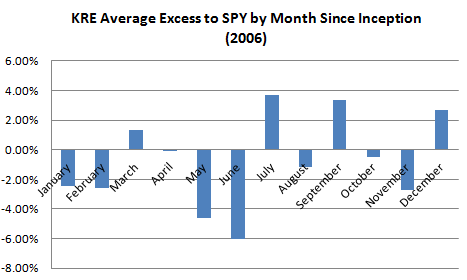 Finally, REITs wrap up their historically best 7 months at quarter end.
While the DJ REIT ETF (NYSEARCA:RWR) has produced average gains in 6 of the 7 months ending September, historically it's struggled in October and November as investors become less fearful and more willing to invest in higher-risk industries. This means September's strength is a good opportunity to book some gains and normalize exposure to the group.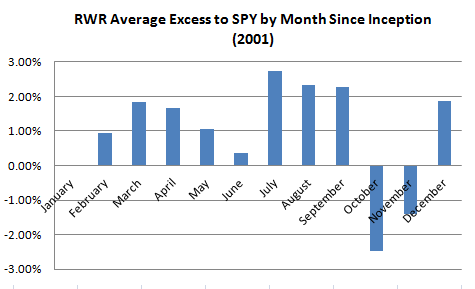 Knowing which baskets have a seasonal tendency to reward or punish investors is another valuable tool in investor toolboxes. The advantage of using seasonality as part of a systematic process for picking winners, such as outlined in my book, comes from knowing when to press your bets or cut your losses. By keeping an eye on the seasonal trends, you can give yourself an edge in outpacing the market.
Disclosure: I have no positions in any stocks mentioned, but may initiate a long position in MRK, VPHM, RF, STI over the next 72 hours.